Lip art is an emerging trend that uses lips as a canvas to present small depictions of art. The hashtag #lipart has over 560 thousand followers on Instagram so you can guess how much people like it. Although there are people doing these things are professionals and offer assistance with editorial shoots, magazine or product shoots commercially. But, don't worry.
How tough can painting your lips be? Well, it can be quite tough. So, if you wish to start doing this kind of art or want to try it out just for fun, here are five easy peezy lip art designs for you to check out.
Sun On My Lips
Image Courtesy: Instagram
This is the first and the easiest design to begin with. All you have to do is fill your lips in a nude pink shade with a peachy tint. Let it dry then, with natural paints draw sun-like patterns spread over the lip area. Spray a little makeup fixer on the lips and you're done!
Sweet Heart All Over
Image Courtesy: Instagram
Similar to the first design, this design is very easy too. Apply some mauve lipstick on your lips then paint small different size hearts and spray fixer to complete, you can also use your DIY makeup fixer. Take this look to masquerade parties, freshers, or a night out with friends, and rock your look with this lip design.
Flowers Make Everything Beautiful
Image Courtesy: Instagram
Moving on to the third design, for this, you will need small paper flowers which you can either get ready-made or make on your own at home. First, apply nude lipstick on to your lips and using organic glue, paste two small flowers on the left upper corner of your lips, and paste two other flowers on the lower right corner. Now, apply a waterproof lip gloss on your lips and save the look with a makeup fixing spray.
Don't miss: Five Cute DIY Photoshoot Ideas For All The Photography Enthusiasts Out There
I Purple Myself
Image Courtesy: Instagram
The fourth design is also quite simple, for this, you will need a quirky purple lipstick. After applying the lipstick nicely on to your lips, leave them to dry. Then take makeup glue and draw a diagonal line across your lips. Fill in the glue on one side of the diagonal line and sprinkle light purple glitter dust over the glue before it dries out. Let it all settle for 2 minutes then fix with the spray.
Vibe With The Pink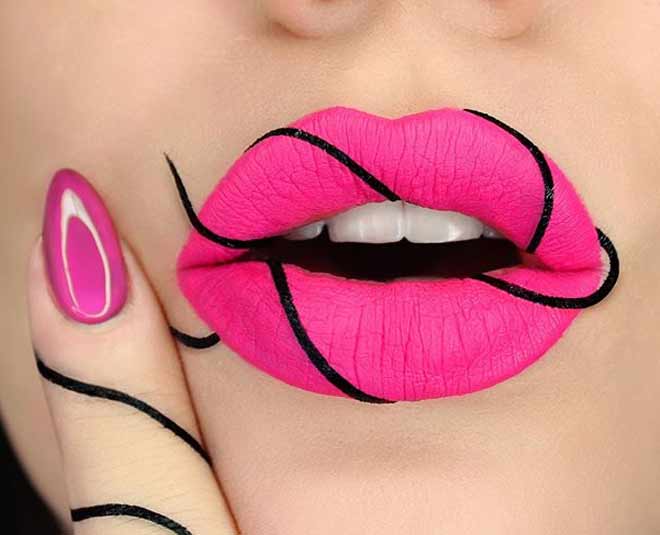 Image Courtesy: Instagram
Design number 5 is super easy and classy. Just apply neon pink or hot pink lipstick on your lips and using a thin brush, draw a black line in a distinct manner, like in the picture. Let it all dry. Alternatively, you can add small beads on the corner of your lips, and voila you are a pro at lip designs now!
Here Is A Simple Lip Care Procedure You Must Try
While lip art is a greatly trending art form, it has some cons too. If you happen to ignore the proper cleansing and nourishing of your lips, then your lips might become flaky or dark coloured. Take extensive care of your lips by scrubbing them regularly and moisturising them. Further, eat healthy foods and drink plenty amount of water to maintain plump and pink lips. So, try these cool and easy designs at home and Instagram your flawless art.
Stay tuned to Her Zindagi for more information on fashion, styling, beauty, and everything about lifestyle.