In this age of social media and online profiles, everyone struggles to get good pictures to be able to present themselves better, and, the struggle gets even worse in the case of girls. But, clicking photos is no rocket science. It can be tough and hard to understand initially, but it definitely can be learnt. A little bit of makeup, perfect lighting and a few props to go with your theme can help you click that perfect shot. If you have been going through this pain of seeing blurry photos of yourself, forget it.
Because we will give you five photoshoot ideas that are cute and casual and every girl out there would love them. Plus, as a compliment, we would also tell you techniques of lighting, location and so on. Here's more to check out.
Bubble It Up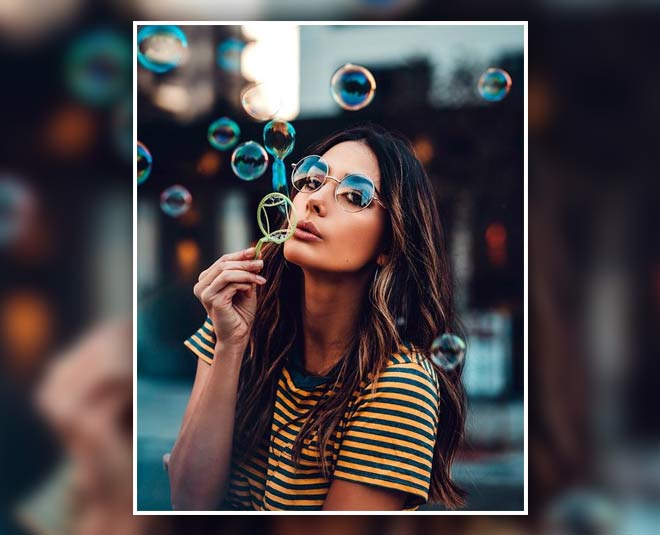 The first idea is to use bubbles and sunglasses. Bubbles will fill the entire frame and will make your picture more voluminous. For a great picture, you should keep in mind that the background is dull and there is a light source from both, left and right sides. To add more layer to the photo you can wear transparent glasses without colour tints. Also, make sure that the bubbles you're blowing are not gathering in front of your face but at a different angle. Finally, click the picture, edit this a little, and post.
Toss Over Some Confetti
When we say 'cute' we mean confetti. Use confetti in your photos to add a pop of colour with a minimalist element. Again, to highlight the colours, you must have a light backdrop. Then you must not be dressed in bold colours and lastly, there must be a front source of light. Use the camera timer and spill confetti over yourself and there you go, you have another photo to flaunt on your social media.
Don't Miss: Your Instagram Selfies Are Making You Look Less Likeable And Adventurous, Know Why!
The Flower Girl
Idea number three demands you to pull out your most favourite easy-breezy summer dress and click a picture just like the one shown above. Go out in the sun wearing the best dress in your wardrobe and look for flowers that match your dress.
Choose from the ones lying on the ground instead of plucking the flower. Keep the flower in the gap between your ear and head and using a clip, pin it there. Then get yourself clicked under the sun, in a pose that is unusual and keep the angle in a way that it highlights the flower the most. We are sure you'll love the results of this shoot.
Artistry At Work
This is another very classy idea to add that creative touch to your picture. All you got to do is, take the picture in a close-up shot with a front-facing light source. Take a few mini flowers and a band-aid and stick them on your cheek. Write a small word, like courage or anything small.
Also, since this photo will be a close-up, keep your makeup on point, neither too much nor too little. All Hail The Queen!
Rightfully Done Art
This is another very creative and wonderful idea that you can use to amp up your pictures. All you need is daylight, a little makeup and the right clothes to accentuate the effect of the entire picture. Now, take a music sheet, tear a heart-shaped hole in the centre of the paper.
Place the place in front of the lens and place yourself in the centre of the heart. Click and edit the picture nicely before putting it up.
Stay tuned to Her Zindagi for more articles like this.