Hair fall is a common problem that many fall victim to, but we are on a mission to keep it at bay by using some natural ingredients and some really effective hair care tips. One such ingredient is fenugreek seeds aka methi. Yes, you read it right. Methi seeds are considered to be one of the most effective remedies to reduce hair fall. These seeds are rich in folic acid, Vitamin A, Vitamin K, and Vitamin C, and are a storehouse of minerals such as potassium, calcium, and iron which are beneficial for nourishing the scalp and promoting hair growth. Besides this, it also improves the texture of the hair. So, do you want to know how to stop hair fall using fenugreek seeds? Scroll on!
Fenugreek, Olive Oil Pack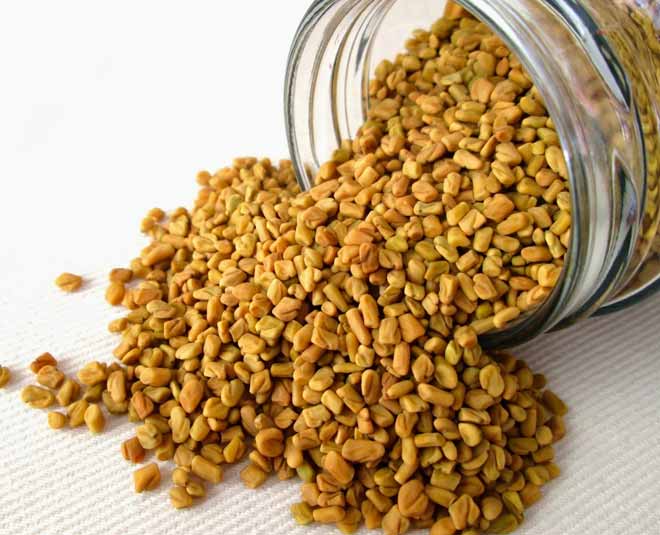 Olive oil is packed with several vitamins and minerals, which is why it is used for cooking. However, when you consume this wonder ingredient for cooking, it doesn't affect your hair much. Therefore, if you want to control hair fall, it is important to apply it directly to the scalp. For this, blend 2-3 tablespoons of dry methi seeds and add 3 tablespoons of warm olive oil. Massage this mixture onto your scalp and let it stay for at least an hour before washing. Try this natural remedy once a week to stop hair fall and notice the difference yourself.
Fenugreek, Curd Oil Pack
You may have heard from your grandma that curd is very beneficial for healthy hair. Turns out, she was right this whole time! Rich in antioxidants and vitamins A, B, C, and E curd impart health and vitality to your mane. It also promotes hair growth and prevents premature greying of hair. Want to know how to use it? Soak 2 tablespoons of methi seeds overnight and mix it with 5 tablespoons of curd. Apply the mix onto your hair directly and leave it for an hour then wash it off.
Don't Miss: 7 Beauty Benefits Of Yogurt We Bet You Didn't Know About
Fenugreek, Lemon Juice Pack
Lemon is known for its anti-bacterial and antimicrobial properties, right? If you want to control hair fall ASAP - this remedy is just for you! Lemon ensures a healthy scalp, hair growth, and controls hair fall. To nurse your hair follicles back to health, you can mix a tsp of lemon juice with some soaked fenugreek seeds. Apply it on your hair and let it sit for 10 minutes before washing it off.
Disclaimer: All content, including tips and suggestions, is entirely based on research and data available on the internet. So, it is advised to not to construe it as professional medical advice and consult a dermatologist before trying any remedy.
Stay tuned to HerZindagi for more such articles.