Hairstyle Mistakes That Can Make You Look Older
Choosing the right hairstyle can highlight your bone structure, hide any flaws, and help you appear younger while boosting your confidence.
Ageing can certainly be a beautiful fact of life but is there a need to rush it? No, right? Then, this article is for you!
Are you one of those women who regularly do yoga, invest in the best eye cream or moisturizer, follow all the makeup tricks, just to look young but still fall short? Now, you must be wondering that where exactly the problem lies. Well, it is time to pay more attention to your hair!
Hairstyles play a pertinent role in your whole beauty look. Well-styled hair can enhance the beautiful features of your face like high cheekbones, bold brows, and full lips. While, an incorrectly chosen hairstyle can highlight your flaws.
Also, don't forget, there's nothing quite like a great hairstyle. That feeling when you can't stop catching a glimpse of yourself in the mirror is definitely priceless!
To help you, we have listed some common hairstyle mistakes that lead to an older appearance along with some amazing tips and tricks that if not make you look young, at least will make you look amazing for your age.
So, what are you waiting for? Let's get started!
Falling For Flat Hair
Image Courtesy: Indique Hair/Pinterest
To those who are not aware, as we age, our hair gets thinner. So, while you may think that straight hair may look shimmering and healthy as it might have in your twenties but you are highly mistaken. Now, with your already thin hair, poker-straight hair may simply look flat and dull.
Flat hair only accentuates your prominent facial features so, while you don't want to highlight your nose or chin but this hairstyle will call out more attention to those features. Moreover, if you are using your hair straightener or flat iron for achieving this hairstyle, then you might also be damaging your hair because of the extreme heat.
So, to solve this issue, you can just use velcro rollers to create natural-looking and much-needed volume, and also, don't brush your hair too much.
Hair That's Too Long
While long hair can look great at any age, but you have to keep a tab on when it becomes too long.
Extremely long hair can sometimes pull your facial features down, which can further give the effect of an anti-facelift. Who would want that, right?
Remember, if your hair is thinner and has passed your ribs, then, it is making you look older. Now, if you do choose to keep your hair long, then, get your ends trimmed and cleaned regularly as split ends can also lead to unhealthy-looking hair while adding to your age.
Don't miss:Simple Hairstyle Ideas For Long Hair
Hair With Too Much Volume
Image Courtesy: hairfinder.com
Adding a little volume to your poker-straight hair can give some much-needed dimension to your hairstyle. But going overboard will only age you.
Those big, overly styled hair is a thing of the past. Don't think of doing that with a traditional blunt cut. Rather, you can use a volumizing shampoo or conditioner for achieving a simple yet effective look. You can also opt for layering to break up the mass.
Hair That's Too Dark
This is actually a very common hair mistake that especially, Indians make. You should always remember that your hair colour should complement your skin tone.
If you are dyeing your hair too dark and also don't include any highlights or lowlights, it means that all of the attention will be on your skin and this will further accentuate those fine lines and dark spots that you want to hide.
For fixing this issue, you can have more than one color to add depth and dimension. Now, if you don't want to get your hair coloured then, you can add in some clip-in hair extensions in a warm hue while styling your hair. These will brighten up your face and hide the signs of ageing.
Parting Your Hair Wrong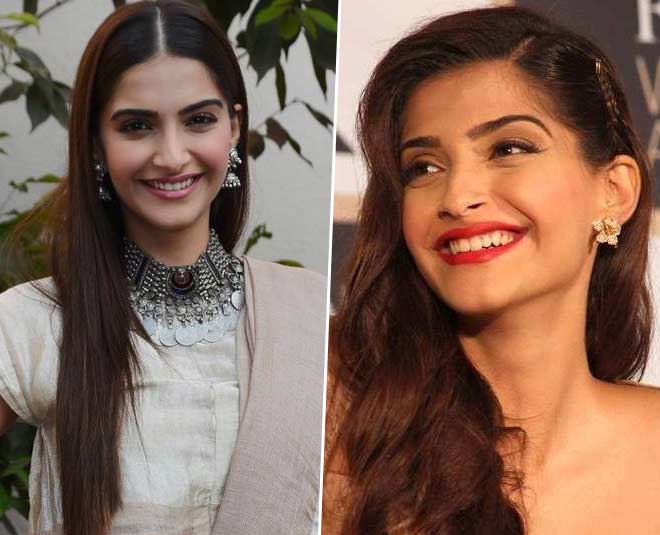 Image Courtesy: functionmania.com and beautifulhameshablog.com
Believe it or not, how you part your hair can add to or subtract from your age!
It is a known fact that the production of collagen also slows down with age which further makes our face look more elongated. So, you have to make sure that you don't go for a straight part or severe side part as these partings can outline your chin even more.
Instead, you should opt for a soft irregular part or part your hair from slightly off-center. These parting tricks can balance your facial proportions and make your hair look more voluminous.
Don't miss:Easy Tutorials To Master Sonam Kapoor's 3 Romantic Hairstyles
Getting The Wrong Bangs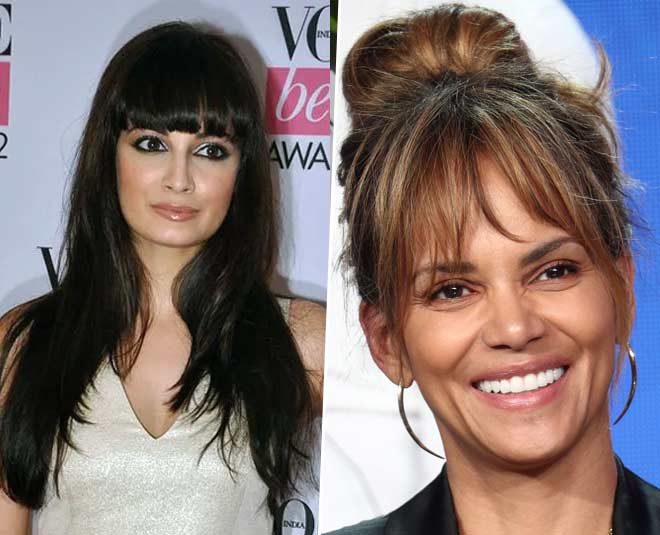 Image Courtesy: Vogue India and hips.hearstapps.com
Who said that you can only get bangs by trimming your hair? Well, you can go for faux bangs. But choosing the right kind of bangs according to your face shape is not an easy task.
You should not go for heavy bangs or baby bangs rather you should opt for angular-cut bangs. These less precise cuts on bangs can give your face more depth and warmth thereby, contouring your face and leaving you with a more youthful look.
If you've got your bangs cut, then, you must invest in the right tools to keep them looking great while styling. You can use a round brush which is specially designed for this hairstyle. It will lock in the volume of your hair and will make your hair less dry and frizzy.
Have you been making these hairstyle mistakes? Do share your thoughts with us on our Facebook page. For more such stories, stay tuned to HerZindagi!