She has a crazy fan following and why not! Hina Khan entered homes of the masses as Akshara with the show Yeh Rishta Kya Kehlata Hai which was a part of her life for 8 years and then there was no looking back for her. There was a particular lipstick which she wore every day on the show for almost a decade and she has many makeup tricks up her sleeves. The actress is a huge makeup lover and loves to buy a lot as well. The actress shared on Pinkvilla's video on What's In My Makeup Bag, a while back and I happened to stumble upon it. Unable to resist the notion to share it with our readers, I jotted down what all she has and what all the tips she shared. I hope something is of use to you. So let's get started ladies. Maybe the wedding season could have a new look of yours?!
Hina shared that she loves makeup and has "many many products. I buy a lot. To start with, usually when you apply makeup, my dermatologist has given me a base to apply especially for my skin before I apply makeup."
"I apply the NARS foundation and it suits me. People use concealers as well but I don't use concealer. I have another foundation from Chanel. It depends... If I am out just for two-three hours, I apply Chanel but for long hours I use Nars," she added.
I also have mini thing which is like a lip gloss but I apply it on my skin. After foundation, I use this as a studio fix to settle the foundation from NARS.
I also use Bobbi Brown a cream base.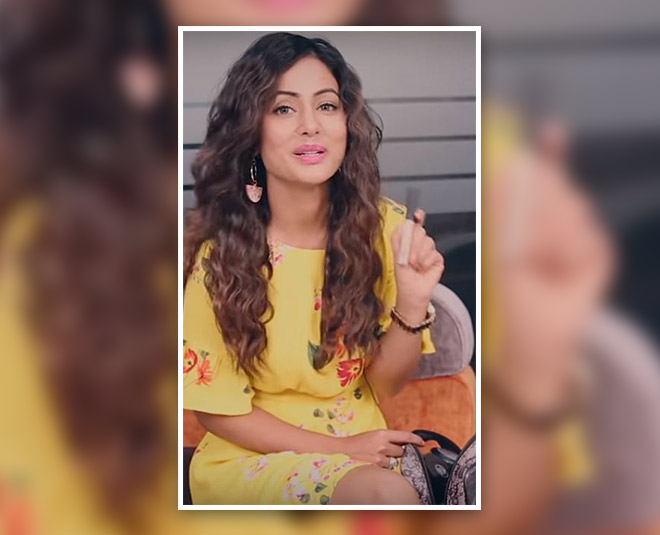 For contouring, Hina uses the Inglot stick on the cheekbones and nose. "I do it for evening events or parties," said the 32-year-old actress.
For highlighter, Hina uses MAC and "I really love it. It is in the shade Beaming Blush. I use it especially on my cheekbones. This highlighter is magic!," added Hina who also portrayed Komolika in Kasautii Zindagii Kay 2.
"I have a NARS blush and I love it."
Don't Miss: Beating Katrina Kaif, Hina Khan Becomes The Third Sexiest Asian Woman of 2019!
Speaking on her makeup trend obsession, Hina shared that she likes to keep it minimal, where you just apply little foundation, blush or highlighter and you are done. "No eyeliner, just the mascara, it looks really nice. It is like an almost no-makeup look," said Hina.
For lipsticks, "I have many from different brands. I use NARS. But my fav ones are the shades, Candy Yum Yum, & Please Me, from MAC. Runway Hit is also good. The shade Please Me, is my all-time hit as I wore it for 8 years in the show Yeh Rishta Kya Kehlata Hai.
I have many eyeshadow palettes but in a hurry, I use a primer from Christian Dior and apply it with my fingertips. Another one that I use is from the brand again and the name is Fusion Mono. I wear it all the time.
Interestingly, Hina prefers doing her makeup using fingertips and not makeup brushes. "I just find it more comfortable."
Next up, Hina uses a loose powder from Chanel.
TIP: If you add a little shimmer to the powder and then apply, it gives a very radiant look.
For the eyeliner, I have different kinds, I use gel eyeliner and a liquid one. Applying eyeliner is all about the technique. And yes, I am good at it, I do my right eye with the right hand and left eye with the left hand. I love applying mascara and I have no fixed brand, I try different brands.
Asked which actress would she like to show her makeup skills on, Hina Khan said that on TV it would be Jennifer Winget & in Bollywood it would be Deepika Padukone.