These days we all have been living under stress, sadness and over worked which has given us many sleepless nights amongs other issues. This leads to puffy eyes, dark circles and sometimes dryness under our eyes as well. So to combat this issue it is best to stock up on some good eye masks that can help you with all. Here is a list of some good rated eye masks which fits all budgets. They can be bought at a cheaper price if you grab them at sale price.
MondSub Gold Eye Mask
A pack of 10 is priced at Rs 2000, each mask weighs 25 gm each. The brand claims that the eye mask has nano gold, botanical ingredients and active elements which instantly re-hydrate, moisturise, and regenerate your eye area. It is a gold bio-collagen eye mask which can help give relief from chronic fatigue, and diminishes the formation of wrinkles and fine lines around the eye area.
It minimises eye puffiness and fades dark circles remarkably. When you wear this mask for 20 minutes 2-3 times a week, collagen synthesis is activated which helps improve skin elasticity and firmness.
TONYMOLY Timeless Ferment Snail Eye Mask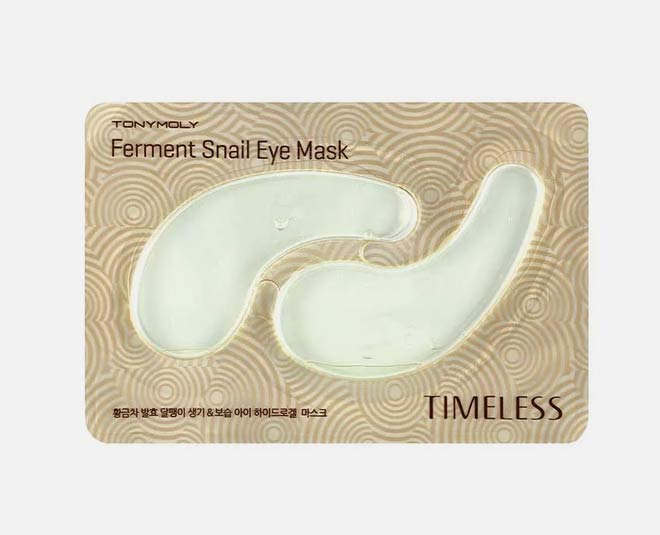 This 10 gm mask costs Rs 250. The mask has intense essence extracted from snail mucin, which softens, re-hydrates, repairs, and brightens skin. It is formulated with gold tea ferment and snail mucus which have been processed through a special gold fermentation process. It also contains aloe vera. The brand claims that the mask provides a restorative treatment to rough, damaged skin.
Garnier Eye Serum Mask Combo
The combo of 2 eye masks, with one having orange and the other with coconut water, costs Rs 190. One is enriched with orange juice and hyaluronic acid, which helps in to reduce eye bags and dark-circles and works well on tired and dull eye contours. The other smoothens lines and de-puffs your eyes withthe help of coconut water and hyaluronic acid.
Don't Miss: HZ Tried & Tested: Plum Bright Years Under Eye Recovery Gel Detailed Review
Petitfee Agave Cooling Hydrogel Eye Maslk 5 Blue Energy Complex Patch
This pack Of 60 eye masks in a lovely blue, weight 184 gms. These masks are a blend of 5 blue complex ingredients that give extreme cooling and moisturization to your under eyes. These patches work on hydrating the skin around the eyes and are great for helping out with wrinkles, fine lines and reduces puffiness.
Don't Miss: Avon Anew Skin Reset Plumping Shots Detailed Review
LANEIGE Eye Sleeping Mask
Weighing 25 ml, this sleeping mask costs Rs 2070. It brightens, moisturises, and revitalises, the skin around the eyes as it helps in de-puffing the eyes with the ceramic ball massage. It contains caffeine and vitamin P among other extracts. It contains no parabens, phthalates and is dermatologically tested.
Stay tuned to HerZindagi for more such useful listings.