With the onset of Winter season, we all stock up on some winter care products like lotions, oils, serums, and creams. Hand cream is like a staple for us all especially when we work somewhere which is centrally air-conditioned. The dryness usually sets in and it gets worse if you already have dry skin. So I tried the Plum Wild Cherries & Kiwi Hand Cream and here is a detailed review of the same.
Claims
Wonderfully fragrant, supple-looking hands.
Quick absorbing, non-greasy formula.
It contains shea butter for intense hydration and antioxidant care.
Sunflower seed oil for your hand's Vitamin E needs.
Lightly scented with our signature Wild Cherries & Kiwi fragrance that's an all-season hit.
You only need a little amount for each use - thanks to the smart formula.
The goodness of wild cherries distillate water and kiwi seed oil.
Purse-friendly compact tube.
100% vegan, paraben-free, SLS-free, phthalate-free. As always.
Key Ingredients
Shea butter
This butter will flutter second to none when it comes to hydration. It's nourishing, emollient, filled with antioxidants, and easy absorbing!
Wild Cherry Fruit Distillate
Capturing the volatile aromas and flavors of fresh wild cherries, not only is this ingredient rich in antioxidants, it also imparts a natural fragrance to the hand cream!
Kiwi seed oil
With its high concentration of ALA (Alpha Linolenic Acid), kiwi seed oil helps to maintain moisture in the skin and prevents drying and scaling.
Everything that's inside
Actindia Chinensis (Kiwi) Seed Oil, Aqua, Butyrospermum Parkii (Shea) Butter, Cetearyl Alcohol, Ethylhexylglycerin, FDA Approved Colours, Fragrance, Glycerin, Glyceryl Stearate, Helianthus Annuus (Sunflower) Seed Oil, Niacinamide, Phenoxyethanol, Prunus Cerasus (Wild Cherry) Fruit Water, Stearic Acid, Titanium Dioxide, Triethnanolamine
Price
Plum Wild Hand Cream, Cherries and Kiwi, 50ml is originally priced at Rs 450, but it can be bought for Rs 350, here.
Packaging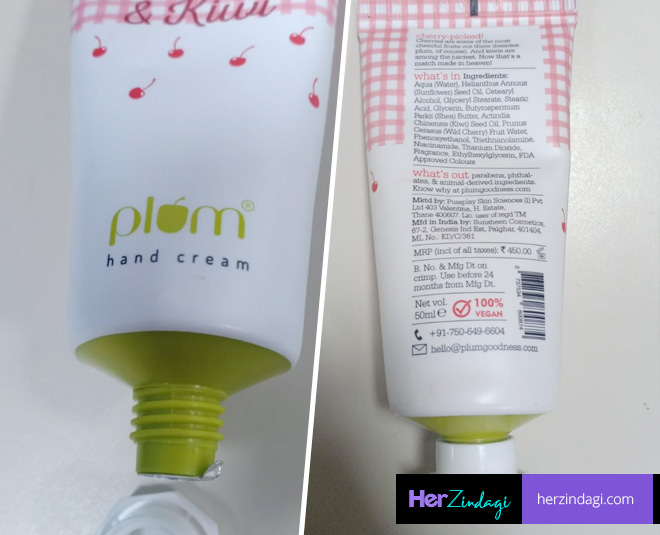 I love the packaging of this beautiful, sweet fragrant hand cream! It is soft, a good matt material, the tube is nice and can be easily carried in your bag. It had a foiling cap when it came, so nobody can use it before you unwrap it yourself. (hygiene is my point here). The cap is sturdy and like that of the oil paints I used to use in Art college. Take half a coin size amount if you have small hands like me.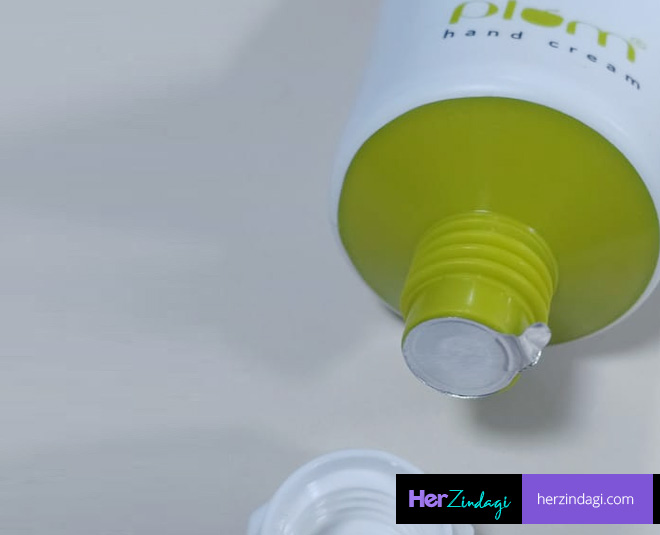 Texture/Fragrance
This hand cream has a nice thick texture with a sweet cherry fragrance. It lasts for quite some time and hydrates your dry hands properly. You don't need to reuse unless you have washed your hands. The packaging is easy on the eyes and has a thick consistency which is proof that it is here to quench that parched skin.
My Experience
It is a part of my winter care kit for everyday use, especially at work where I spend most of my day. It fits in my bag easily. The fragrance is not overwhelming but yes it is fruity & sweet, which I and people around me like.
Pros
Travel-friendly
Affordable
Hydrating
Lasts long
Not an overpowering fragrance
Vegan
paraben free
animal cruelty-free
Good for all skin types.
Cons
I found no con in it.
Don't Miss: Get That Brown Smokey Eye Effect Using The Right Brown Eyeshadow Palette In A Budget
Verdict
I am definitely going to repurchase it!
Rating
5/5