Amid COVID-19 hygiene is of utmost importance. From wearing a good face mask to sanitising everything around us has become a norm. Washing our hands for at least 20 seconds is the first step we take if we touch anything from outside or go out. Therefore an effective handwash that actually cleanses germs is a must. On a lookout for good handwashes, I tried the Shahnaz Husain Neem Turmeric Germicidal Hand Wash and here is a detailed review.
Claims
According to the brand, the handwash has been specially designed for hygienic hand disinfection. It offers total protection from microbes. Based on advanced research, it contains herbal extracts with powerful germicidal and antiseptic properties, like neem, clove oil, cajeput oil, turmeric, mint and basil. The presence of lemon in it utilises its antiviral properties, therefore helping in cleansing. The aloe vera in it softens and moisturises the skin.
Ingredients
Neem Patra Extract 1.0%, Ghrit Kumari Extract 1.0%, Pudina Extract 0.50%, Haldi Extract 1.0%, Tulsi Extract 1.0%, Nimbu Tel 0.20%, Lawang Tel 0.05%, Cajeput Oil 0.05%, Base q.s. to make it 100%.
Shade/Texture
The handwash is opaque and light green in colour. It has a one string consistency and you need just one to two small pumps of it.
Packaging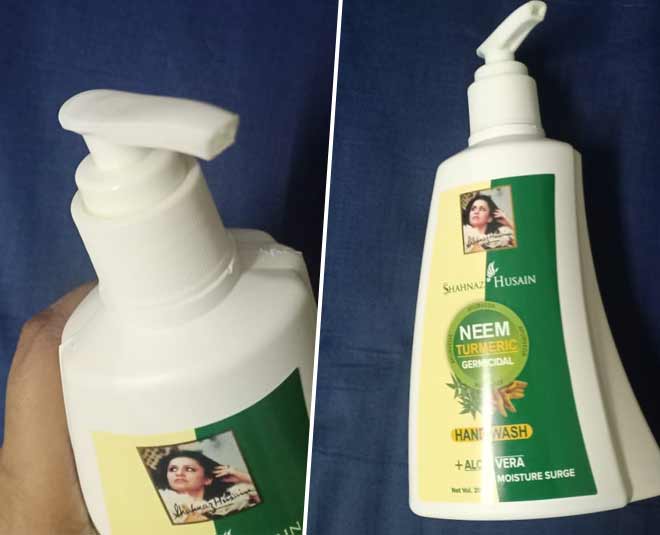 The handwash comes in a sturdy plastic bottle with a pump. The colour combination of the branding is rather simple, stating the fact that it is made of natural ingredients only.
My Experience
Generally, when we wash our hands a lot, they tend to feel dry. But when I used this handwash for a week, I realised my hands were totally moisturised and I needed no hand cream after washing. For me, just one pump is enough. It has a nice mild, fragrance which makes you feel clean and refreshed.
Don't Miss: Meet The Woman Who Invented Hand Sanitiser Around 46 Years Back, Can We Thank Her Enough?
Pros
Affordable
Natural ingredients
Sturdy bottle
Mild, fresh fragrance
Cons
My Verdict
This is a good and affordable hand wash which does not leave your hands dry. In fact, the aloe vera in the liquid moisturises your skin. Generally, the fragrance of a handwash can be a game-changer as for someone like me who has a migraine, cannot handle strong smells. But the Shahnaz Husain Neem Turmeric handwash is actually very subtle so not an issue for someone with a sensitive sense of smell.
Don't Miss: Here Is The Right Way To Wear Your Mask & Remedies To Remove Those Tanning Lines
Price
The 200 ml bottle is priced at Rs 149.
Rating
5/5