Hair Care Tips To Minimise Hair Damage From Straightener
Overuse of straighteners and chemical products depletes your hair's natural oil, leaving hair strands dry.
Who doesn't love straight and smooth hair? It can enhance the appearance and make us look even more beautiful. Everyone longs to move beyond their shabby and mismanaged hair, and they are often tempted to use a straightener to do so. However, those who have used a straightener for a long time know that a hair straightener is not the best way to get perfect hair and, rather, it's doing more harm to your natural hair in the longer run.
Hair strands are stripped of their outer layer when using a hair straightener frequently, and your scalp becomes itchy as a result. However, that isn't to say you shouldn't get your preferred straight hairstyle. If you follow some techniques while straightening your hair, you can reduce the hair damage. So take a look at some hair care tips you need to follow while straightening your hair to minimise the hair damage.
1. Do Not Apply Straightener On Wet Hair
Applying a straightener to wet hair directly might cause it to break and burn since wet hair quickly beats your searing temperature. However, if you don't notice any harm to your hair at first, continuing to do so can make your hair frizzy and deteriorate the hair texture.
If you don't want that, make sure your hair is completely dry before straightening it. If you're in a rush, blow dry your hair first before straightening it.
2. Use Heat Protectant Spray
To avoid your hair being damaged by the heat from the straightener, always use a heat protectant spray. It may appear to be extra effort for lazy folks like myself who want to skip this step, but in my experience, skipping this step is the worst blunder you can do.
Heat Protectant Spray can help protect your locks from heat. A good spray can also help to reduce fizz, detangle knots, add softness, and boost shine.
For this step, you just have to apply heat protectant to the damp hair, then use a wide toothed comb to remove any tangles and evenly spread out the product.
Don't miss: Bollywood Hair Expert Shares Pre-Styling Care For Gorgeous Tresses
3. Choosing Right Straightener
It goes without saying that a good-quality straightener is essential for maintaining hair quality. So, if you're looking for a straightener, go for one that has temperature controls. This way, you can use it like what's right for your hair according to your hair texture and thickness.
4. Keep The Straightener In Constant Motion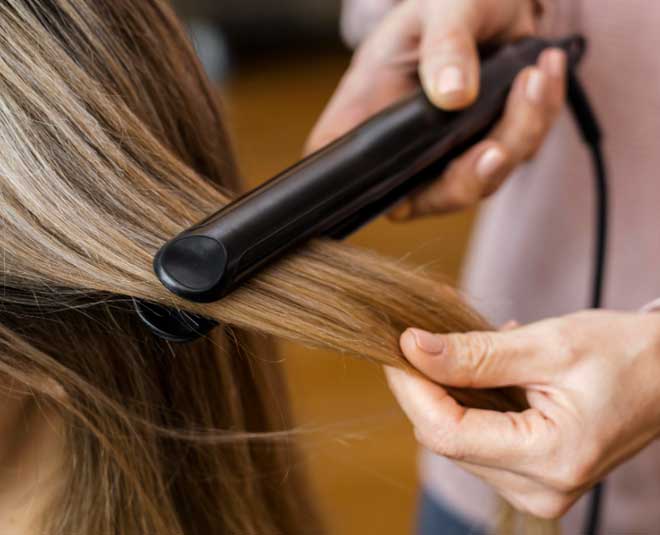 While using the straightener, keep it in a constant motion. Allow only 2 to 3 seconds for the tool to sit in on one spot. Because leaving it in one place for an extended period of time might result in heat damage and, eventually, hair burning.
The proper way is to move the straightener through the hair slowly and steadily, enabling the heat to work out any waves, twists, or curls in a single direction.
Also, never straighten the same piece of hair repeatedly because it will burn the hair and cause it to become exceedingly weak. If you wish to go over the section again, simply wait a few minutes for your hair to cool down before going again.
Don't miss: Shahnaz Husain Tells Us All About Hair Care Nourishment
5. Treat Your Hair Well
We all know that even with all of the precautions, styling equipment can cause damage to the hair, therefore it's essential to look after your hair and keep pampering it. To care for your hair, start by using a good shampoo and conditioner. Choose these products based on the type of hair you have. Use a hair mask more frequently and keep it natural as often as you can.
Hair styling tools will surely glam up your look, but they will come at a cost: hair damage. So, if you want to go for a glam appearance more frequently, make sure your natural hair is well-protected. To avoid hair damage, continue to provide your hair with the nutrients and care it needs, and follow the advice above.
I hope you liked this story; if so, please tell your friends about it. If you know of any more hair straightening tips, do share with us by commenting on our Facebook or Instagram page. For more such stories, stay tuned to HerZindagi!