Beautiful lakes, majestic Havelis, golden sand dunes and a lot more attract tourists to Jaisalmer every year. Set in the heart of the Thar desert, Jaisalmer is a city that promises to take you to the heart of Rajasthan with its stunning structures, delectable food and scenic locations.
The best time to visit the city is just around the corner. November to late February is the best time to explore this city in Rajasthan. If Jaisalmer is on your list this season then this guide is for you.
Basically, if you want to explore most of this destination without spending too much then read on.
Jaisalmer Fort
Also known as the Golden Fort is the most popular attraction of the city. If you want to experience it well then you can also stay at the fort. But if you want to enjoy a stay at the fort, you need to pre-book. Only 300 guests can stay at the fort at once. It has a lot of hotels and you can pick anyone depending on your budget.
If you don't wish to spend much then you can just take a tour of the fort that dates back to 1156. Entry ticket to the fort is INR 50 and INR 100 if you need to take the camera along.
Camping In Sand Dunes
Your trip to Jaisalmer is incomplete without a stay at the desert which is around 40 kms from the city. You can camp in medium-range or luxury range camps depending on your budget. Experience the starry sky. Make sure you make the bookings before you visit. You can get a stay at the medium range camp for INR 1300 per person.
Go For A Camel Ride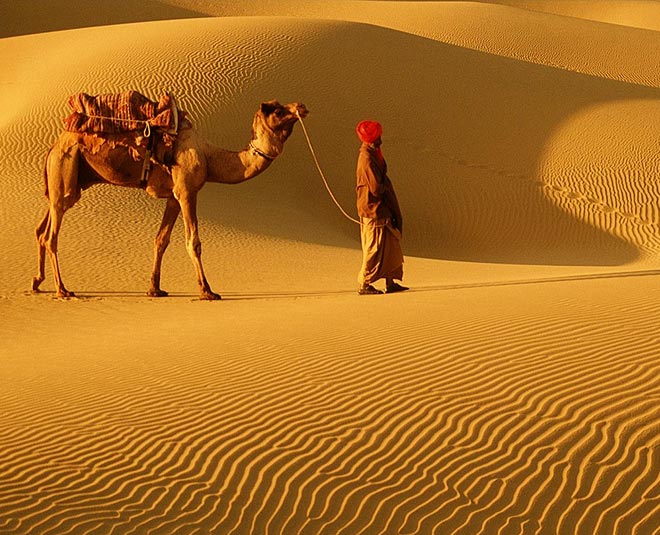 There is nothing like experiencing the desert life of India as you ride on a camel. Take a camel ride in the desert, you can take a one-day safari package. Enjoy cultural performances and get the most beautiful pictures clicked at the sand dunes. The package here starts from INR 1000.
Don't Miss: Explore The Beauty Of Rajasthan This Season
Try Parasailing
If you are someone who loves adventure sports then this is one thing you can't miss doing while you are in Jaisalmer. Enjoy watching the golden sands with parasailing. Experience the desert view and the stunning view of the city. This will cost you INR 750 per person.
Don't Miss: 7 Reasons That You Should Have Your Monsoon Vacation In Rajasthan This Time
Boating At Gadisar Lake
Another fun activity you can enjoy here is boating at the Gadisar lake. This is a paradise for birdwatchers. Do you know a lot of Hindi movies have also been shot here? You can enjoy this boat ride for just INR 100 (2 people).
Have you been to Jaisalmer before? What more should one explore when they are in this beautiful city? Share with us on our Facebook handle.