On 25th March 2020, PM Modi announced a 21-day nationwide lockdown to prevent the spread of coronavirus across the country. The announcement was made keeping in account the rising numbers of coronavirus patients in the country. The lockdown will continue until April 14.
However, the number of COVID-19 cases in India is still on a rise. All this while there have been rumours of this lockdown to get an extension.
PM Modi's Video Meet With Political Leaders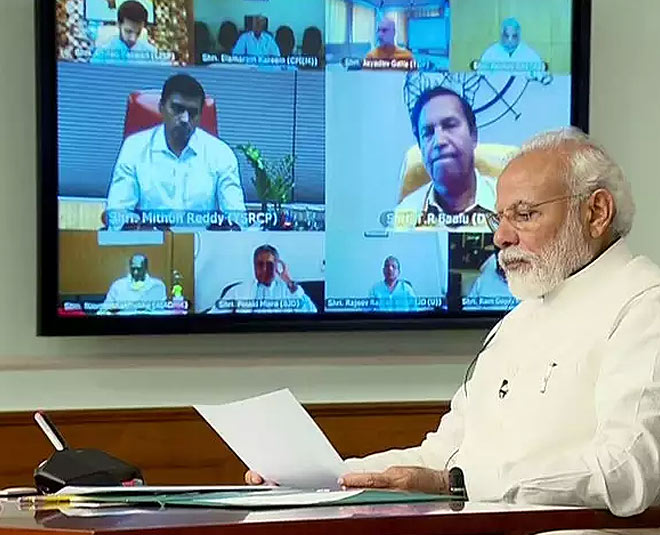 Yesterday, PM Modi has a video meeting with political leaders. During this meeting, Modi shared that all the suggestions that he has been getting till now say that there should be an extension to the full lockdown or the lockdown shouldn't be lifted in one go as it can lead to the spread of coronavirus.
PM Modi has another meeting scheduled with Chief Ministers this Saturday. A lot of state governments have already suggested a lockdown extension seeing the current situation in the country.
A government source shared, "A lot of state governments, as well as experts, are requesting the Centre to extend the lockdown. The central government is thinking in this direction."
Don't Miss: PM Modi Asks People To Switch Off Light & Light Candles On April 5
Earlier, the central government was planning for a district-wise lifting of lockdown.
COVID-19 Hotspots In 15 UP Districts Sealed Till April 15
Uttar Pradesh government has announced the sealing of hotspots in 15 districts. These districts have 6 or more coronavirus cases. This step has been taken to prevent the spread of coronavirus. UP CM Yogi Adityanath took this decision during a high-level meeting yesterday morning.
"All coronavirus hotspots in 15 districts will be completely sealed till April 15 morning. Only home delivery will be allowed. These are places where a number of cases have been found," said Shishir, Director, Information Shishir.
Don't Miss: PM Narendra Modi Praises Several Bollywood Celebrities For Making Contribution To Coronavirus Relief Fund
These 15 districts include Gautambuddh Nagar (Noida), Ghaziabad, Meerut, Lucknow, Agra, Kanpur, Varanasi, Shamli, Saharanpur, Firozabad, Bulandhshahr, Bareilly, Basti, Maharajganj and Sitapur.
These districts will get 100% delivery of all essential items. No shop, be it a grocery or a vegetable shop will be open in these areas. Only health department officials or workers asked for the delivery of these essential items will be allowed to step out of their house. Scanning and sanitisation of all houses will also take place during this period.
Chief Secretary Home Awanish Awasthi in an interview said, "We have taken this decision as we observed a drop in the case load of areas where such a sealing was imposed. In Agra this had been implemented in an efficient way in some areas and the results were encouraging."
Hopefully, PM Modi will address the nation soon and then we would get clarity on the extension of the coronavirus lockdown. What do you think? Should the lockdown get an extension? Share your thoughts with us!