5 Wedding Entertainment Ideas That Will Leave Your Guests Thrilled!
A fun wedding is certainly the one where the guests have enjoyed out and out!
From modern decorations to interactive food service or a personalised theme, there are many ways to make your wedding an outstanding event. Unique wedding entertainment is one of the best ways to make an impression.
Spend time exploring wedding entertainment options as you begin to plan. In addition to a live band or DJ, you might choose to employ another sort of entertainment—while music is a vital part of the big day, it's not the only method to keep guests entertained. In truth, having a good time during your wedding is only part of the puzzle. Live wedding entertainment may make your ceremony or reception a once-in-a-lifetime event for all of your guests.
When it comes to organising your wedding, everyone has high expectations for wedding entertainment.There are several occasions where providing entertainment can enhance your guests' experience, from keeping them entertained during the drinks reception to closing the night with a bang.
Check out our list of the greatest wedding guest entertainment ideas for a firework display, outdoor wedding games, or an alternate meal suggestion to keep spirits high.
Photo Booth
There's a reason why hiring a photo booth for your wedding is so popular: it's a lot of fun! They also give your guests a nice memento to take home, ensuring that they remember your wedding day for the rest of their lives.
Guests can use the proper booth to make photos and boomerangs that can be printed, air-dropped, or emailed to them right away! Consider a modern take on the conventional photo booth.
At any event, photographs are always welcome. Whether it's a birthday, anniversary, reunion, or seminar, photographs are a way to commemorate the event and bring it back to mind later.
However, enticing your guests to pose for photos with a photo booth at your wedding would require some imagination. With such a beautiful backdrop, you can take some truly candid photos to brighten up your times.
Food And Sports
At an outdoor or summer wedding, all of the classic sports day games are a lot of fun. A sack race, egg and spoon, and bean bag throw will add some fun competition to your reception beverages.
Moreover, a brunch spread is likely to please your guests, whether your wedding is earlier in the day or you and your lover are great fans of brinner (breakfast for supper). There should be something for everyone, so include savoury alternatives like biscuits and gravy with sweet jams and fruits.
Live Band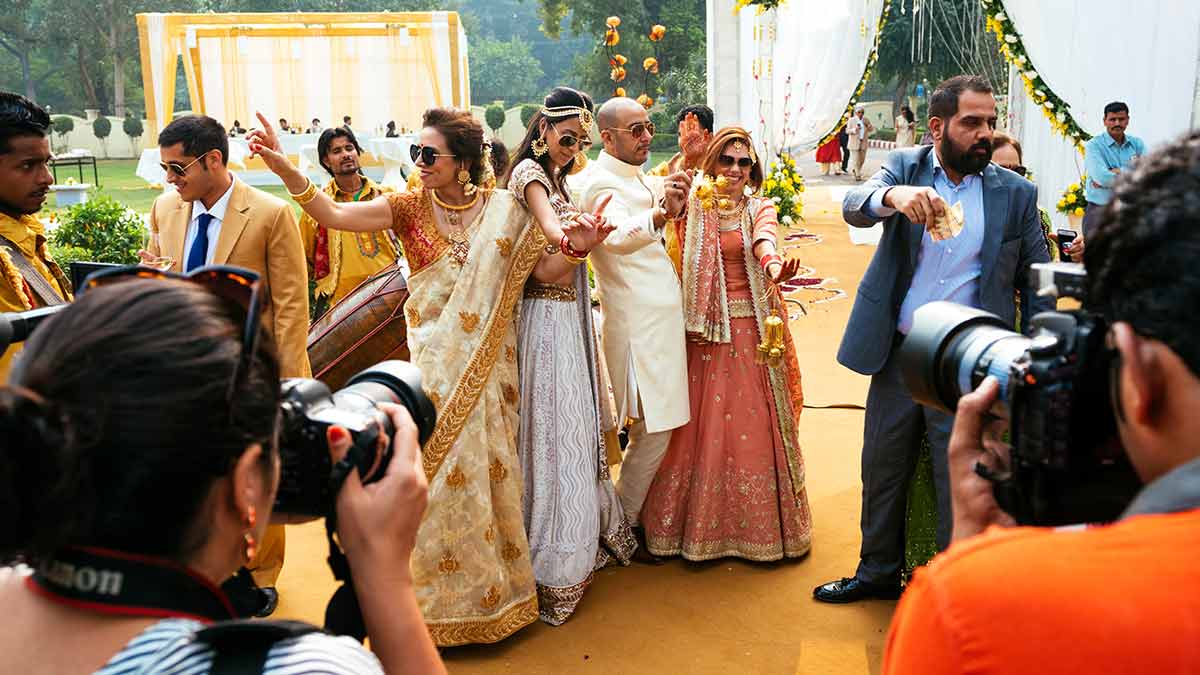 Include live music at your wedding reception to give your guests the feeling of being at a concert! Choose a band or genre that is different from traditional wedding music, such as a vintage jazz band or a retro funk band. Bring your theme to life by hiring a band that matches your costumes, décor, and overall look.
When you want something other than traditional DJs, these are the hottest entertainment aspects. If you are delighted about the thought of having a live band perform at your wedding, it is best to choose one that comes that's popular.
Don't Miss:Planning A Wedding? Here Are 5 Different Ideas For The Wedding Reception
Karaoke Night
If you believe your guests will like a DJ or a live band, hosting a karaoke party is also a terrific option. When we're all in the mood for the ceremony and want our guests to join us in the celebration, a karaoke podium would be fun. This is an intriguing method to revisit your wedding memories at a later date.
Don't Miss:These Fun Wedding Games Will Keep Your Guests Entertained For Sure!
Video Love Story
Who could pass up the opportunity to learn about how you two met and how you were before your wedding? Set up a slide show or a video that shows the bride and groom's lives before they met. It will personalise your wedding, and your guests will have fun looking through your pre-wedding photos.
If you wish to share any wedding entertainment ideas with us, then do let us know by commenting on our Facebook and Instagram page.
Stay tuned to HerZindagi to read more such stories!