Wedding is a big day for all of us. It is the day where we cry, we smile, we feel overwhelmed by the thought of leaving our family, and at the same time feel excited for a new life! Basically, this one day is responsible for numerous memories!
These days, the brides have been giving dance performances at their own weddings! Be it in the main marriage ceremony or the sangeet, one dance performance is a must. If you are a bride and you have to perform with someone and do not know which song to pick, here is a list for you!
Dilbaro- Father
Image Credit: d397bfy4gvgcdm.cloudfront
There needs to be one dance with the first and the most important man in your life. This one need not be fun or crazy. This is an emotional moment for you and your father. It is when you are going to leave your protector and move out, it is when he is going to let his princess walk away from him. Let these emotions play. Hold him tight, put your head on his shoulder and move to the emotional lyrics of this song that will not only make you cry but everyone in the audience as well!
Nachdene Sare- Husband
Image Credit: bookeventz
This is going to be a super cute performance so much so that at some points the sound of "aww" coming from the audience will overshadow the actual song. A cute dance with your 'off-beat munda', this dance will show the world how the relationship that you share with your husband is of best friends and beyond!
Girls Like To Swing- Best Friend/Sister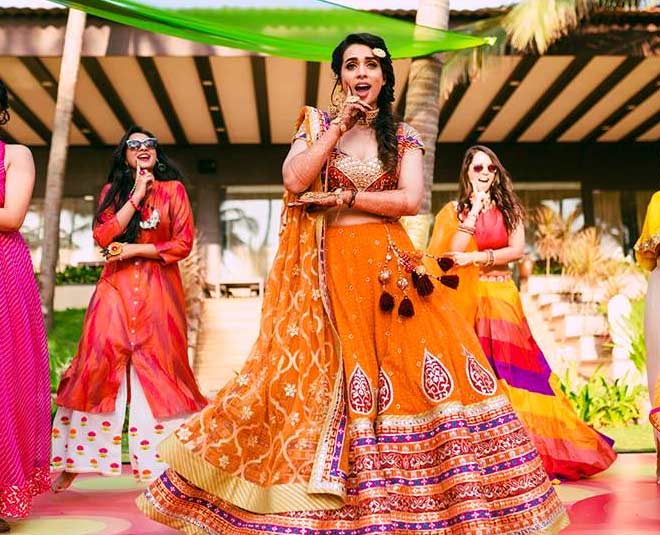 Image Credit: visionvivaah
This one is with your cheerleader, your partner in crime, your soulmate, your sister/bff(read what you should wear if you are the bestie of the bride)! The sister before mister because you two own the world when you are together! While everyone knows you guys are important to each other, with a power-backed performance, you will establish the girl gang supremacy!
Don't Miss- You Must Play These Songs On Your Haldi To Get The Party Going!
Gallan Goodiyan- Cousin Gang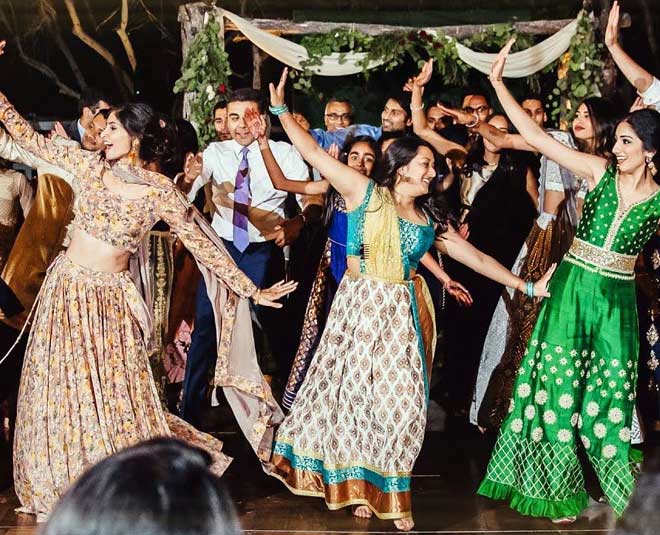 Image Credit: i.pinimg
This one is for all the crazy times you all have spent together. All those times you guys have stayed up watching horror movies and then assisted each other to washrooms. This one is for the bond you share! Get together with all your cousins and set the stage on fire with this energetic and extremely fun-filled dance performance!
Don't Miss- Here Are Some Indian Wedding Bloopers That Will Tickle Your Funny Bones
Aisa Kyu Maa- Mother
This performance is for all the bitter-sweet moments you have spent with your mother. No matter how much you have fought with her, you knew she wasn't going anywhere. Guess what? She didn't. This time you are going and there is nothing either of you can do about it. While you and your mother share an emotional rollercoaster in the name of a relationship, this one is to thank her. Something you probably have never done before. Thank her for being the way she has been, for protecting you in ways you did not know was possible, for spending nights crying for you. Dance with her on this song and tell her exactly how you feel about her.
We hope you found this article helpful and have picked your favourite song. If you wish to read more such content, stay tuned to HerZindagi.