It's everyone's dream to be a great guitarist but then sometimes life takes your patience tests and checks if you really are capable of doing something or not. Being a musician is a pure bliss. And that is why we are her with a cool set of simple tips and tricks to use while learning guitar. These tips are from experienced musicians who have experience the impulsiveness and impatience just as you. So if you have been strugglling to learn this magical and super cool instrument, then don't worry because we are at your rescue now. Take A Look Here.
Take It Slow
Image Courtesy: Medium
You need to wring out all the patience in your body and apply it in playing the guitar, it is not as difficult as it seems to be. This is an easy instrument but all you need is to give it proper time. Don't try to rush on to higher levels initially, it always better to take your time and learn every bit of it with dedication. When your fundamentals clear, nothing can restrict you from playing well. Therefore, we tell you to take it all slowly, understanding everything about the notes, scales etc.
Don't miss: R D Burman: A Rare Talent That Was Beyond Genius
Start With Easy Chords
Image Courtesy: Pinterest
Yes, if you take things slow, you will have plenty of time to figure out how to go about things. You can always break things up and play according to your present skills. It is definitely not necssary to be knowning bar chords in the beginning you should research about the notes that make up the chords. Then, you will also come to know about this trick of playing the chords easily. The basic chords that we usually play comprise of three root notes, but simpler versions of these chords also have a two note formation, which is easier for beginners.
Use The Right Fingers From The Initilal Stage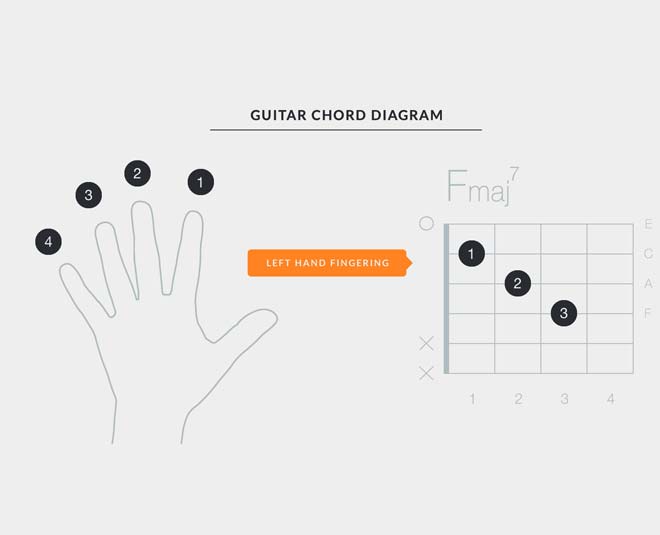 Image Courtesy: UberChord
This is one very important factor that you need to note. Right from the first lesson at guitar, you must start placing the right fingers on the fretboards. This eases the part when you start holding chords. Chords are a collection of notes that you hold using different fingers (fingertips) of your hand simultaneously. Therefore, the finger placement is given so much importance. So that you end up holding the chords properly and not miss out on the notes. Thsi is the reason why they tell you which finger to place where, in popular tutorials.
Use The Metronome To Play In The Rhythm
Metronome is a device that helps you play your instrument, beats at periodic intervals and according to the current rhythm. Once you learn your tabs, it will be the right time for you to start learning to play in a proper time rhythm, so, for this buy a good metronome and stay in the rhythm.
Never Miss Out On Your Exercise- Use The Pocket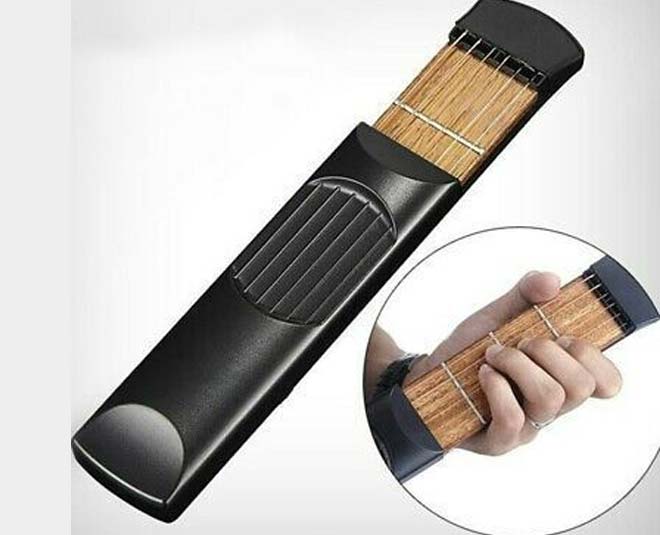 Image Courtesy: Pinterest
Exercises are again one of the basic layouts for a strong foundation of guitar. Exercises help you in bringing all your fingers in motion and these also reduce the stiffness of your hands. And, for being an impeccable guitarist you must be flawless with your exercises. And for that, a pocket guitar can really turn out to be very benficial. A pocket guitar is specially designed for you to practise string exercises, anytime, anywhere. And Remember, music is a therapy, embrace it, enjoy it and start vibing to it.
Don't miss: Why You Should Make Music A Part Of Your Everyday
Stay tuned to Her Zindagi for more articles like this.