9 Tips To Decorate Guest Room That Feels Like Home
Did you know adding light fixtures, quality mattresses and bedside tables can amplify the décor of the guest room? Take a look!
Getting your house prepared for guests can be fun or an unbearable hassle. However, if you have an idle room or a guest room, we have got amazing tips for you. Below are some hacks to design a guest room that will feel like home.
Why Should You Decorate The Guest Room?
When you welcome guests, your house, organisation skills and hospitality reflect on the person you are. A well-decorated room with cosy interiors allows the guests to unwind and rest after a hectic journey. It makes them feel at home. We have some budget-friendly advice for you.
Guest Room Decoration Tips
Add A Bed Or Twin Beds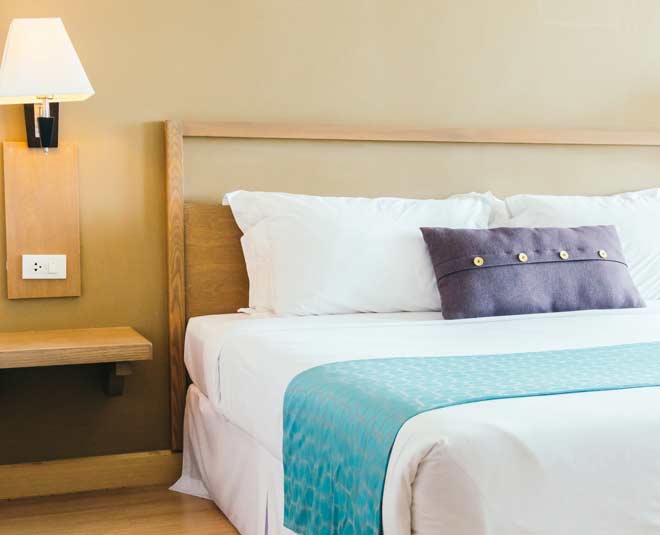 Having a bed offers guests a cosy space to rest and sleep. You can either add a double bed or two twin beds. If you do not want to invest much in a bed, you must invest in the mattresses.
A quality air mattress helps to avoid sprain in muscles and strain in the neck. If guests sleep better, they wake up comfortable and not cranky. Beds look chic and enhance the décor of the space.
Clean The Decks And Drawers
Instead of filling the extra space in an idle room with off-season clothes and showpieces, you must keep the decks clean. The lesser you stuff the guest room, the better it looks. It appears spacious.
You can stuff the room with items like a clock, table lamp, Tissues, small indoor plants, calendar, etc. People should also keep the drawers clean for guests. You should hide personal belongings so that guests have a separate and clean space to store their belongings.
Keep The Closet Empty And Make Space For Luggage
When guests come over, they need a space to store their clothes and other essential belongings. What is a better place to keep the clothes and shoes than a clean closet? You can also add hooks on the doors so that guests can hang clothes on them.
The hooks will also allow the guest to keep the purse, coat and robe in a place. You must also add a few extra hangers to facilitate the storage of clothes and keep them wrinkle-free. You can also keep a separate stool or table for the guests to keep aside the suitcase.
Add Bedside Lighting
Another crucial tip to design the guest room is adding a bedside lamp or lighting. Your guest might be interested in reading a book at night, and it will help them carry on with their routine without any inconvenience.
Instead of a bedside lamp, you can fix sconces. They are in trend these days and do not put a dent in your pocket. They will also help you avoid any rewiring or tricky installation.
Add Cosy Seating
Whether the guest room is small or large, you must ensure adding a seating area that makes the guest feel welcome. A person cannot sit on the bed all day long. A cosy seating area is perfect for guests to enjoy the space, read and eat.
A chair or two with a small coffee table are not-so-expensive additions to the guest room. The relaxing spot will offer your guests a secluded space to sit with their thoughts while putting on shoes.
Keep Extra Linens In The Room
While designing and decorating the guest room, you must store extra clean linen in the room. Sometimes accidental spills can require a guest to change the sheet at odd hours. Keeping an extra will save them the trouble of coming to your room and asking for one late at night.
Clean linens will also save you from getting embarrassed in front of your guests. It is an inexpensive way to amp up the interior design of the room and instantly make the space look ready for resting and sleeping.
Hang Group Arts And Keep A Rack Or Table On The Bedside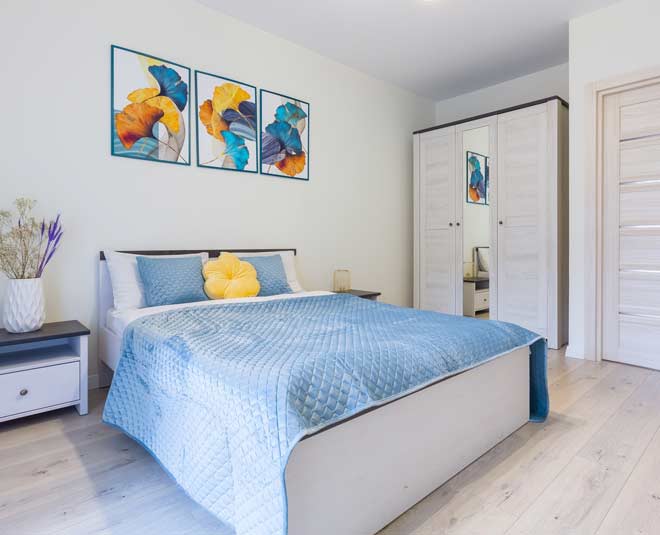 To decorate the guest room, the best way is to hang a group of artistic pieces. It will bring the entire room together. You can choose between vintage to wood art and exemplify the décor.
A dresser or bedside table is a space for guests to keep spectacles, watch, purse, cash, accessories, cards and other small belongings. You can make some space in the drawers of the dresser to store extra linens, scissors, tissues and other essentials.
Don't Miss:Best Ideas To Decorate A Small Living Room
Add A Desk And Chair
You never know when your guest has to work, read or write. Adding a desk and chair will allow them to work from your home without experiencing the discomfort of any kind. You can keep a notepad, pen, pencil, paper clips and other such small belongings so that your guest would not require to disturb you.
Don't Miss: Bathroom Décor Ideas That Will Elevate The Over-All Interior
Pro Tip: Make The Best Use Of Available Space
People think it is tricky to decorate a small space. However, a pro tip to design a perfect guest room is to use any available space for your benefit. Adding functional touches like shelves or stools can amplify the appearance of the room. It will also provide guests and you with some extra space to store pillows, blankets, books, clothes, etc.
Decorate your guest room, and let us know in the Facebook comments about the tips that worked best for you. Till then, stay tuned with us for more tips on home décor and cleaning.