Tina Ambani is the only member of the Ambani clan who has a public social media account and she is very active on her handle these days. Looks like she is enjoying being on social media, especially during this lockdown period. She has been sharing a lot of pictures these days on her handle and some time back she gave us a glimpse of her house.
Tina Ambani took to her Instagram handle and shared a picture of sons Anshul, Anmol, and husband Anil Ambani from their grooming session at home. In the pictures, you get a sneak peek into the house of Tina Ambani and Anil Ambani. It looks like this whole room is dedicated to grooming. A big mirror with lights all around, just like a vanity van. On the table, we can see all the grooming essentials.
Tina Ambani can be seen clicking the pictures in the mirror, wearing a headband. It looks like she just finished her gym session and quickly came in to capture these fun moments.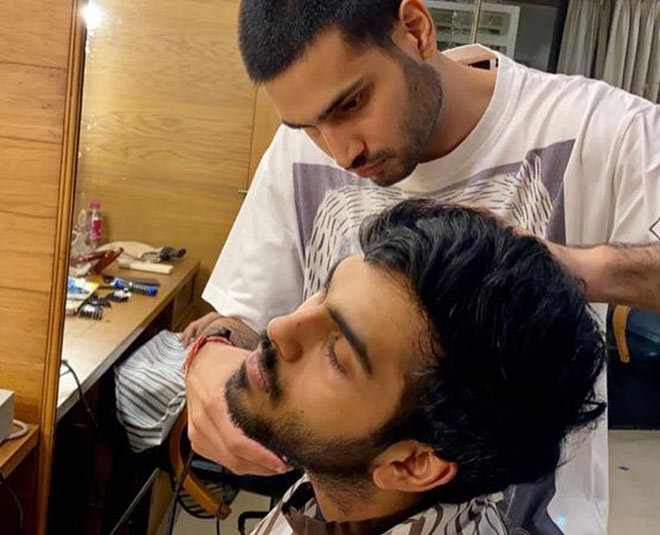 Tina Ambani also had a special message to share along with these pictures. She wrote, "#HairraisingTimes#TheNewNormal More than ever before, during this time of global churn, we've realised the importance of family. Hold your loved ones dear, enjoy your time together, even if virtually - they are your true haven, your very own safe space. #internationalfamilyday."
Don't Miss: Here's Why Anil Ambani Didn't Speak To Tina Munim For 4 Years
We are all stuck in our homes due to the coronavirus pandemic and have never got enough time to spend with our family. The outbreak has brought us closer to our families and we are glad that Tina Ambani made us realise the importance of family with all these pictures from her home.
Don't Miss: See Pics: Tina Ambani's Jewellery Collection Is Something You Won't Have Seen Before!
Tina Ambani is the only woman in the house and in an interview long back, she talked about her personal life, her relationship with husband Anil Ambani. She said, "We share a very equal relationship. It has always been so. I have never ever been insecure. Anil has never given me the chance to feel that way. Nothing rattles me. Trust your man. Trust yourself. Ignore rumours. That's my mantra. People around you will always try and play games…. manipulate you… pull you down. I stay miles away from Mumbai society and have zero interest in other people's lives or idle gossip. At this stage in my life it's important to get rid of negativity. My work is my meditation. As for Anil, he has really come into his own during the last five years. Whatever happens, happens for the best. It has actually worked well for everybody."
She also talked about sons Anshul and Anmol and shared how she is as a mom. She said, "There are three men in my life. I don't have to share my space with any other woman. What do I have to crib about? I'm talking about my husband and two sons. I am a hands-on wife and strict mom. I like to know what's going on in all their lives. I am friendly with the parents of those my boys hang out with. I track where they are and with whom. They are obedient children, and my top most priority."
We can't thank Tina Ambani enough for sharing fun, throwback pictures on her Instagram handle. Recently, Tina Ambani shared pictures of Ganesh Chaturthi celebrations at home with husband Anil Ambani. On the occasion of World Photography Day, she also shared a special video with a lot of unseen pictures with the family. For more such stories, stay tuned!