A festival celebrated mostly in the Northern parts of the country where women fast for the long life of their husbands. It celebrates the togetherness of Lord Shiva and Lordess Parvati. While women fast without food and water for the long life of their beloved husbands, who said this festival is only limited to having no food and water? Are you someone who celebrates Teej without actually indulging in its festivities? Fast or not, that is your personal choice, however, here are certain tips on decorating your home in this festival to make it seem way more celebratory than you have been doing so far!
Puja Ki Thali
Image Credit: m.media-amazon
On the evening of the festival, you and your husband go to the temple of Shiva and Parvati and seek their blessings. While you do so, you often carry with you a puja ki thali where you keep all the essentials. While this is a necessity, who said you can't add some colour and vibe to it? Get fancy diya with designs made on them, preferably of Shiva and Parvati. Have small containers for keeping kumkum and dahi so the plate does not get messy. To make this thali look more colourful, place some pretty bangles, earrings and bindi on the thali! Make sure all are red coloured.
Don't Miss- Hariyali Teej 2021: Rules For Married, Unmarried Women, Wishes For Whatsapp, Facebook
Entry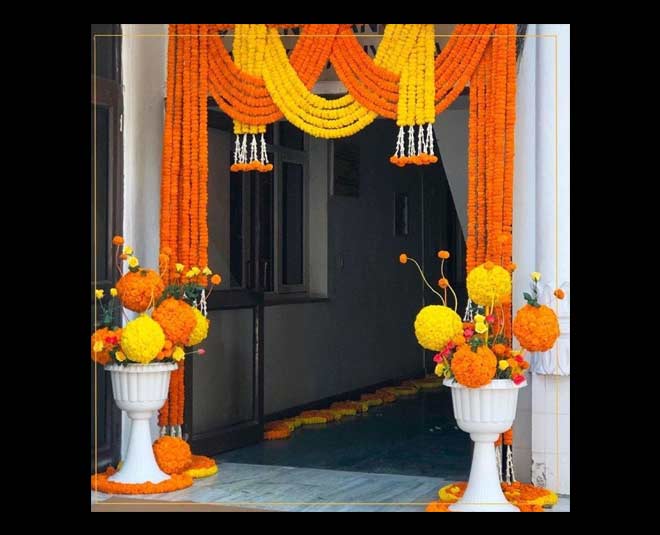 Image Credit: i.pinimg
For this festival, it is a given that all the women have to apply mehendi on their hands. Women get together from all the neighbouring houses to apply mehendi. As people from different households come to your abode, make it seem like there is a celebration that they are in for(read more on Teej)! The easiest way to do this is by decorating the main door of your house. Why save all the decorations for Diwali when you have Teej to deck up for? Hand beautiful flowers on your entrance, make sure they are fresh! You can even hang colourful lights to add extravagance!
Seating arrangement For A Get-Together
Image Credit: jaipurstuff
As all the women come to your house for mehendi celebrations, cover the floor with small mattresses and cushions. You can easily get these cushions on rent. In times of the pandemic, you can also spread individual mattresses at a respectable distance, place some daflis and spoons so while one woman gets her mehendi applied, the others can sing and play music!
Don't miss- Teej 2021: Here Are 3 Easy Makeup Looks That You Can Slay
Photobooth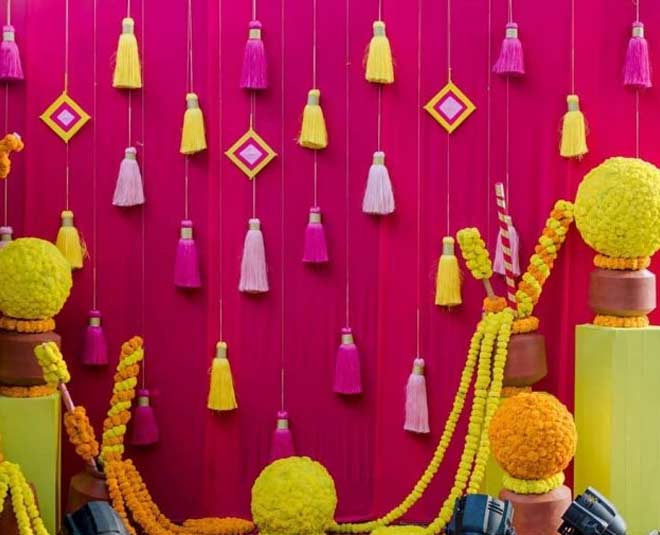 Image Credit: i.pinimg
Okay, we get that Teej is about fasting and love and what not! A few good pictures won't harm anyone, will they? On one wall, hand a bright coloured dupatta as the background(read about Teej fashion). On this you can hang tassels and there you have it! Your perfect photo booth is ready! You can aslo put some props in the corner like bangles, maangteeka, etc so everyone can wear them and pose!
We hope you found this article helpful. If you wish to read more such articles, stay tuned to HerZindagi!