Dil Bechara actor Sushant Singh Rajput passed away on 14th June 2020. We are all still unable to come to terms with his sudden demise. It has been more than a month that Sushant died by suicide. The 34-year-old actor's death has shook the entire nation and we really wish it was all a nightmare. Just like us, Sushant's family is remembering the late actor. Recently, his sister, Shweta Singh Kirti took to her Instagram handle and shared a conversation the two had 4 days before Sushant Singh Rajput died by suicide.
Sushant's Sister Shares Whatsapp Chat Screenshot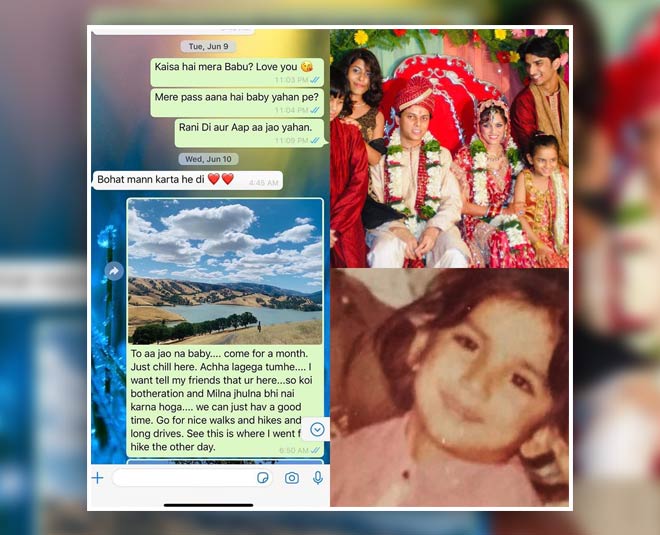 Shweta Singh Kirti shared a screenshot of the conversation she had with younger brother Sushant Singh 4 days before his death. She shared it along with his childhood picture and one from her wedding.
In the chat, Shweta asked Sushant to visit her in the US. Sushant replied to it, "Bohat mann karta he di."
Don't Miss: Psychiatrist Says Sushant Singh Rajput Had Bipolar Disorder, Symptoms And Causes Of The Mental Illness
Sushant's sister was married in the US but she often asked both her siblings to visit her. In her post she wrote, "I would often ask him to come and visit me in the US so that we can relive our childhood once again away from all the noise. I only wish I could have protected him from everything....I still wish I will wake up to see my Bhai... just right next to me and will realize this whole episode was just a nightmare and nothing more."
Don't Miss: Dil Bechara Actor Sanjana Sanghi Opens Up About #MeToo Allegations On Sushant Singh Rajput After 2 Years
Shweta Singh Kirti Recalls Childhood Incident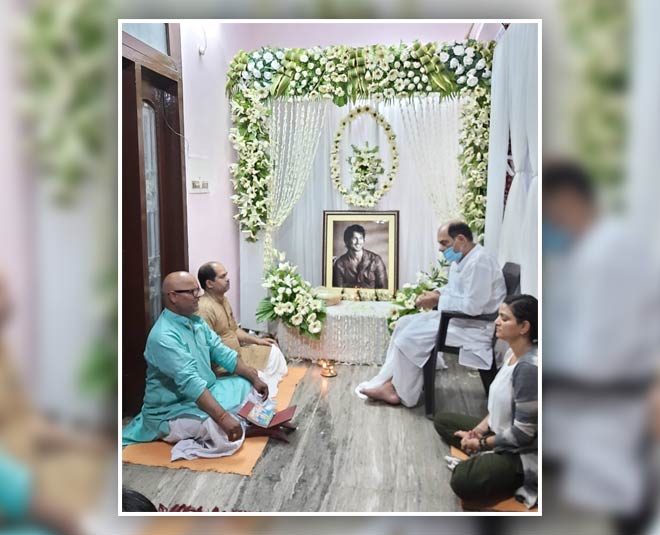 While remembering her brother Sushant, Shweta also recalled a memory from their childhood when both used to study in the same school but in different buildings. She shared that once Sushant came to her classroom after lunch break. Sushant told her that he felt anxious and alone. Shweta shared, "As a 5-year-old protective big sister, I assured him that he can be with me. First, I tried to hide him in between me and my friend, but somehow my class-teacher noticed him while taking attendance. I was myself a little scared, but to protect my little brother, I stood up and told her that he is not feeling well and asked if he could stay with us until dismissal. To my amazement, the teacher agreed and we were so happy, but little after 2 periods as the social norm will have it, he was sent back to his building but by that time we have had so much fun that all of his anxiety were gone."
Rhea Chakraborty's Brother Pens Down An Emotional Note
Recalling his happy memories with the late actor, Rhea Chakraborty's brother, Showik took to his Instagram and shared pictures with Sushant. He captioned it, "I haven't processed the fact that you aren't here anymore.. smiling at the smallest of things, laughing like there's no tomorrow. Happiness for you was not a marker but extreme compassion was. You believed in love and spreading as much love as you could even though you were fighting a battle of your own... You taught me how to look at life with your perspective and I did and saw that you had already lived life more than anyone could've imagined- you made me live with your perspective, your vision to change the world."
View this post on Instagram
Showik further shared that Sushant was the most humble human he ever came across. He further shared about the relationship the two shared. Showik wrote, "I don't think anything I say will suffice the relationship we shared. My brother, I looked up to you and now I look up in the sky and see you but guess what? I don't even need a telescope to see the biggest and brightest star. You always believed in my gut, and now my gut tells me you're at a better place so I believe it. There is a huge part of me that will never be able to reason with the fact that you're not here anymore. How do I generate the flow state in me the way you instilled it in everyone around you.... the most humble human I have ever come across." Sushant's girlfriend, Rhea Chakraborty commented on the picture, "My boys."
Sushant Singh Rajput's last, Dil Bechara released a few days ago and broke many records. Sushant's final film was a treat to watch and has managed to win a million of hearts. Did you watch it? Share your reviews with us! For more such stories, stay tuned!