Typical Indian weddings are all about going all out with decor, food, and the location. We do spend a lot of our money on the "show-off" but unabashedly, we regret nothing. The fun and the time our families spend together is something we all treasure. Generally, most of the extravaganzas have dancing and singing but you can pep it up with some more fun activities. Off late a lot of weddings have fun games which include all guests, involving all in a fun way. So here is a list of some different games other than musical chairs and antakshri which will give you memories you will treasure.
Saree Tying Competition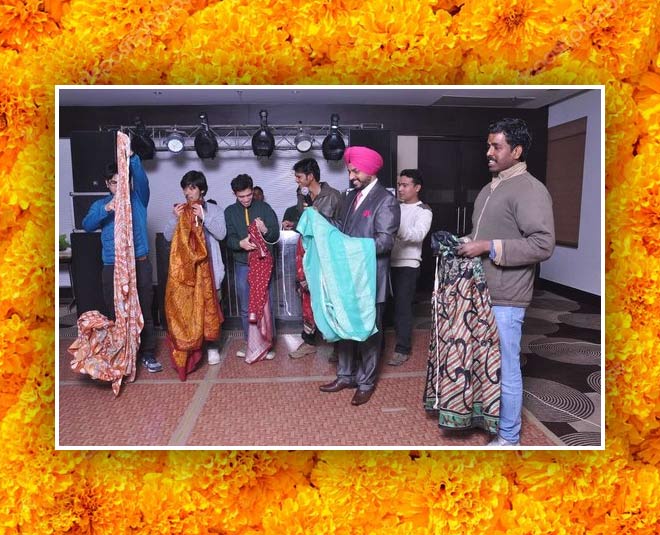 Image courtesy: tripadvisor
This is a fun game that leads to a laughter riot for sure! This game can be turned into a competition between the men from the bride's and the groom's side. Seeing all men trying so hard would be a vision that will have us rolling on the floor.
Giant Jenga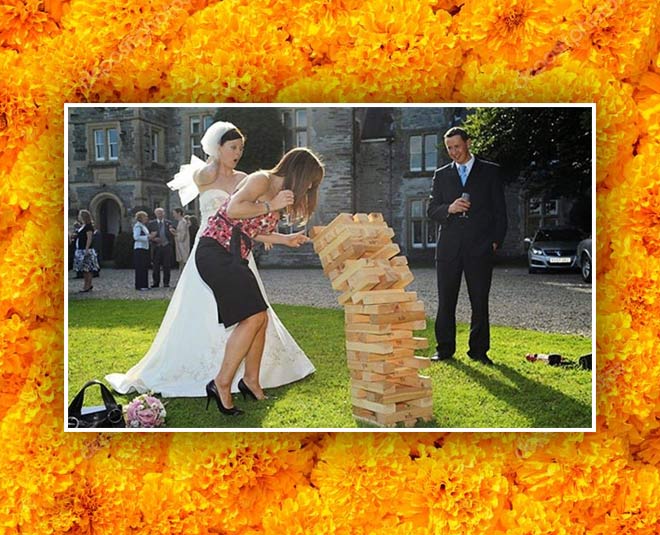 Image courtesy: zwergenfeier
This is the latest fad in the fun zone. It was so far a western concept but some Indian weddings have started incorporating it in their events as well. It is a rather addictive block game that can be played on separate small tables or you can get gigantic ones made to play in open lawn space. Lawn Jenga is fun and you can personalise the blocks by getting the names of the couples engraves on the blocks.
Ball In A Cup
Image courtesy: vintagebrides
Remember playing in school fetes? This can be played at weddings as well but with a twist. The prize of this ping pong game becomes alcohol here.
His & Her Shoe
Often played in western weddings, this game has started trending in the Indian wedding scenario as well. This game has the bride and groom sit back to back in the centre of the hall with the families and friends surrounding them. They both have to hold their partner's shoes in one hand and their own in the other. They are then asked statements and questions which are related to their habits and relationship. The couple is supposed to just respond by raising the show which matches the statement. If the groom does it then his shoe should be raised by both of them.
Don't Miss: Rekha Performing Rituals At Neetu Kapoor's Chooda Ceremony Is A Pure Bliss
Snakes & Ladders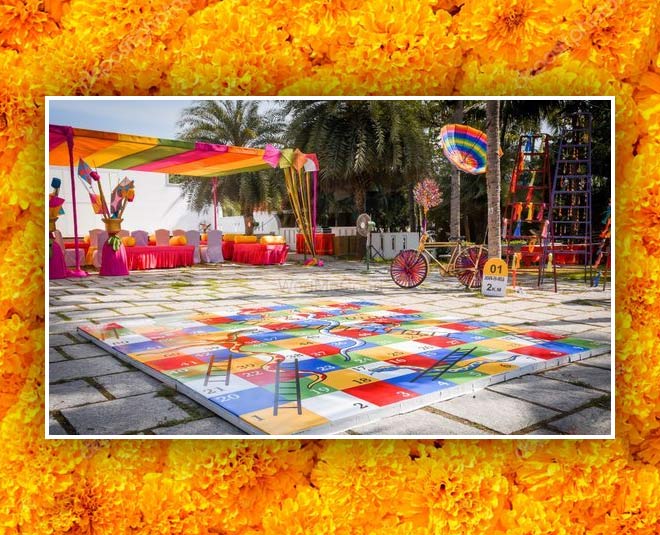 Image courtesy: wedmegood
This "saamp seedi" game has been played by almost all of us in our childhood and now we play it online as well. We used to play it on small boards but at the wedding, get a big board on the floor and let people play. If you have seen the film Harry Potter, it is something like the chess game the trio played but without the magic of course. All you have to do is roll a big dice and let people walk, taking turns. You can have this game for kids as well and they will definitely have a blast in this fun game.
Don't Miss: Millennial Bridal Goals 2020: Newly Married Neha Kakkar's Lehengas To Jewellery You Might Want To Invest In
Couple Trivia
This is a unique activity where a fun quiz is created based on the groom and bride and the guests play. Add some glamour to it by printing the questions in nice colourful designs and place them on the table. Let the guests pick them and get some customised stationery which can be kept as memoirs by the guests or just to add to the excitement.
Tug-Of-War
This is an age old game that never gets boring. Divide the guests into groom and bride side and get started. Have fun punishments and prizes for the losing team as well as the winning team so that all have a smile on their faces in the end.
Kite Flying Competition
On the mehendi day or haldi, keep a fun kite flying competition. It is something all kids as well as adults like.
Stay tuned to HerZindagi for more such fun activities that can be done for an awesome wedding.