A wedding is certainly a very important day for the bride and groom. However, do you know who else the day is extremely important to? It is for the sister of the bride. Emotions on one side, clicking adorable photos with your sister, aka the bride-to-be!
On this special day, you have to make sure you have enough beautiful pictures to look at and cry yourself to sleep once she is gone! If you are not the emotional type, then your motivation to click gorgeous pictures with your sister should be to make every other sister duo on social media jealous!
Either way, clicking amazing pictures on the wedding of your sister is an absolute must. This is why we have 5 such poses for you that you and your sister must try out at her wedding!
The Sabyasachi Model Pose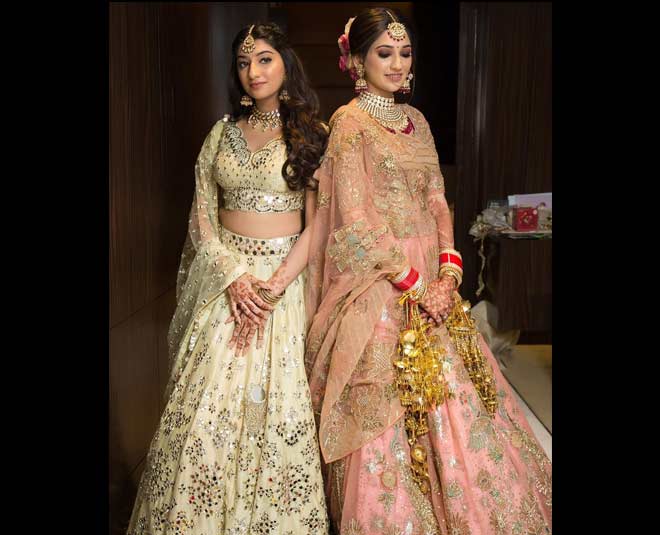 Image Credit: cdn.shopify
Whether the lehenga is a Sabya lehenga or not, there is no doubt about the fact that the two of you are nothing less than the Sabyasachi models! Stand together with a poker face, chin up eyes a little down as if you are looking down at the world and get clicked! If you just can't keep a poker face, smile a little but be sure to not dazzle them with your smile in this one, it is your attitude that should steal the show here! Make way for the boss ladies in traditional wear is what we are hoping for the picture to say!
The Kalire Rustling Pose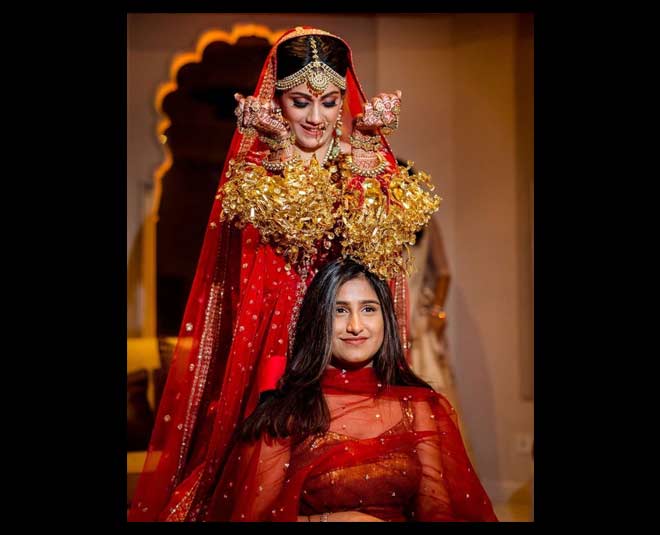 Image Credit: i.pinimg
We all know who is in the line for marriage right after this one, you! When the truth is already out there, might as well click a picture that signifies the same. The Kaleere ceremony is a wedding tradition where the bride rustles her kaleere over the head of her unmarried sister, hoping for atleast one or two danglings to fall on her. Everything about this ceremony is so fun-filled that a picture to capture this moment is an absolute must!
The Inside Joke
Image Credit: i0.wp
Growing up together, it is a given that the two of you share a bond that is a blend of love, care and a ton of inside jokes! No matter how boring the company is, if you have each other by your side, a mere gesture can remind you two of your inside joke and leave you two in a fit of laughter. Capture this relationship in a photograph and we assure you this will be one of the best ones in the album!
Don't Mind- Photography Poses You Must Try On Your Wedding Ceremonies
The Side-Kick Parlour Aunty Pose
Image Credit: image.wedmegood
Let's face it, once your sister is out of the parlour, the responsibility to make sure her makeup is retained, hair is set and saree is on point is all yours. While you are anyway playing this role all day, might as well click a picture or two to show your plight! Jokes aside, this pose will explicitly show the bond you two share of always being there for each other through the thicks and thins of life!
Don't Miss- Essentials You Must Carry To The Venue During Your Wedding
The Farewell Kiss
While all the other pictures probably remind you of all the fun and happy memories, this one is for the present. At the present, your sister is just about to leave you forever, and things are certainly going to change. This one kiss on the cheek is to symbolise everything you two want to tell each other but the lump in both your throat won't let you. Make sure the photographer captures this moment of innocence!
We hope you found this article interesting. If you wish to read more such articles, stay tuned to HerZindagi!