It was the finale episode of the controversial yet interesting chat show Koffee with Karan, when the host of the show Karan Johar had invited the most gorgeous and talented actresses of Btown Kareen Kapoor Khan and Priyanka Chopra Jonas. Both actresses looked ravishing as always, slaying in glittery gown and pantsuit respectively and greeting each other with hugs and kisses. Everything looked cordial and nice till Karan began the show by displaying a clip of their past episodes where they both can be seen saying nasty things about each other.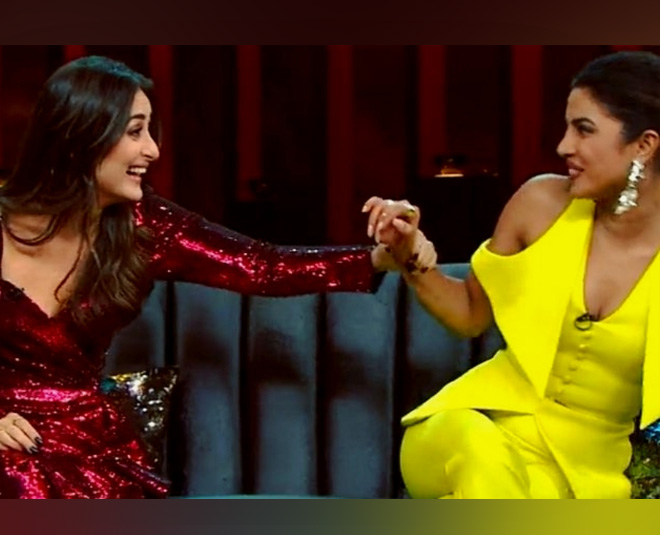 However, both the actresses laughed it out and it seemed that whatever was said in past has now become a past and they now share a warm camaraderie. But Karan straightaway put out a question asking about the animosity between the two, to which Priyanka said, "I think we didn't even know each other. Like, we never spent time enough with each other. By the time we did, we started to get along. But till we didn't do that, it was just weird energy created by people," she said.
Don't miss: These Rare Pictures Of Anushka Sharma During Her Modelling Days Will Leave You Stunned!
Priyanka, Kareena And Shahid Relationship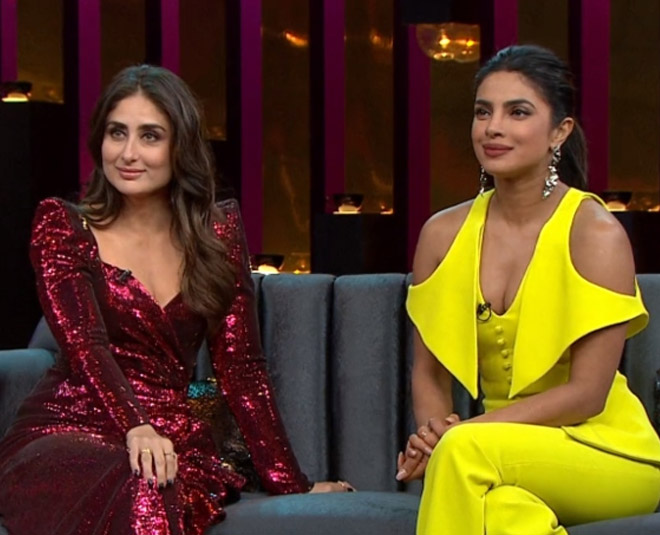 It is no secret that Shahid Kapoor had once dated Kareena Kapoor Khan and Priyanka Chopra in the past. In fact, Shahid and Kareena were so serious about each other that they had involved their families also. In one of the old episodes where Kareena had arrived with the Kabir Singh actor, they both could be seen how much they were in love. In the same episode, Kareena's sister Karishma Kapoor had also made a guest appearance where she accepted that Shahid is a nice guy and they both should take this relationship further. However, in 2007 during the shoot of the movie 'Jab We Met' the speculations about their breakup had started making rounds, and later they decided to put a full stop to their relationship. Shahid then started dating actress Priyanka Chopra which also did not last for a very long time.
When Karan Johar on his sixth season of KWK asked both the actresses about their 'ex-boyfriend in common,' Priyanka quickly responded saying that it never had come in between the relationship she shares with Kareena. "Actually, that was not a point of contention. It was the only point of commonality," she said addressing Shahid Kapoor in the conversation.
Don't miss: Throwback: When Shilpa Shetty Claimed That Akshay Kumar Two-Timed Her With Twinkle Khanna
Priyanka Chopra And Kareena Kapoor Rivalry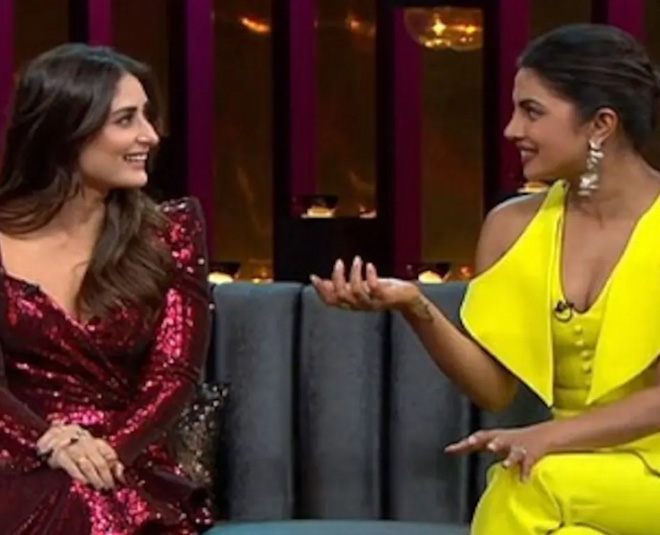 Both the actresses have been spotted on various occasions saying some catty things about each other. On one of the earlier episodes of Koffee with Karan in 2010, Kareena Kapoor had arrived with her then-boyfriend now-husband Saif Ali Khan and she had asked Karan about 'where does Priyanka gets that accent from?' to which Priyanka had replied that 'it is the same place where her boyfriend (Saif Ali Khan) has got it from'. This had created a huge controversy and rivalry between both the actresses who are both happily married now.
If you liked this article do share your thoughts on our Facebook page. Stay tuned to Herzindagi for such stories.