There are many Bollywood couples who keep giving us couple goals, but none of them are as inspiring as the power couple, Kareena Kapoor Khan and Saif Ali Khan. Today they are marking another year of togetherness and we couldn't wait to share details of they are celebrating.
The duo is known for their love for sarcasm. Often, they have been seen pulling each other's leg in the cutest way possible. On the occasion of Saifeena's eighth marriage anniversary, Kareena decided to take the same path. She shared an adorable post on her official profile and penned down a loving but amusing post.
The actress shared the recipe of their successful and happy marriage. And it's not love or commitment, but "spaghetti and wine."
"Once upon a time there was a girl named Beboo and a boy named Saifu. They both loved sphagetti and wine... and lived happily ever after. 😉 Now you guys know the key to a happy marriage 🤣🤣🎈🎈💯💯❤️ On that note, happy anniversary SAKP... here's to eternity and beyond ❤️❤️," she wrote this alongside one of their snaps.
In the picture, Kareen ana Saif can be seen totally in love. While the Nawab of Pataudi is wearing a light blue striped shirt, her better-half is covered in a cream shawl. However, we absolutely love her bold eye makeup. It is making her look gorgeous in every way possible.
This is not the first time that they have spilled the secret of their happy marriage. The couple has talked about it on a couple of platforms. During an interview, when Saif was asked how to keep the spark between the partners alive, he said, "There shouldn't be any pressure to keep the spark alive in any relationship. Laziness is a villain and love should be shown as a practice."
He further added that "People have compared marriages to a base camp and if you want to climb mountains you need a good base camp. But if you spend all your time climbing mountains, there will be no base camp left. If you can balance those things, the spark will forever remain alive."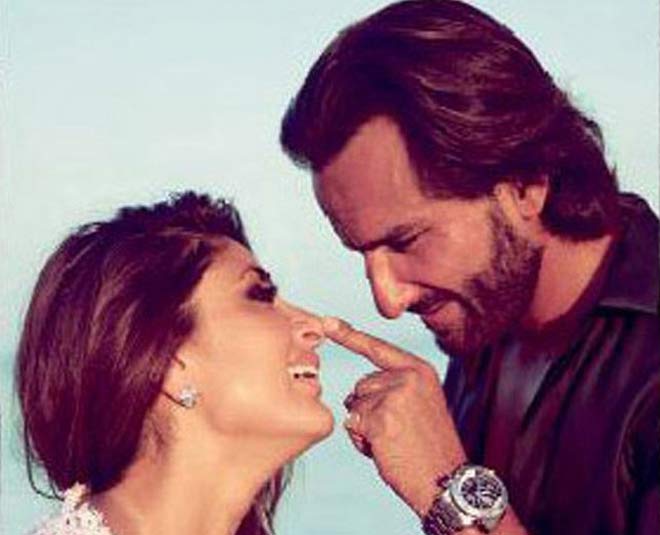 We all know that relationships are not easy to handle, especially if you are in a profession that requires meeting and working with talented and good-looking people. The duo also discussed the same in the interview.
"You work with attractive people and travel the world with them so to maintain a healthy relationship is hard. There are a lot of celebrity couples who have managed to do this with grace," said Saif.
Don't Miss: Rani Mukerji Is To Be Thanked For Kareena & Saif Ali Khan's Flawless Marriage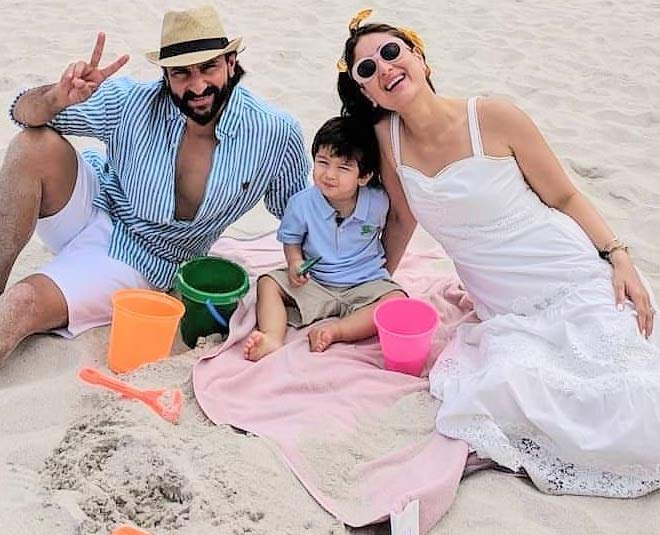 Well, we think that both of them are also doing a great job at maintaining that love and grace between them. We also admire them for handling their work and family amazingly. And now that the Pataudi family is soon to welcome a new member, we know there is going to be a series of celebrations.
Saif and Kareena tied the knot back in the year 2012, after dating each other for five years. As per media reports, they fell for each other on the sets of Tashan. While their on-screen chemistry didn't garner much love, there is hardly anyone who does not like their real-life love story!
Don't Miss: Kareena Kapoor And Saif Ali Khan Share What's It Like To Be Parents In A Fun Video
If you liked this article, do comment on our Facebook page. Stay tuned to HerZindagi to read more such stories.
Picture Courtesy: Pinterest, Instagram (kareenakapoorkhan)