Happy Birthday Rupali Ganguly: Know All About TV's Highest Paid Actress
Do you know how much Rupali Ganguly makes per episode of Anupamaa? Read to know all about the Birthday girl.
Beating many male co-stars, Birthday girl Rupali Ganguly has become the highest-paid TV actress. Initially, she was earning ₹1.5 lakh per episode of Anupamaa; however, according to a report in Indiatimes, she is now earning ₹3 lakh per episode of the daily soap. Her staggering income has made her the talk of the town. On the occasion of her Birthday, let's see her journey until now.
Rupali Ganguly's Professional Career
Rupali started her career as an actress in her father's film. She was only seven years old and was a child artist. Later, she appeared in the films like,
1. Saaheb (1985)
2. Mera Yaar Mera Dushman (1987)
3. Do Ankhen Barah Hath (1997)
4. Angaara (1997)
5. Satrangee Parachute (2011)
She started to appear on TV shows in 2000. A few shows in which she has worked include,
1. Sukanya (2000-2001)
2. Dil Hai Ki Manta Nahi (2002)
3. Zindagi…Teri Meri Kahani (2003-2004
4. Bhabhi (2004), Kavyanjali (2005)
5. Yes Boss (2006), Ek Packet Umeed (2008)
6. Aapki Antara (2009)
7. Baa Bahoo Aur Baby (2009-2010)
Rupali hosted Bioscope in 2013 and has also appeared in many reality TV shows like,
8. Big Boss season 1 (2006-2007)
9. Zara Nachke Dikha (2008)
10. Fear Factor: Khatron Ke Khiladi season 2 (2009),
11. Kitchen Champion 2 (2010)
12. Meethi Choori No 1 (2010)
Famous Roles of Rupali Ganguly
Sanjivani (2003-2005)
It was a medical drama starring Gaurav Chanana, Iravati Harshe, Gurdeep Kohli, Shilpa Kadam, Mohnish Behl and Sanjeet Bedi as the main cast. The doctors had a tough life, and they were continuously fighting against diseases and patients dying in the hospital on their watch.
The show also focused on the personal lives of the characters. Rupali Ganguly played the role of Dr Simran in the serial and was nominated in the Indian Telly Award under the Best Actress in a Negative Role category.
The show had a sequel called Dill Mill Gaye. Sanjivani is remembered to be the first show in India to talk and discuss HIV. It was rebooted in 2019 with some old and new cast.
Sarabhai vs Sarabhai (2004-2006)
It was an Indian sitcom that aired on STAR One. Its second season came on Disney+ Hotstar in 2017. The main cast of the show included Rupali Ganguly, Satish Shah, Sumeet Raghavan, Ratna Pathak Shah and Rajesh Kumar.
Rupali played the role of Monisha for which she was nominated in the Indian Telly Award in 2005 under the Best Actress in the Comic Role category. The show was produced by Hats Off Productions.
The premise of the show was set in the neighbourhood of South Mumbai. Monisha belonged to a middle-class family, while her in-laws had an up-scale background. The constant hilarious banter among the family members and occasional amusing cameos made the show superhit among the audience.
Sarabhai vs Sarabhai was considered ahead of its time in terms of writing and concept. It had an average viewership but picked up later. It is still one of the funniest shows in the history of Indian television.
Don't Miss:10 Inspiring Celebrity Single Mothers
Parvarrish - Kuchh Khattee Kuchh Meethi (2011-2013)
It was an Indian soap opera that discussed the hardships of parenthood and showed the bitter-sour-sweet relationship between parents and children. It aired on Sony Entertainment Television India and Sony Entertainment Television Asia.
The main cast included Rupali Ganguly, Vishal Singh, Shweta Tiwari and Vivek Mushran. It had two families with kids and adolescents. It focused on moral values and rituals associated with Indian families.
Anupamaa (2020-present)
This is a Hindi-language TV drama that appeared on Star Plus in 2020. It is also available on Disney+ Hotstar. With Rupali Ganguly as the lead actress, the show also stars Sudhanshu Pandey, Madalsa Sharma Chakraborty, Gaurav Khanna and Paras Kalnawat.
Anupamaa is a non-English speaking homemaker whose husband cheats on her with another woman. The show discusses a woman's role as an individual and separates her identity from the bounds of daughter-in-law, mother-in-law, mother and wife.
It not only talks about adultery but also covers feminism and mental health issues. It has broken taboos around divorce, talked openly about age-shaming and currently continuing on the track of middle-age romance.
Don't Miss:Anupamaa Cast Salary: How Much Stars Charge Per Episode
Rupali Ganguly's Family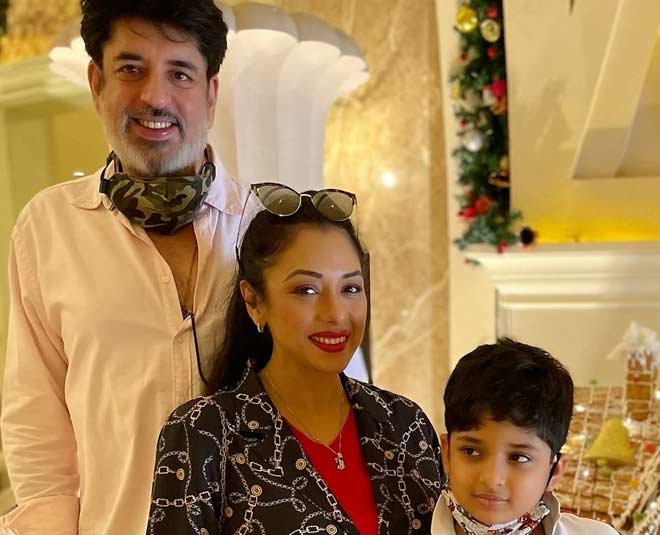 In 2013, the actress married Ashwin K. Verma, a businessman. The couple has a son together. Rupali took a break from her career to take care of her family. In an interview with Hindustan Times, she said, "When my son was born in 2015, I didn't want anything else, and just wanted to focus on him, and enjoy every millisecond of motherhood. I started late as a mother, so those moments were very precious for me."
Rupali added, "When the show (Anupamaa) was offered to me, my husband said it's high time I got my due as an actor. He has been managing everything since, single-handedly. I am never there, unfortunately." Her husband is hands-on-father to their son, and the actress is extremely grateful to him.
We wish this epitome of women empowerment a hearty congratulations and hope that she flies higher and higher in her career.