Who is not a fan of Rekha and Amitabh Bachchan jodi? We all have grown up and witnessed the chemistry the two veteran actors have had in films like 'Ganga Ki Saugandh' (1978), 'Khoon Pasina' (1977), 'Mr. Natwarlal' (1979), 'Muqaddar Ka Sikandar' (1978), 'Do Anjaane' (1976), 'Suhaag' (1979) and 'Silsila' (1981). Their painting has been controversial but we cannot deny that the two looked great together! Just recently our memories were re-lived when Rekha was one of the celebrities that graced Dabboo Ratnani's 2019 star-studded calendar launch.
Rekha, as always, looked absolutely stunning in an all-black outfit, with huge cat-eye sunglasses and her signature red lipstick. Even though she herself was not a part of this year's calendar, she posed intently before each picture. BUT, her reaction was priceless when she looked at Amitabh Bachchan's picture. She posed for the paparazzi when she saw Amitabh's portrait hanging there. Her bemused expression said it all and then she of course moved onto the next portrait. Rekha also caught up with actress Vidya Balan and they shared a warm tete-tete.
The evergreen star turned 63 this year and she continues to charm the entire country with her charismatic personality. She has done numerous films in her career which have been both commercial hits as well as critically acclaimed.
The only and the major controversy or mystery if we may say, that has ailed Rekha is her rumoured affair with Amitabh Bachchan. It all began with 'Silsila' which starred Amitabh, Jaya and Rekha and Rekha portrayed the other woman in the couple's married life. Let's take a look at the love story that no one quite knows the truth about.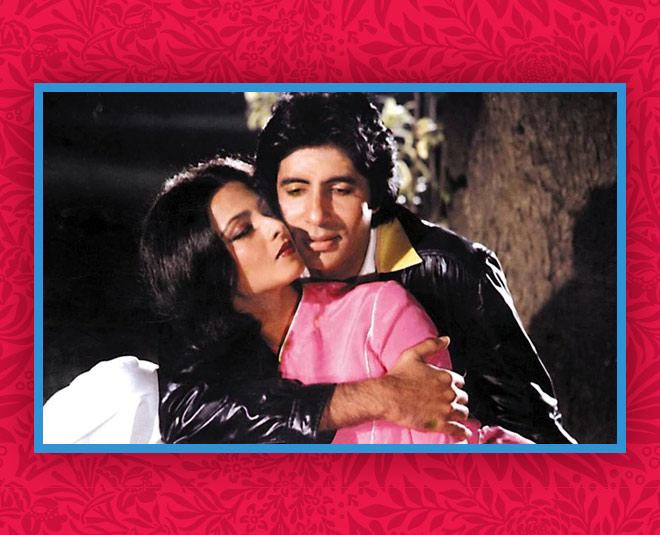 1. Rekha has professed her love for Amitabh in the past, a number of times! But the Bachchan clan has forever held its silence and that is the universal truth.
2. The duo was first seen together on the big screen for the first time in 'Do Anjaane'. In fact, filmmaker Yash Chopra was the one who pulled off a casting coup of sorts for his film 'Silsila', which added a lot of fuel to the fire. The film symbolised what was presumably happening in Amitabh, his wife Jaya Bachchan and Rekha's real lives back then.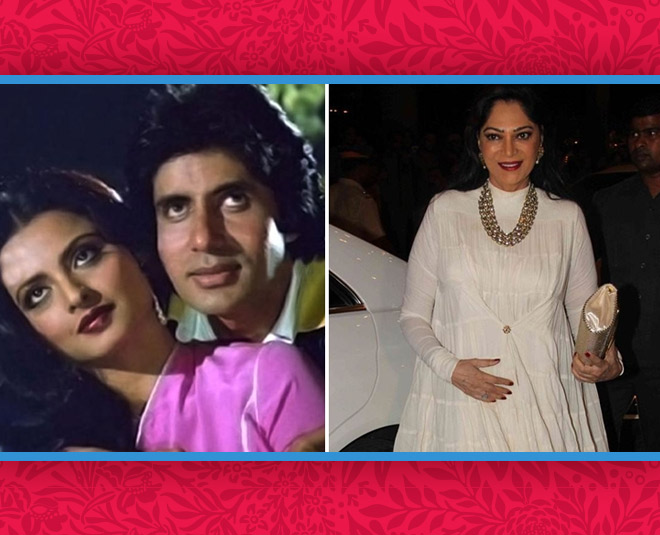 3. Now if you have missed this video then google it and see. The famous episode of the popular talk show 'Rendezvous With Simi Garewal' where the host asked Rekha several questions about Amitabh. Rekha actually opened up about the controversy. At the time, Simi said that 'it was easy asking her the question about Amitabh. If I can ask Jayalalitha if she was ever loved MGR, asking Rekha about Amitabh was much easier. A lot of people ask me how I got her to open up. I didn't know if I did anything special. I don't want to analyse it. I just chatted as good friends. Rekha and I go back a long way.'
On this episode, Rekha spoke about her experience of working with Amitabh. When Simi asked Rekha what Amitabh brought to Rekha's life as an actor, she said: 'Well, I think I had arrived, so to say. In many ways, I'm senior to him. But, standing in front of Amitabh Bachchan, the ultimate actor, was not easy.'
Don't Miss: Ekta Kapoor Becomes Mother To A Baby Boy Born Via Surrogacy
4. On talking about working with Bachchan in 'Do Anjaane', she said that 'The moment I came to know that Amitji had signed 'Do Anjaane', I was so paranoid. Because 'Deewar' had just released. He was a phenomenal success. I knew him as Didibhai's (Jaya Bachchan) husband. First of course, boyfriend, and then husband. I never knew him otherwise, because we never got a chance to sit and talk. When I started working with him, I was so nervous... I really, really learnt a lot. It changed my perception of what being on the set is like. It was never a playground for me again. I was never impressed by the ordinary. And he was like something I had never seen before. I have never seen him, ever, express pain.'.
Rekha was floored by the living legend's personality. She gushed, 'Personally, I think you can say... when you're fascinated by something, subconsciously, even without realising it, you just pick up everything. And when I found this person, and I had never met anyone like him... He is a fellow Libran. How can so many good qualities be bestowed upon one human being? Not fair.'
5. The Million Dollar Question was Then Answered: Did Rekha Fall In Love With Amitabh
Her Golden Answer: 'Absolutely! Duh, that's a dumb question! I'm yet to come across a man, woman, child, who can't help but fall completely, passionately, insanely, desperately and especially, hopelessly, in love with him. So why should I be singled out?'. A safe answer (we all know that) but it spoke volumes?!
She continued: 'You want to know the truth? There was never a personal connection with him. That's the truth. What do I deny? I'm not in love with him? Of course, I am. Duniya bhar ka love aap le lijiyega and add some more - I feel that for that person. Bottom line.'
This word, 'bottom line', is still a topic of discussion. Many of our seniors at the time light up when they talk of the relationship. We could still have a debate on this in our drawing room and never tire. If you have something to say, please feel free to share on our Facebook Page.