Our little munchkin Taimur Ali Khan has turned an year older today and we thought of taking you through some of Taimur's adorable moments with mother Kareena Kapoor Khan. Everytime we spot the two together, we can't take our eyes off. It is always a treat to the eyes to see Kareena Kapoor Khan and Taimur Ali Khan together in one frame.
We get to see a totally different person when Kareena is with Taimur. She has all her attention on Taimur and there are so many adorable moments when we snap them together. Too many to list! Still, have tried to shortlist some of our favourite Kareena and Taimur moments.
Around The City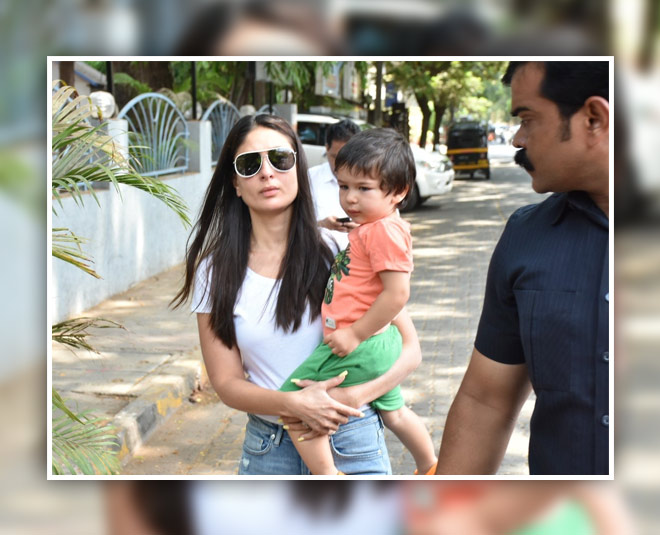 Recently, in an interview, Kareena shared what Taimur tells her everytime she has to leave home. She said Taimur says 'Amma don't go!". This breaks her heart everytime but she tries to move out without saying bye because then he starts crying. She said, "He says the sweetest thing every day when I have to go to work. 'Amma, don't go.' It just breaks your heart. Sometimes, I just have to slip out without saying bye to him."
First Picture With Little Tim

This one is first picture that started to float online after the news of Kareena Kapoor's delivery broke. We guess this is the fits picture that was clicked in the hospital, Kareena and her little one.
Chill Time At Home
We love this image where Taimur can be seen laying back on mom Kareena. The two relaxing at home, having a good time.
Don't Miss: Watch Video: Taimur Ali Khan's Cute Moments Will Make Your Day Brighter
Taimur In Mom Kareena's Arms
This one is such an adorable moment captured where Kareena is seen kissing Taimur's head. Taimur looks such a cutie, smiling in his mother's arms.
Don't Miss: From Saagh To Idli, Here Is All What Kareena Makes Son Taimur Ali Khan Eat At Home
When Taimur Got Papped
That's Kareena trying to make Taimur laugh as she goes crying seeing that paps at the airport. Now Taimur has become really friendly with media and even waves to the paps everytime he sees cameras.
Only Smiles
Love this moment! Kareena and Taimur both having a fun time, laughing together. Don't they look adorable?
Taimur Ali Khan Turns 5
It is little Tim's 5th birthday today. Kareena Kapoor Khan shared an old video of Taimur Ali Khan, dressed in an adorable Christmas themed onesie and captioned it, "Your first steps your first fall... I recorded it with so much pride. This isn't your first or last fall, my son, but I do know one thing for sure… you will always pick yourself up, take bigger strides, and march along head held high... 'cause you are my tiger... ♥️♥️ Happy Birthday my heartbeat... My Tim Tim ♥️ no one like you mera beta 😍 #HappyBirthdayTimTim #MeraBeta #MyTiger." Watch the video here -
View this post on Instagram
In the coming year, we hope to see a lot more of our favourite star kid. For more such stories, stay tuned!