Despite being in one of the most exhausting jobs, Mumbai Police for sure has a flair for a witty sense of humor. And this gets displayed via their viral tweets wherein they not only excel at making their point across but also ensuring that the law & order are ranked highest.
We don't know who really handles their Twitter account but whoever does, deserves a gold medal.
Along with working day and night to prevent us from the deadly virus, the Mumbai Police is also cheering us up during these tough times with their quirky replies on their Twitter account.
Recently, a Twitter user, Ashwin Vinod tagged Mumbai Police and asked them what sticker should he use to go out and meet his girlfriend because he misses her. Mumbai Police has the sweetest reply to the question. Read on.
Mumbai Police Wins Hearts For Witty Reply
Mumbai Police wrote, "We understand it's essential for you sir but unfortunately it doesn't fall under our essentials or emergency categories!
Distance makes the heart grow fonder & currently, you healthier
P.S. We wish you lifetime together. This is just a phase. #StayHomeStaySafe."
Ever since the Mumbai Police shared the reply on their handle, netizens have flooded their Twitter with the sweetest comments. Actor R. Madhavan too commented on their Tweet and wrote, "Ha ha ha very well put and I am sure equally well received." To his reply, Mumbai Police again had a quirky reply. They wrote, "We hope so too - it's no 'Rocketry' after all."
😊👏👏👏The human—and humorous—touch from our very own @MumbaiPolicehttps://t.co/8v6QvPFqnJ

— anand mahindra (@anandmahindra) April 22, 2021
Well, this is not the first time the Mumbai Police has won our hearts for such a witty reply. Let's take you through some more fun replies the Mumbai Police gave in the past.
When A User Said He Wants To Meet His Friend During Lockdown
A user named Sandeep Chauhan wrote, "@MumbaiPolice I want to meet my friend this weekend in kandivali, I m based out of bhandup.. which color tag I should use?? it's been long since we met, I shall be travelling by my car.."
To this, Mumbai Police replied, "A friend, who respects your taking precautions during COVID is a friend indeed. We are sure your friend will agree.
Please stay home, we would not want to get unfriendly with you..."
We love how Mumbai Police is always bang on with their replies!
When A User Said Mumbai Police Has Heart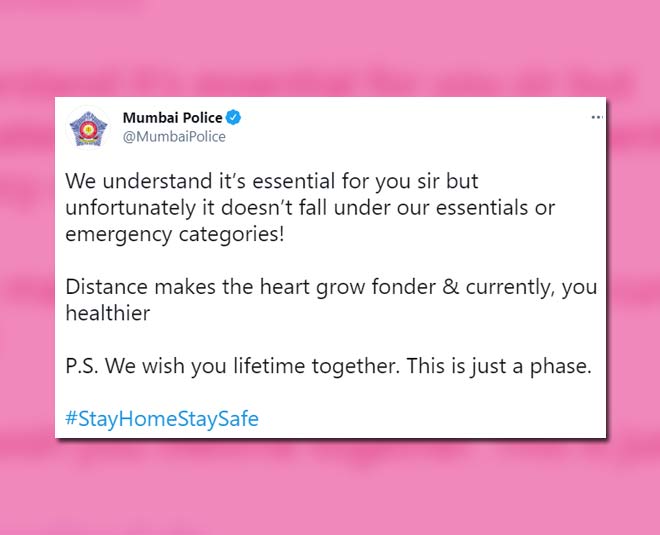 Praising the Mumbai Police for their recent reply to a boyfriend who wished to see his girlfriend during the lockdown, a user wrote, "Mumbai Police has heart." To this, the Mumbai Police wrote, "Not as big as our city's." Well, we love both Mumbai and the Mumbai Police.
When The Mumbai Police Taught Us To Wear The Mask Right
Mumbai Police sent across the message of wearing a mask to prevent getting infected from the deadly virus in style. They took to their Twitter handle and wrote, "Wear mask, save 'penalty'.
Remember, our 'goal' is to 'kick' out the virus. #KickTheVirus #SaveMumbai #TakingOnCorona."
Sometime back, Mumbai Police did another tweet to tell their followers to wear the mask properly. They wrote, "Wear your mask properly to 'Khamosh' the virus!
#MaskHaiNeeche
#CoronaHaiUppar
#TakingOnCorona."
Don't Miss: Let's See How Much You Know About Mumbai
When A User Took The Mumbai Lockdown Not So Seriously
A user named Indian Gamer took to Twitter and wrote, "Sab to chalo hai aram se kidhar bhi jao". To this, Mumbai Police replied, "Bina wajah baahar nikalne par araam haraam hone ki bhi sambhavna hai - kripya apne aur dusro ki sehat ki hit mein, laparawahi na karein
#SafetyFirst #TakingOnCorona."
When They Said Smoking Is Not A 'Classic' Act
'Light' or 'hard', smoking is not a 'Classic' act.#NoSmokingDay#MatMaroDum#HoshMeinAaopic.twitter.com/5600LK5auU

— Mumbai Police (@MumbaiPolice) March 10, 2021
On the occasion of No Smoking Day, Mumbai Police again impressed us with a witty reply. They tweeted, "'Light' or 'hard', smoking is not a 'Classic' act.
#NoSmokingDay #MatMaroDum #HoshMeinAao."
We are loving how the Mumbai Police is handling it all during this lockdown period. Their witty replies to the Mumbaikars are like a warm hug during these difficult times. Tell us what do you think about the quirky Twitter replies by the Mumbai Police. Share your thoughts with us on our Facebook page. For more such stories, stay tuned!
Did you like this article ?