The much awaited festival is here! It is Ganesh Chaturthi today and it is celebrated all across the country with a lot of zeal. Every year, all of us look forward to the huge Ganpati celebrations in Mumbai.
During the Ganpati Mohotsav, Mumbai turns into a festive ground every year for 10 days. However, this year, due to the pandemic, Maharashtra government imposed many restrictions on the festivities ahead of Ganesh Chaturthi.
Section 144 Imposed In Mumbai
Ahead of the big day, Ganesh Chaturthi, Section 144 (a ruling that prohibits public gatherings) was imposed in Mumbai due to the pandemic.
The Mumbai Commissioner's office said, "No processions of Ganpati will be allowed and more than five persons can't gather at a place." Many Ganpati pandal organisers reached out to the police officials to request them for a live coverage of the aarti through social media platforms. Those who are fully vaccinated have been allowed to voluntees in the pandals as per a report by news18.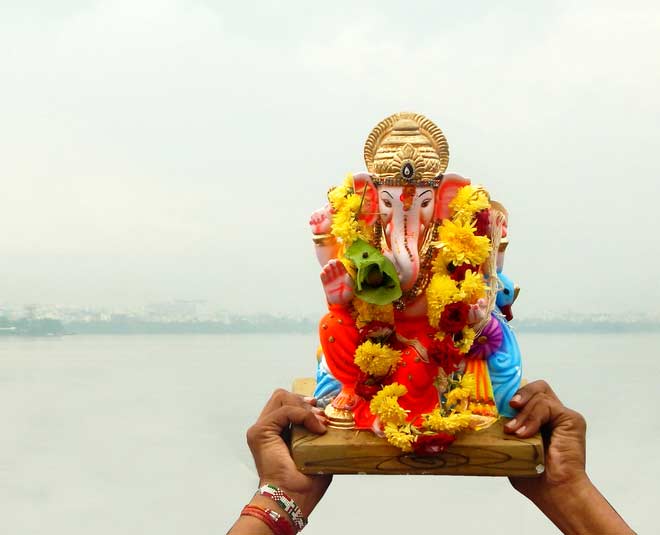 As per the guidelines by Maharashtra government, no Lord Ganesh statue in the pandals can be more than 4 feet tall. Those bringing Lord Ganesh idols at home to make sure that it isn't more than 2 feet.
Out of 1273 applications recieved by BMC this year, they have granted permission to 519 pandals across the city as per a report by News18. Organisers are strictly adhering to social distancing and other coronavirus guidelines.
Don't Miss: Ganesh Chaturthi 2021: Visarjan Shubh Muhurat, Puja Timing And Vidhi
Lalbaughcha Raja's First Look
Lalbaughcha Raja's look for this year was unveiled for darshan 12.30 pm today. On the 88th year of Ganpati celebrations at the pandal, this time Lord Ganesha's idol has been altered. For the first time ever a 4 feet idol of the Lalbaugcha Raja was placed at Mumbai's oldest, most popular pandals. This was done keeping in mind the COVID rules issues by Maharashtra government.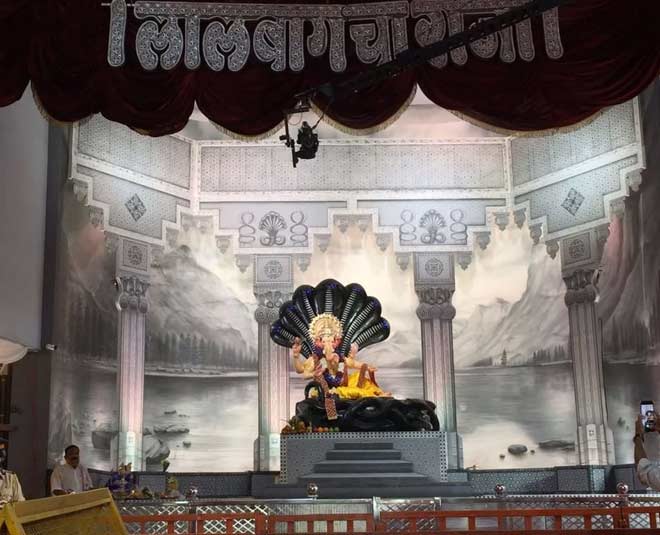 Image Courtesy: Times Of India
This time, Lalbaughcha Raja can be seen reclining on a Sheshnaag in Vishnu avatar. Every year, lakhs of devotees visit the Lalbaugcha pandal for darshan. However, just like last year, this year too the police has restricted entry to the pandal. However, the organisers managed to do a virtual darshan of the Lalbaugcha Raja. Have a look here -
The Lalbaughcha Raja Idol being unveiled. #GaneshChaturthi2021#LalBaughChaRajahttps://t.co/zZWR36ZgcJpic.twitter.com/rG4WAPUY5p

— News18.com (@news18dotcom) September 10, 2021
Because of the pandemic, shops around the temple were asked to be closed, however, later the police officials allowed the owner and one assitant to be at shops.
Don't Miss: Ganesh Chaturthi 2021: How Will The Festival Affect Each Sun Sign
No politcians or celebrities have been allowed entry to the pandal. Only 10 people of the Lalbaugcha mandal have been allowed to perform aarti in the morning and evening. The aarti can be viewed by devotees at the temple's Youtube channel - Lalbaugcha Raja.
Lalbaghcha Raja's Online Live Darshan for devotees will be starting from 11:00 am on Sept 10, 2021 till 7:00 AM on September 19, 2021. The live broadcast of the festival will be available on the Mandal's official social media and website.https://t.co/jzIo6HsA61#lalbaugcharaja
— Lalbaugcha Raja (@LalbaugchaRaja) September 9, 2021
Not only Lalbaughcha Raja but any other pandals of popular temples in the city are showcasing the celebrations this year virtually to people all across the city and the world. How are you celebrating Ganesh Chaturthi this year? Share your thoughts with us on our Facebook page. For more updates around the Ganesh Chaturthi celebrations, stay tuned!