Give Your House A Makeover With These Modern Home Décor Trends For 2022
Make your home beautiful with these designs.
The pandemic has slowly but rightly ushered more thoughtful, personalized ways to let people decorate and revamp their own space. People are all ready this 2022 to spruce up their own space and make it more attractive and charming. From curved furniture to outdoor space to nature-inspired decor, these home-decor trends are surely great.
From boring to exciting, here are the 5 best budget-free ways by Aatika Manzar, Designer, Founder Director at Aatika Manzar Designs to make your home beautiful and alluring this season.
Nature-Inspired Decor
The ways we used to live, work, learn & play have undoubtedly changed due to COVID & surely lead people to realize the positive impact gardening and greenery can bring inside your home or around you. It's time to quickly adapt to a new lifestyle with practical, economical tweaks, in the long run. If your home has a spacious and beautiful balcony you should involve growing plants on balconies which will give fresh air & surroundings to let you sit there & chill. You can even go for vertical green walls to create a truly show-stopping feature & they are even setting trends all over the place which helps you to expand the sense of space in the compact area. But if you have limited space you can hang baskets, fix window boxes full of trailing plants to the house. Potted bamboo can be a good substitute if you're renting.
Work From Home Decor
Pandemic has drastically changed the way of working, people all around the world started working remotely and slowly and gradually understood the concept of "working from home" and this led them to decorate their working space and make it more beautiful. Paint your walls, if you are the one who loves bright, cheery colours add them to your wall and make your space more cheerful, vibrant just like your personality. Colours like green, sea green even add a calming effect to your place and can affect your mood. You can even go for extras that can enhance your place, hang inspirational prints of the walls or classical paintings, or relatable personal pictures of your loved ones. Make sure you position yourself in a spot where there is plenty of sunlight during the day that you can feel cosy in the comfort of your home
Outdoor Space
Are you the one who loves to decorate your outdoor space be it a small, scheduled patio or a big extensive outer space for you and your family to play and relax. When it comes to recent design trends 2022 as a year is a very promising year to make your outdoor space more appealing and beautiful. Bohemian decor with natural colour tones can be a great hit, you can even choose natural wood tones, patterned textures too. Hanging lanterns and recessed lighting near your pool area can be a centre of attraction. If you have a big joint family who loves to eat together, play together get your hands on classic dining set for you to have a fun-loving brunch or BBQ. Apart from this, your health should always be your first priority, if you have an outdoor space make sure you even have a meditation corner featuring vertical gardens, tall trees, vine creping skywards to let you meditate peacefully after a long day of work.
Don't Miss:Creative Hours: Get An Insight Into Debarati & Amlan's Journey To Reach More Than 800K
Curvy Sofa And Furniture Trend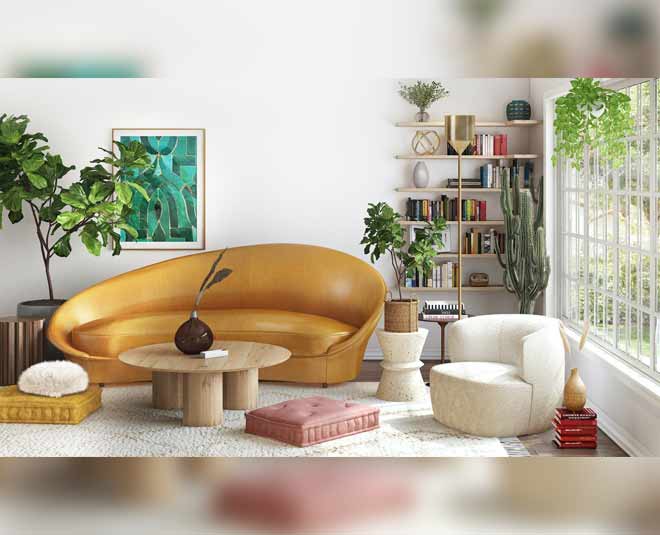 Curved furniture are back in action and are again ruling the market. If you have kids in your house and love to have your hands on something comfortable, easy, and low-risk these curvy sofas and furniture are a great option. This curved furniture is undoubtedly stealing the show and is truly setting a trend helping you to elevate your drawing or open space in your house.
Don't Miss:Women's Day Special: Sudha Murthy Talks About Her World That's Full Of Stories
Play With Colour
The interior design colour trends of 2022 are going to the extremes with black & with various shades of brown like chocolate brown, caramels or natural wood colour are attracting the people more often. Black as a colourful is always bold, attractive and powerful,contrasting anything with black or with shades of brown can directly enhance and highlight your space.
For more such stories, stay tuned to HerZindagi!