This expression of art has become a rage amongst all those who are mostly under stress. Mandala art is no longer just a colouring book with intricate patterns but it is now a way in which many who have so much work and life stress vents it all out with their chosen colours. Mandala in Sanskrit means circle or the center and these circles are symbols or spirituality which denote Buddhism and Hinduism. The mandalas we colour have many concentric circles which bring harmony and fullness to the mind. It has many benefits that you may not have realised.
Therapy
Mandala colouring has a healing power effect which helps in reducing negativity brewing in your head. It reduces anxiety and stress and the sacred circles can have a recuperative effect.
Concentration
Besides being a great stress reliever, mandala art also needs you to be attentive and it requires you to be calm as well. The combination of the two needs you to concentrate as you need to be deeply engaged in the colour sequence and not going out of the line.
Meditation
There are several ways of meditation like dance or yoga and some meditate by watering their plants or other such activities which relax them. Another way is by drawing and colouring mandala art. As per some psychological studies, colouring is effective like meditation. It brings in more positive thoughts by eliminating the negativity that you may have been manifesting for a while.
Creativity
Since this engages your mind, it slowly starts stimulating the creative side in you that you may not you had. The precision in colouring, the usage of hues make both sides of your brain focus better and in a way balances you. The intricate designs make the person coloring in the book, work aesthetically and activate both the creative as well as analytical part of you. It is said to help in refining your motor skills and also produces inner strength.
Immune System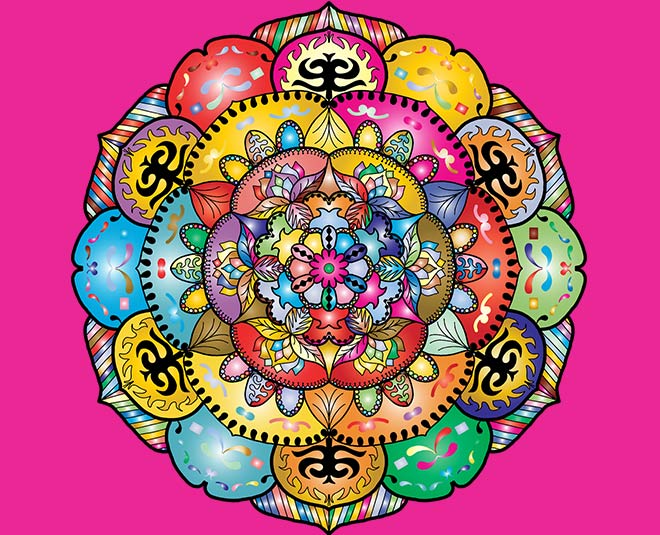 This one is a surprising benefit but many swear by it. Mandala art coloring has many geometric patterns involved in it which are said to represent the cosmos metaphysically. As per modern medicines, these mandalas have become the tool which induce calmness and are a healing tool. It helps in boosting the immune system, works on enhancing concentration, promotes good sleep and also reduces pain.
Don't Miss: Here Is How You Can Manage Stress Through Better Sleep
Self Confidence Building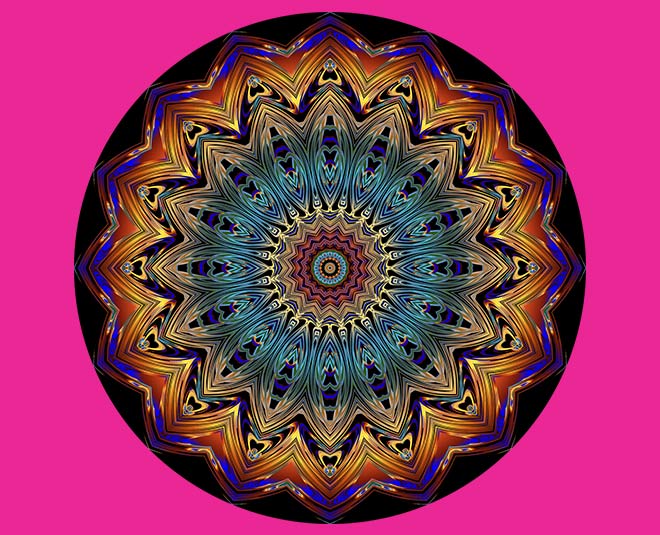 This activity connects you to your inner child like a therapy, breaking all the negative thoughts you had as a growing up kid. It is said that since this art calms you down, in most cases, it helps you become a better person and makes you love yourself even more. This art boosts your self-confidence and helps in facing the world with a more positive attitude.
Therapy For Many Diseases
It has been found that mandala colouring is often suggested for people who have epilepsy and lower blood pressure. By colouring, it helps the epilepsy patients by calming them down and relaxing them. Jerky hand movements are also controlled when mandala art is practiced daily. The activity is enjoyed and this helps in reducing epileptic attacks. The colouring process also helps in keeping a check on the blood pressure levels.
Don't Miss: Burn Bay Leaves Or Tej Patta At Home For These Benefits
Mandala art does not require you to be stationary at home. These apps and books along with small colour pencils can be carried anywhere. If you are coming back from work then you can practice it in the train or bus. If work stresses you out then take out 30 minutes and colour away in the office. It is portable and there when you need it.
So stay tuned to HerZindagi for more such stress management ways and work on your happiness.