For 3 days, the wedding guests were made to sign the NDAs, requesting not to use their cell phones throughout their stay at the wedding venue and during the festivities of the Katrina Kaif and Vicky Kaushal wedding.
Gift Hampers
View this post on Instagram
We had heard a lot about the gift hampers being given away at the Katrina Kaif and Vicky Kaushal wedding. We have an inside to the hampers and where you can score one for yourself from!
This hamper has been designed and curated by Team Confetti Gifts, a Jaipur-based gifting startup owned by young extremely talented Saumya Kabra.
There were around 150 such hampers for guests traveling from Jaipur airport to Ranthambore and similar while traveling back to Jaipur.
Read More- Katrina Kaif And Vicky Kaushal's Haldi And Mehendi Ceremony Pictures Are All About Love!
The Room Tour
The room in the vlog by Arunendra, Dr. Upasana Vohra's husband, posted on Youtube on the 12th of December, clearly showed how lavish the room for the wedding guests was.
Dr. Upasana Vohra clearly stated that there was no usage of cell phones throughout the series of events at the starting of the video itself.
The bed seemed to be covered with a grand meshed net and a scenic view from the room. The room also had a toilet seat that can also be called a highlight, which costs nearly INR 6 lakh. The toilet seat is made with the help of Japanese technology and has excessively high functioning as compared to normal toilet pots.
The couple praised Gurdas Maan and his performance during the wedding. It seemed like the family and everybody at the wedding were pleased with the performance and wanted more!
Read More- #Vickat Wedding: Decoding Katrina Kaif's Wedding Looks
Reception Hamper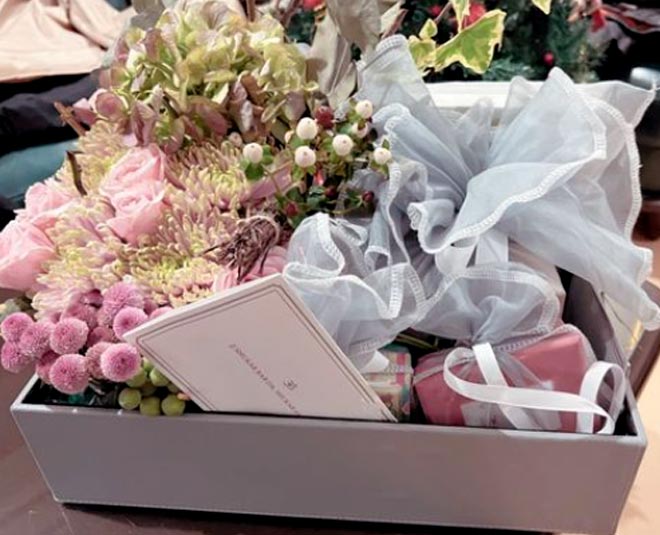 Having been a crazy week for Bollywood, the newlywed couple, Katrina Kaif and Vicky Kaushal may have fled to the Maldives for their honeymoon.
Govinda took it to his Instagram to share a hamper that he had received from the couple after their wedding. The actor didn't mention if it was for a wedding reception or just a hamper indicating their wedding.
With everything being all peppy on Instagram, we are surely waiting for more from the newlywed couple! Stay tuned to HerZindagi for more!