The world is celebrating womanhood today, as it is international women's day. Being a mother is one of the most significant parts of being a woman. It is a joy that one cherishes and also shares with others. Kareena Kapoor Khan is doing the same.
Bebo took to her official Instagram profile to reveal her newborn baby's first photo with the world. While the snapshot is absolutely adorable and we can't stop looking at it, we also fell in love with the message the actress penned alongside. "There's nothing women can't do ❤️❤️ Happy Women's Day my loves ❤️ #InternationalWomensDay," she captioned the post.
View this post on Instagram
There could not have been a better day than women's day to share her reason for joy with others. After all, the day is not only about spreading awareness and talking about women's right. International women's day also teaches us to be there for each other and celebrating other women's success and joy.
Details About The Monochromatic Picture
Kareena can be seen looking beautiful in the monochromatic picture with almost no makeup. While she is donning a simple denim jacket, her baby can be seen wrapped in polka dot cloth. Only his head is visible in the snapshot, which is placed on his mother's shoulders.
Kareena Kapoor's fans are constantly sending her immense love on the same post. While some are also wishing her a happy women's day, most are thrilled to have the first glimpse of her newborn baby boy. The last time we checked the IG post had garnered around 366,958 likes within an hour.
Kareena's First Picture After Giving Birth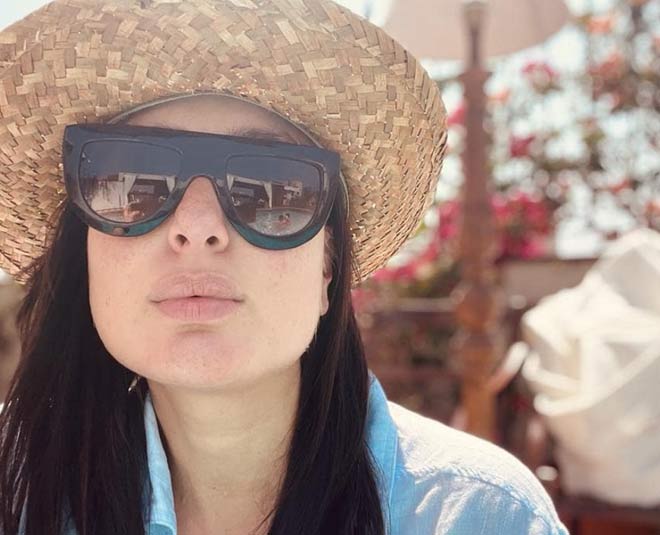 A week ago, the actress uploaded her first picture after giving birth to her second baby. Wearing a simple dress, sunglasses and a hat, she wrote alongside her selfie "Oh hello there... Missed you all."
Kareena gave birth to her and Saif Ali Khan's second baby boy on February 21, 2021. After welcoming the baby, Saif issued a statement to the media that said, "We have been blessed with a baby boy. Mom and baby are safe and healthy. Thank you to our well-wishers for their love and support."
Don't Miss: The Pataudi Palace: Inside Pics Of Kareena & Saif Ali Khan's Rs 800 Crore Worth Home
The couple is yet to announce the baby's name. Meanwhile, Saif and Kareena are also avoiding posing for the press with their baby.
Right before their second child's birth, the couple along with Taimur had shifted to a bigger home. Kareena and Saif's new home is just opposite their former house.
Don't Miss: Kareena Kapoor & Saif Ali Khan Welcome New Family Member, Know How Much Her Maternity Ward Charged
Do let us know what do you think about the same by commenting on our Facebook page. Stay tuned to HerZindagi for more such stories.
Picture Courtesy: Instagram (kareenakapoorkhan)