Actor Sushant Singh Rajput died by suicide on June 14, 2020. Reportedly, he was suffering from depression. His death has triggered a major debate on nepotism in Bollywood. A lot of his fans and known ones from the industry have been targeting Bollywood biggies after his demise. Kangana Ranaut is one of them and has been openly talking about the emotional, psychological, and mental lynching in the industry. She recently spoke to a news channel about the same.
Kangana Ranaut's Interview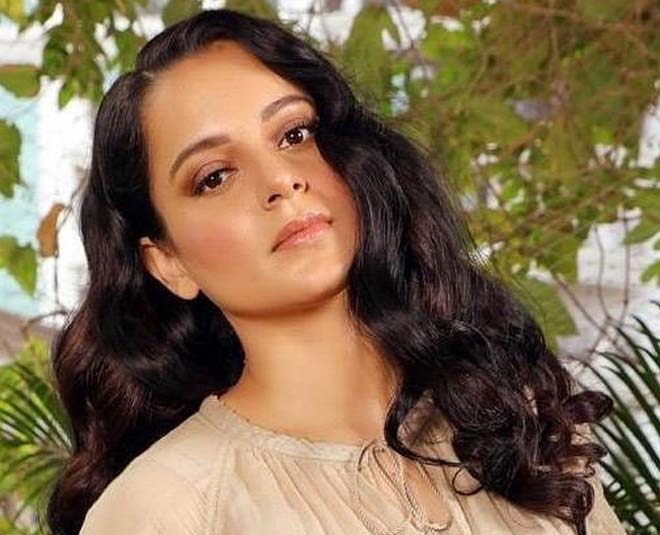 This was Kangana Ranaut's first interview on Sushant Singh Rajput and during this one, she called his death a murder and blamed 'movie mafia' for sabotaging his career. She also shared that filmmakers like Sanjay Leela Bhansali, Shekhar Kapur were summoned by the police in the case but biggies like Aditya Chopra, Karan Johar, Mahesh Bhatt weren't.
#KanganaSpeaksToArnab | Kangana Ranaut's unmissable interview with Arnab Goswami on 'Nation Wants To Know' is on-air on Republic; Tune in to watch here - https://t.co/RZHKU3wOei pic.twitter.com/ENjd3M2pS8

— Republic (@republic) July 19, 2020
Kangana Ranaut also claimed that Sushant Singh Rajput had a big showdown as he wasn't allowed to do films outside the Yash Raj banner. She said, "Their contracts are 'evil', you can't do anything without their permission. Bhansali wanted him for Ram-Leela, but Aditya Chopra did not allow him to do the film, so he made Ranveer Singh do the film. Bhansali has not chased any actor for five years, he wanted him for Bajirao Mastani, again Aditya Chopra did not let him do the film, reason best known to him, why because Sushant did not know how to do 'chaplusi' (being a sycophant). They sabotaged his career."
She also shared how Sushant Singh Rajput supported her when she first talked about nepotism a few years back. She said, "You know why I feel so responsible for this whole thing, because when I spoke about nepotism, only one person supported me, Sushant. And after that, they went for him. No outsider supported me, they went licking their feet and they got awards, the whole system, be it, insider or outsider, went against me."
Don't Miss: Rhea Chakraborty, Ankita Lokhande, Mukesh Chhabra Remembers Sushant Singh Rajput
Kangana Calling Swara Bhasker And Taapsee Pannu 'B-Grade Actresses'
#KanganaSpeaksToArnab | I want to share this information publically so that there is no hiding of facts. In 2016, when I started to talk about nepotism, why should I be isolated?: Kangana Ranaut, Actress @KanganaTeam
Watch here live: https://t.co/rGQJsiKgt2 pic.twitter.com/AGw3hkWPHq

— Republic (@republic) July 18, 2020
During her interview, Kangana Ranaut said Swara Bhasker and Taapsee Pannu are needy outsiders who are called B-grade actresses even though they are better looking than Alia Bhatt and Ananya Panday. She also questioned them why they are in the category if they love Karan Johar. Kangana called their existence a proof of nepotism.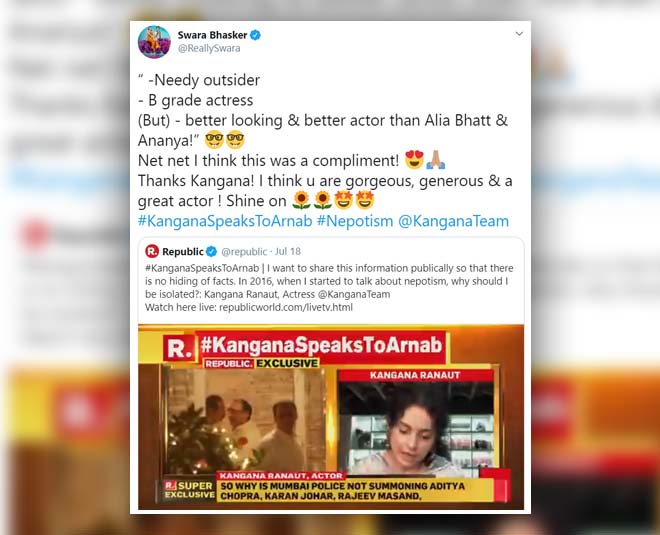 As soon as actors Swara Bhasker and Taapsee Pannu saw the video, they took to Twitter. Swara sharing the video tweeted, "-Needy outsider - B grade actress (But) - better looking & better actor than Alia Bhatt & Ananya!" Net net I think this was a compliment! Thanks Kangana! I think u are gorgeous, generous & a great actor ! Shine on."
Maine suna class 12th n 10th ke result ke baad humaara result bhi aa gaya hai! Humaara grade system ab official hai ? Abhi tak toh number system pe value decide hoti thi na 🤔 #MaLifeMaRulesMaShitMaPot

— taapsee pannu (@taapsee) July 19, 2020
On the other hand, Taapsee Pannu shared a cryptic post and wrote, "Maine suna class 12th n 10th ke result ke baad humaara result bhi aa gaya hai! Humaara grade system ab official hai ? Abhi tak toh number system pe value decide hoti thi na."
Thanks @taapsee for highlighting that the need of the hour is solidarity and sanity. When shoots have come to a standstill,cast/crew have no jobs, we must create a positive work culture! Let's desist from anything counter-productive that'll increase toxicity in our industry!🙏❤️ pic.twitter.com/CuYAuVNT7L

— TheRichaChadha (@RichaChadha) July 19, 2020
Richa Chadha supported Taapsee on twitter. She thanked Taapsee for highlighting the need of the hour. She shared that one must create a positive work culture and detest from anything that leads to toxicity in the industry.
Taapsee also talked to a news portal about Kangana's remark. She said that none of her films is produced by any of the gangs Kangana is targeting at. She said, "I don't have any film of mine which is produced by any of these gangs that she keeps targeting. I never mentioned anywhere that 'I like Karan Johar or anyone she alleges, but I have never said 'I hate them either'. So the fact that you don't hate someone she hates, is equivalent to you like that person? I don't even know him beyond formal, 'hi, hello's and thank you'. So how is this even logical?"
Don't Miss: Sushant Singh Rajput's GF Rhea Asks For CBI Investigation
In response to their tweets, Kangana Ranaut's team tweeted, "Sushant who had complained of bullying in his Instagram chats, giving interviews & confirming the presence of movie mafia has bn killed but @reallyswara (Swara Bhaskar) @taapsee (Taapsee Pannu) & @richachadha (Richa Chadha) trying their best to deviate the conversation #KanganaRanaut has started for getting Justice for Sushant. Why?"
Twitter Reactions
This war of words on the micro-blogging site is bringing in a mix of reactions from Twitteratis. While many of them are applauding Kangana for being extremely brave, others are saying she is using Sushant Singh Rajput's death as a tool to promote herself.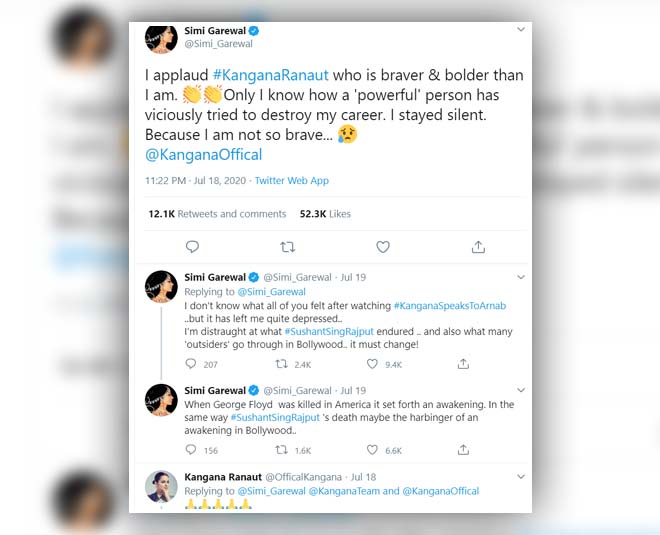 Veteran actor Simi Garewal tweeted in support of Kangana Ranaut, calling her brave. She wrote, "I applaud #KanganaRanaut who is braver & bolder than I am. 👏👏Only I know how a 'powerful' person has viciously tried to destroy my career. I stayed silent. Because I am not so brave... 😥 @KanganaOffical."
She rightly said that she only has to Lose by raising her voice in favour of SSR.
She would gain nothing.
She can jolly well remain silent on the issue, but the lady has chosen to stand up against nthe Mafia.

Huge Respect !!
🙌🙌

— Abhinav Misra (@AbhinavMisra17) July 18, 2020
A lot of users are also questioning why Kangana targeted actors like Swara and Taapsee amidst her debate. One user wrote, "If #KanganaRanawat wants to act against nepotism that's ok, good. But why this lady is attacking the other actors that too @taapseewho is an incredible actor, came into fame with her skills."
@ReallySwara and @taapsee are actually more beautiful and talented than @aliaa08 and @ananyapandayy but the problem is they have decided to settle in the system rather than shaking it up
They will remain supporting actresses for the rest of their lives owing to this attitude

— Dhiraj Ahuja (@Dhirajman1108) July 18, 2020
Many netizens took to Twitter and slammed Taapsee and Swara for not standing with Kangana. One user wrote, "Tumko grade hi dikhega but she indirectly said you r way talented 100 times than the starkids.wo tumhe nhi dikhega.taapsee it's d time you should stand with her.bhale baat alag context me khi he.plz understand that first."
Another one wrote, "Aree madam ap Jase moorkho ko koi samjha b nh skta.she said clearly u better than Alia n struggling actress Ananya,n ppl like u hav enuf time to tweet A B grade,hw much u PAID fr thsPouting facebt u cant come fwd n raise ur voice against crime.may b noone giv u cash for ths #OnlyCBIForSSR."
What is your take on Kangana Ranaut's claims on Sushant Singh Rajput's demise? Share your thoughts with us! For more updates on the story, stay tuned!
Did you like this article ?