Sana Khan is a popular face, not only of the telly world but Bollywood too. The actress has been a part of TV shows like Comedy Night Bachao, Jhalak Dikhla Jaa, Entertainment Ki Raat, and Kitchen Champion among others. Talking about movies, the actress has starred in films like Jai Ho and Wajah Tum Ho.
Well, for all you Sana Khan fans, we have bad news! Sana Khan has decided to quit the entertainment business.
Sana Khan's Note On Social Media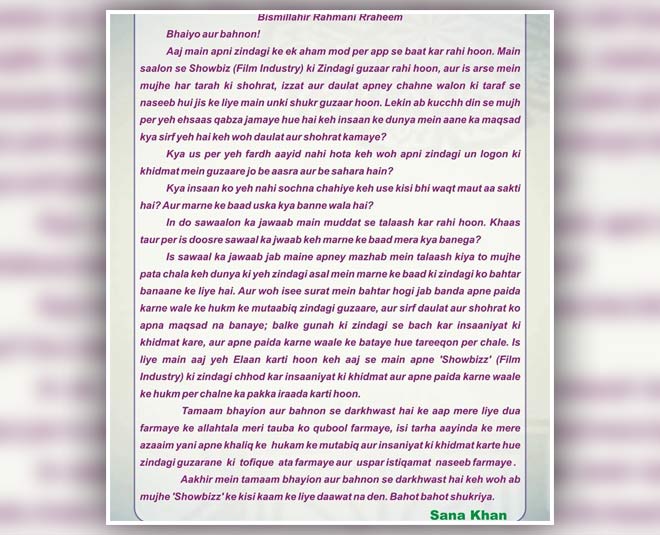 In her note to social media, Sana Khan wrote, "I am at an important juncture in my life. For years, I have been living the Showbiz (Film Industry) life, and during this time I have been blessed with all kinds of fame, honour and wealth from my fans for which I am grateful to them. But, for the last few days, a thought has kept me occupied. I have been wondering, does one take birth only to earn wealth and fame for oneself? Isn't it a moral responsibility of humans to serve or support those who are helpless or needy? Shouldn't people think about what will happen to them in the after-life since one can die at any given time?"
Her note, "I declare today that from today onwards, I have resolved to say goodbye to my showbiz lifestyle forever and serve humanity and follow the orders of my Creator. All brothers and sisters are requested to pray for me to Allah to accept my repentance and grant me the true ability to live in accordance with my determination of spending my life following the commandments of my Creator and in the service of humanity, and grant me perseverance in to."
She captioned the post, "My happiest moment😊 May Allah help me n guide me in this journey. Aap sab mujhe dua Mai Shamil rakhe🤲🏻."
Request To Not Question About Showbiz
As Sana Khan concluded her post, she requested her followers not to question her about anything related to the showbiz world. She wrote, "Finally, all brothers and sisters are requested to not consult me with regards to any Showbiz work henceforth."
Don't Miss: These 10 Actresses Ruled Bollywood While Zaira Wasim Decided To Quit Films In Just 5 Years
Celebrity Friends Wish Her Luck
As soon as Sana Khan posted the note, a lot of her fans and friends from the industry posted comments. Actress Ridhi Dogra commented, "Sana my girl Wish you so much love and joy that you already carry within you as a person. Be blessed today and everyday. ♥️"
Choreographer, Salman Yusuff Khan commented, "May Allah forgive your shortcomings .. and grant u magfirah ... more power to you .. dua Mai yaad rakhna .."
Don't Miss: Exclusive: Sana Khan Spills Beans On Her Skin And Hair Secrets
Actor and singer Meiyang Chang, commented, "That's a brave and beautiful decision to take, Sana. I pray you approach this phase with the same honesty & zinda-dili that you've shown in your life until now. All the best."
Fallout With Boyfriend Melvin Louis
Earlier this year, Sana Khan had a major fallout with her boyfriend, Melvin Louis. The actress publically shared about her breakup and accused him of cheating on her with other women. The entire scene turned ugly as Sana Khan talked about it openly.
For those who don't know, Dangal fame actor, Zaira Wasim quit acting a year ago, citing the same reasons. Well, we just wish Sana Khan all the best for her future and hope that she finally gets what she is looking for. What's your take on Sana Khan quitting the showbiz? Share your thoughts with us! For more such stories, stay tuned!