There is no greater joy than having a relationship which runs smoothly and enables you to enjoy your work, life and other activities beyond the special bond between the two. Just like a smoothly-running car sometimes faces issues, relationships too sometimes run into problems. Life throws all types of challenges to relationships, from redundancy to illness to relocation. It's no surprise that problems arise even in the thickest of relationships.
Do you want your relationship to be running steadily? Issues in the relationship result in frustration. So, it is crucial to resolve your relationship issues before they result in bigger ones. To help you resolve those matters better, HerZindagi exclusively spoke to Dr Anuneet Sabharwal, Founder and Director at The Happy Tree, which is a de-addiction and mental health hospital.
"Handling issues in your relationship is not that hard; all you need is a little courage, perseverance, and most of all, love," said Dr Sabharwal and suggested ways to deal with some of the most common relationship issues.
Lack Of Trust
It is one of the biggest issues in any relationship. Trust is not always related to infidelity but can rear its ugly head anytime. If you doubt your partner regularly, it's the right time to handle your trust issues together. No relationship can survive without mutual trust. So, the only solution to this issue is to be faithful, truthful and consistent.
Both, you and your partner need to make an effort to work on the relationship. Consistent efforts, respect and empathy, resulting in gaining your partner's trust of. At the end of the day, whether you're in a monogamous relationship, open relationship or a polyamorous relationship, stay true to the foundations on which your relationship has been built.
Overwhelm
When life gives you too much, you may be overwhelmed. You might be going to work after your promotion, and your partner may be dealing with some life issues.
Whatever may be the reason, your relationship takes a back seat and problems build up. The only way to tackle such cases is to talk to each other about your life's happening and support each other. Figure out a time for each other.
Communication
A lack of communication between partners in a relationship results in fighting, frustration, and misunderstandings. Additionally, it leads to both or one of you feeling invalidated and unheard at times and soon builds into resentment.
A solution to this problem is to listen to each other without interrupting or judging and keeping your point of view without taunting. Communicate like you are friends, not competitors. Think and figure out which style of communication would better work for you.
Taking Your Beloved For Granted
It is easy to take your partner for granted when you have a long list of things going on in your life. The only time you might currently get together is while rushing to work in the morning, or during a family dinner.
The solution to this issue is that no matter how busy you are, take out some time from your busy schedule, and spend with your partner to talk about your day. You can have a date night on weekends to show your partner they are your top priority.
Different Needs Of Intimacy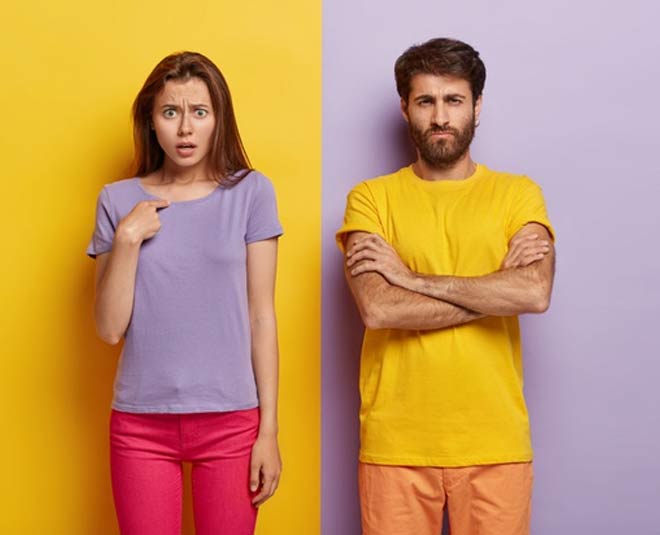 Physical intimacy is the backbone of most great relationships. If you are not happy with your love life or have different intimacy needs, it's time to talk to your partner (things you learn about your partner while working from home) seriously. Intercourse keeps you emotionally and physically fit. Whether it's frequency, sexual preferences, or discomfort during the intercourse, make sure that both of you are happy.
Don't Miss: Vastu Tips That Can Help In Improving Your Love & Married Life
Dearth Of Appreciation
It's no wonder that good employees leave their jobs due to bad bosses. Around 75% of people quit their job because they don't feel appreciated. The same goes for a relationship; if you take your relationship for granted, it will eventually result in a breakup.
Showing appreciation keeps your relationship healthy. Therefore, remember to compliment your partner (how to make your partner feel special) and notice all things they have brought into the relationship that enrich your life. This goes a long way in keeping your relationship smooth.
Don't Miss: Have A Toxic, Nagging Mother-In-Law? Here Is How You Can Deal With Her
If you liked this article, do comment on our Facebook page. Stay tuned to HerZindagi to read more such stories.
Did you like this article ?