Hina Khan is one telly celeb who managed to create a loyal fan base with her first-ever show Ye Rishta Kya Kehlata Hai and never looked back. From becoming a household name to making her big debut at the International Cannes Film Festival, Hina had a long journey. She is one of the most popular face of the television world today.
Hina's journey was never smooth. She had to pass through a lot of difficult phases to become what she has today. While on one side she was winning praises, there was a lot that kept criticizing her but she never looked back. She made her way to becoming one of the top celebrities of the country.
Hina is turning a year older and we didn't want to miss this opportunity to praise her. We love everything about her and here we share with you why she is our favourite celebrity. Read on.
She Works Hard To Make Her Own Place
Hina Khan's debut at the Cannes Film Festival was one of the biggest things we witnessed this year. Hina walked the carpet at the Cannes for her movie, Lines. Her appearance at the red carpet was full of confidence and glam. However, Jitesh Pillai, Editor of Filmfare had a remark. He posted a picture of Hina and wrote, "Cannes has suddenly become Chandivali studios?". Hina had a perfect reply for the editor. She tweeted, I was persistent, I m constant n I will b efficient again n again again. Don't know where I belong, don't know if I have to, as d Place don't define me! Bcause as always I will work my a** off n I will make my own PLACE. My promise,a proud outsider from my Chandiwali studios.."
Well, that is why we love Hina! Hina called herself a "proud outsider", her fitting reply won our heart and spoke about her hard journey from being a television actor to representing India globally.
She Dares To Go Bare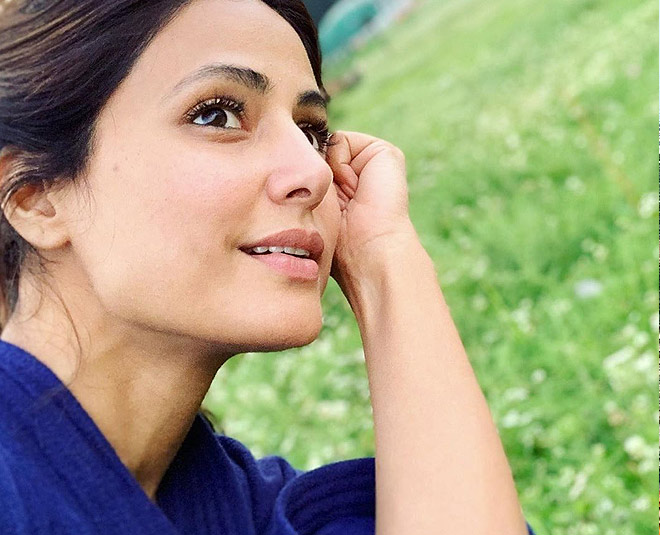 We all know the world of entertainment is full of glitz and glam. It is rare that you see the other side of the life of these celebrities. While we envy them all for they look so stunning every single time, many don't know that there are layers of makeup that hide all the flaws. Celebs hardly step out of makeup in public but Hina is one celeb who never shies to do that. She is one celeb who keeps posting without makeup pictures of herself on her social media handles. What's the best part? She looks flawless! Hina Khan has beautiful, glowing skin and she loves showing off to the world!
Don't Miss: 7 Times Hina Khan Shared Her Make-up Free Pictures And Proved That Her Beauty Is Magic
Hina Inspires Us To Hit The Gym
For all those who follow Hina Khan regularly know that she is a fitness freak and her day is incomplete without hitting the gym. Hina wants to really motivate everyone to hit the gym and take care of themselves and this is why she posts a lot of stories from the gym. Hina also shares pictures of herself post-workout to show us the glow she gets on her face everytime.
She Is Fashion Icon
Hina Khan's sartorial picks are only getting better with time. From traditional wear to western wear, Hina Khan knows how to don it all with style. If we talk about her fashion, Hina's picks are fuss-free and casual but she knows how to give her looks a trendy twist.
Don't Miss: 5 Times Hina Khan Proved Her Saree Game Is Strong
Hina Is Making Us All Proud
On the occasion of Independence day, Hina Khan was in New York to represent India. From playing a television bahu to representing the nation, Hina has reached new heights with her hard work and dedication. It was such a delight to see her representing our nation in the USA. All the love that she received, she deserves it and a lot more.