Interior decoration can turn out to be an expensive affair. But, with proper set up of lights, you can create a huge difference with what you already have. Lighting is an imperative aspect of home décor, as it enhances the aesthetic appeal and creates the mood along with the ambiance of living space. Not only does it add style, but it also creates a comfortable environment for the interior décor. Nowadays, there are a variety of lights available in the market. While some are eco-friendly, others are hi-tech colour changing hue lights. These lights are capable of giving the room a special look and also transform it into a seamless combination of functionality and style. If you also want to create a visually dynamic space without spending much, try these tips to decorate your space.
Make Shelves Stylish
Gone are the days, when people use to decorate their shelves with trophies and old showpieces. In the 21st century, the racks must be decorated in a way to make it stand out. What better way of doing this than installing hue lights. Place a small bulb behind the storage to give an impressive backlight. Also, use glass bottles to make different types of showpieces using hue lights to create an instant and attractive effect.
Install Bias Lighting For Tv & Painting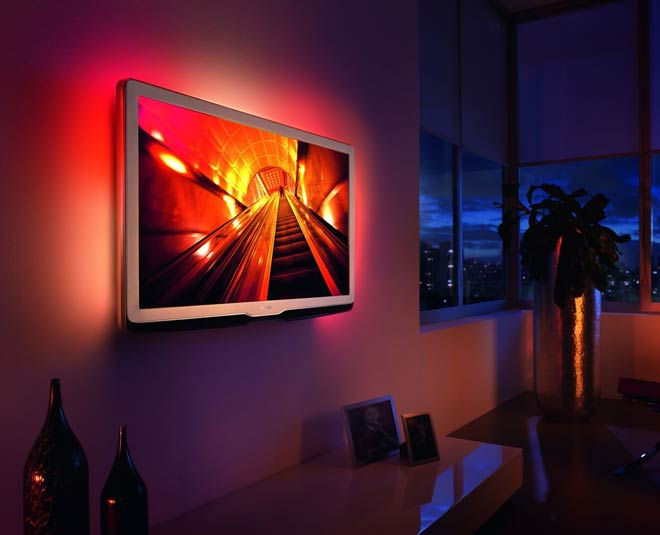 We all are obsessed with TVs, mobiles and our laptops. While staring at the screen takes a toll on our eyes, looking at a bright monitor for longer duration in a dark room causes more damage to your eyeballs. Expert suggests that eyes are capable of adjusting brightness, but it's best to not torture your retina and maintain eye health by installing bias light. These are a weak source of light behind a screen or monitor to illuminate the wall or surface. The purpose is to put less strain on the eyes. However, if you're not obsessed with TV, but still like bias lighting, decorate your living room or bedroom by installing bias light behind a beautiful light-shade painting.
Don't Miss: Common Myths Around Usage Of Wallpapers At Home, Busted!
Light Up Dining Table
Are you tired of cliché hanging lights in your dining area and looking for a change? Install LED strip lights underneath your table. Choose neutral colours like white or beige and keep your distance from blues. You can also colour coordinate the walls and the lights to create a stunning look.
Don't Miss: See Pics: Revamp Your Pooja Room With These Latest Decor Ideas
Decorate Staircase With Lights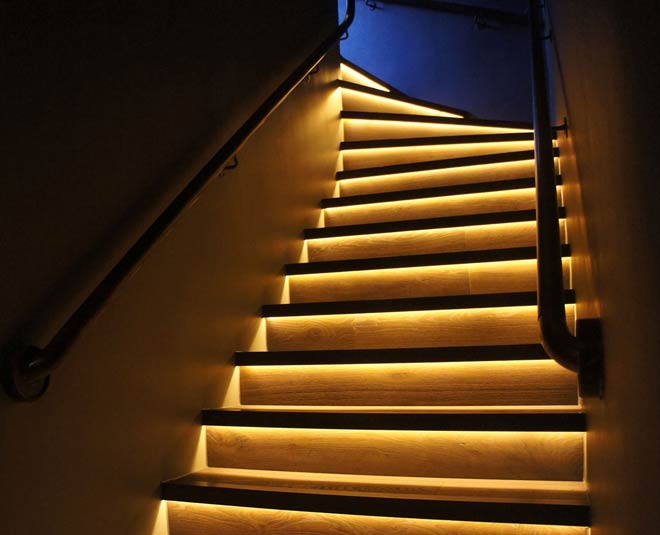 Staircases are one of the most ignored areas of the house. The wall against it is embellished with plants, photographs, and wall hangings, whereas, the stairs are left just like that. Not anymore! Install the lights vertically on the tread. If you install smart lights, they will glow as you walk on it, this is especially best for the house, where there are children and senior citizens. Plus, it will enhance the beauty of the house in the best way possible.
Consider Colours Of Your Walls
Depending on the colour of your wall, you must choose the shade of the bulb you want to install in any particular area. The coloured lights are only visible because it reflects off a surface. So, if the walls are dark in colour, you don't want to add more drama to it by installing coloured lights, as the effect will be muted. Only if you have a pure white wall or ceiling, you must use it as a canvas for the hue lights. Anything else will not look pleasing to the eyes.
For more such stories, stay tuned to HerZindagi.