The laughing buddha is cherished all over the world. He is found in homes, restaurants, places of business and so on. He is known as the 'Buddha of Wealth' as he is known to bring wealth and prosperity to a home or business.
According to the stories that are passed on to us from the older generations, you are supposed to rub the Buddha's tummy every day which makes him happy and in turn, he grants your wishes. When you do rub his stomach, make sure you do it with a positive attitude. The gesture should be uplifting to your spirits and make you feel happy. It also makes for an amazing gift be it any occasion.
Placing In The East
The eastern side of our homes is said to be the family luck spot. If you want to bring harmony and joy to the family, place the idol in this direction. It is not just about wealth, a laughing Buddha can bring relief even if your family is experiencing internal strife, arguments, and clashes.
Placing In Personal Sheng Chi Direction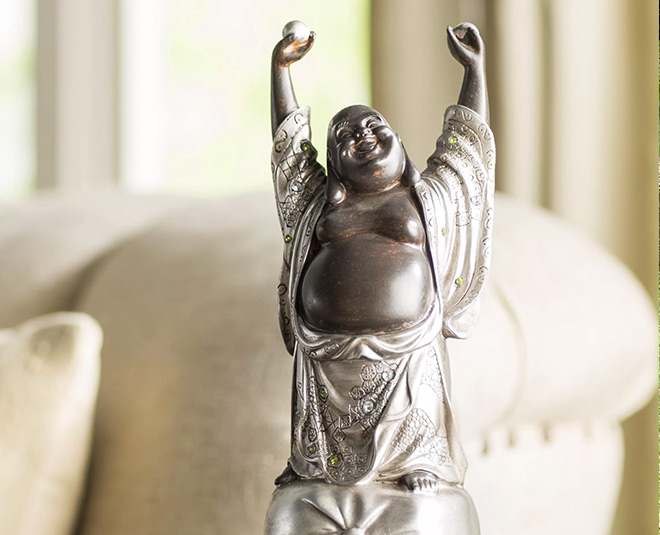 In the Feng Shui tradition, each individual is given a particular direction as his or her personal Sheng Chi direction. Placing Laughing Buddha in this direction at home will advance the wealth, overall well being, and success in life.
Don't Miss: Avoid Bad Luck By Not Making These Mistakes In Your Home
Placing On The Work Desk
Placing Laughing Buddha on your desk in the office is said to help you find excellent prospects with your career. Students can place this idol on their study table so that they can get more concentration and excel in their academic performance. Also, this idol is well known for helping in the prevention of disputes, quarrels and arguments with colleagues, subordinates and superiors.
Where To Avoid Placing The Laughing Buddha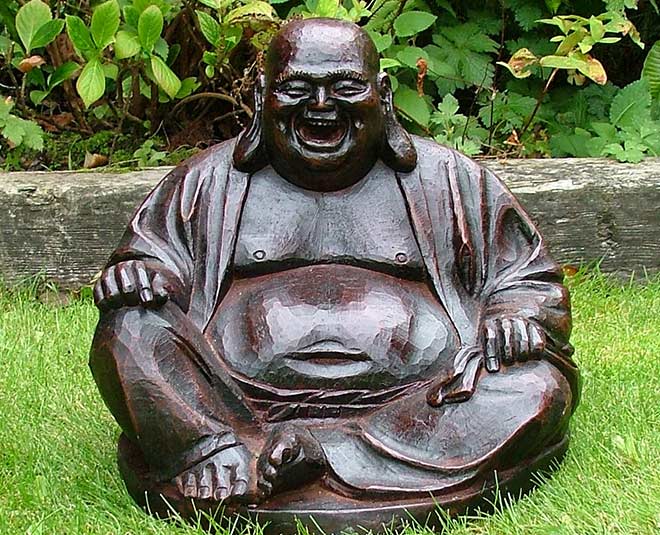 Image courtesy: statuesandsculptures.co.uk
Laughing Buddha is respected and regarded with great reverence in Feng Shui and Buddhism. Know that the idol of Laughing Buddha is an object to be worshipped and respected. If you are disrespectful to this idol, it is said to reverse it all and bring misfortune and therefore, you must exercise great care in duly giving importance to it.
Don't Miss: Avoid Bad Luck By Not Making These Mistakes In Your Home
Never place this statue in the bathroom, kitchen or on the floor. Also, avoid placing it near electrical lines and equipment that have moving parts or make continuous noise as these impacts shall scatter the energy exuded idol.
How To Place
The height of the statue should be at least at the eye level. It is always a matter of respect to look upon the idol from below and not look down upon it from above. This holds good for any image or statue that is of religious and spiritual importance. It is important that you place the laughing buddha idol facing the main door to attract luck and fortune.
A laughing Buddha is a perfect gift for housewarmings and also during this festival time. During Diwali when we all want to welcome the Laxmi Goddess to our homes, you can also get or gift a nice big laughing Buddha idol to attract wealth and happiness. There are all kinds of sizes available, but we recommend a big one so that you can rub its tummy properly.
Stay tuned to HerZindagi for more Feng Shui tips.
Did you like this article ?