They were our Friends unknowingly. They became our comfort in those dull days when nothing seemed right and we never wanted it to end. After 10 seasons from 1994 to 2004, the legendary cast of the epic show FRIENDS showed up together at the FRIENDS Reunion after 17 years and the whole world was hooked! As shared on the special 1 hour 39 minutes long episode, 100 billion fans like you and me were streaming the event and some of us had tissue boxes next to us. But what had our minds blown were some facts that the cast revealed!
The FRIENDS reunion was a much-awaited episode, like "The One Where The Fans Of Friends Across The World Were Together At The Same Time". But we were in for some amazing surprises like Justin Bieber, Cindy Crawford walking the ramp, our much-loved characters like Janice, Richard, Gunther, Mr. Heckles popping in for a few lovely moments when we wanted to hug them too. I bet you too went "OH MY GOD" when she stepped in, didn't you?!
But what made us skip our heartbeat were a few facts that the cast revealed on the show and then there are some which are lesser-known otherwise and I have tuned them in as well.
Jennifer Aniston, David Schwimmer Were Crushing On Each Other!
When James Corden, the host for the event, asked if there was any real romance happening behind the scenes and Jennifer took David's name, my heart skipped a beat! Like Corden said, "This is blowing my mind right now". The two iconic characters of Ross and Rachel were crushing over each other in real... just imagine had they really gone ahead and been together?
Aniston passed the question to Schwimmer, who said, "The first season, I had a major crush on Jen." Aniston quickly added, "It was reciprocated."
As the crowd gasped, Schwimmer pressed on. "At some point, we were both crushing hard on each other, but it was like two ships passing because one of us was always in a relationship. We never crossed that boundary. We respected that."
Then LeBlanc, feigning a cough, said, "Bullshit."
He quickly claimed to be kidding, before Aniston and Schwimmer explained that their first kiss was, in fact, onscreen — when Ross and Rachel made out in the Central Perk doorway.
"We just channeled all our adoration and love for each other into Ross and Rachel," Aniston said.
But, back on the set, with just the six, Courtney Cox said that she is glad the two never got together in real because their attraction benefited the show.
During the table reading, Aniston and Schwimmer read out their first kiss episode, cross-cut with actual footage from the series.
After the scene, the two actors talk about how they used to "spoon" and "cuddle" on the living room couch between takes.
"I'm thinking, 'How did everyone not know we were crushing on each other?'" Schwimmer said, over behind-the-scenes footage of the two flirting.
That is when Mathew Perry said revealed that " "We knew," and Cox agreed: "We knew for sure."
"It was a situation that we couldn't do anything about," Schwimmer said.
Cox again noted how if they had gotten together in real life, perhaps their characters' romance would've suffered.
When Matt LeBlanc Suffered A Dislocated Shoulder In The Couch Episode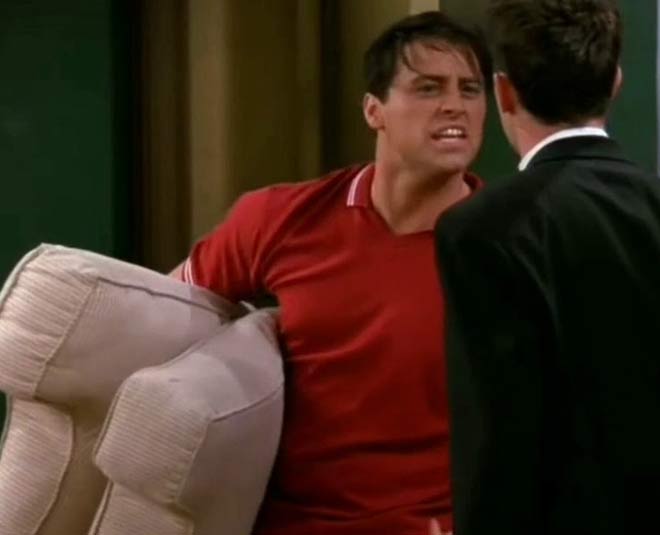 In the Season 3 episode, when Ross is trying to get everyone ready for a black-tie event at the museum, Chandler and Joey were busy fighting over a chair.
Remember at one point, when Chandler runs to claim the spot, Joey dives over the coffee table into the couch.
According to series creators Marta Kauffman and David Crane, they had gotten three pretty good takes but decided to do a fourth which they still regret.
"I went to jump over the coffee table and somehow tripped, and my legs went up in the air and my shoulder came out of the socket," LeBlanc said.
"It doesn't look like anything until I stand up," LeBlanc said.
The makers explained that they had to write LeBlanc's injury into the season — in the show, Joey dislocates his arm jumping on the bed — and then they waited until the actor had healed to film the ending of "The One Where No One's Ready."
LeBlanc claims the bad luck was caused by the cast neglecting their pre-show tradition: huddling up.
The Cast Huddled Every Day Before Shooting
The cast would every day huddle up together before the shoot which warmed our hearts when they revealed this. And this was indeed the good luck bit for them all.
But when they skipped it that one time, Matt LeBlanc had a shoulder dislocated.
"That's the one time we didn't do it," LeBlanc said of the ritual before Kudrow explained that it was early in the show and they were worried about making the audience wait, so they decided to skip the huddle.
"After that, we'd say, 'Do we need to do the huddle?' and (LeBlanc) would say, 'Yeah! I don't want anything else falling off of me!'" Kudrow said.
Don't Miss: Excited About The FRIENDS Reunion? Play This Fun Quiz & Keep The Buzz Alive!
Courteney Cox Would Hide Scripts Around The Set
Remembering paragraphs and lines is not always easy so to remember them, Cox would hide scripts on set. Once she wrote some of her lines on the kitchen table but LeBlanc actually erased them just to get to Cox for fun.
"Does Courteney still have her lines written on the table?" Schwimmer laughs, and Kudrow asked, "Really?"
LeBlanc further added that he never knew she did it until he saw her one day, and she told him to "mind your business." Instead, he erased it as a prank on her.
As Cox walked onto the set to join the rest, you can hear the four of them talking.
"There was always a script in the sink," Kudrow says. "But I never knew why." "That was Courteney's script," LeBlanc says. "Good for her!" Kudrow adds.
Later LeBlanc recounted the story for Cox (while dabbing her teary eyes), she says, "I had so much of my dialogue within these apples," she says, picking up the green apples in the kitchen table's centerpiece. "I have memory issues."
Who Took Which Set Piece Back Home
The iconic cookie jar was taken home by Lisa Kudrow. The Foose ball went home with Matt LeBlanc.
Don't Miss: Why F.R.I.E.N.D.S Was A Steppingstone In Breaking Stereotypes
The White Dog
The white dog which was with the boys? It actually belonged to Jennifer Aniston. It was given to her as a gift by someone and there are a few scenes which actually discuss the dog in some or another way.
The Central Perk Set Changed Every Three Episodes!
Yes, this is a fact very very few know about. To begin with, reminiscing the first season, there was no street visible outside the cafe and all we saw was a painted backdrop behind the glass. But after every few episodes, now if you watch it, you will notice that it changed a lot.
Each Friends Characters Are Named After Characters From The Show "All My Children"
Not many know this but the entire cast of Friends had their character named after "All My Children" characters. Ross is named after Ross Chandler, Joey is for Joey Martin, Chandler gets his unusual first name from the Chandler family, Monica comes from Monique/Daisy Cortland, Rachel Green is linked to Janet Green and Phoebe is named after Phoebe Tyler Wallingford.
There are many others out there but these were some key facts that very few know with some being revealed on the show itself after 17 years of it ending.
Stay tuned to HerZindagi for more on the entertainment world.