It is significant that we keep bugs like cockroaches away from places where we make, consume or store food. These places include the dining table, pantry, kitchen and most importantly refrigerator. Cockroaches are basically omnivores that ingest both plants and meat. They are known to attack food and spread bacteria through cross-contamination. This means that they pick up bacteria while eating something and then the same bacteria prevail in their guts. Not just this, they also leave their waste products on your supplies. Hence, we know how dangerous they are for our well-being. Getting rid of them is not that easy, however, some of these home remedies can help. One important thing to remember is, do remove all your food items from the refrigerator before trying any of these remedies.
Boric Acid
You need to be careful while using boric acid near your food, as it is not an organic substance, but an inorganic insecticide, which keeps cockroaches from eating or stepping around.
Steps
Either simply dust a thin layer of boric acid in the corners of the refrigerator where they hide.
Or, make a solution using 1 tablespoon of boric powder, 1 tablespoon of milk and ½ tablespoon of wheat flour in a bowl.
Mix well, and pour 1-2 tablespoon of this solution where you think they hide. Repeat this after every 2-3 months
Baking Soda & Sugar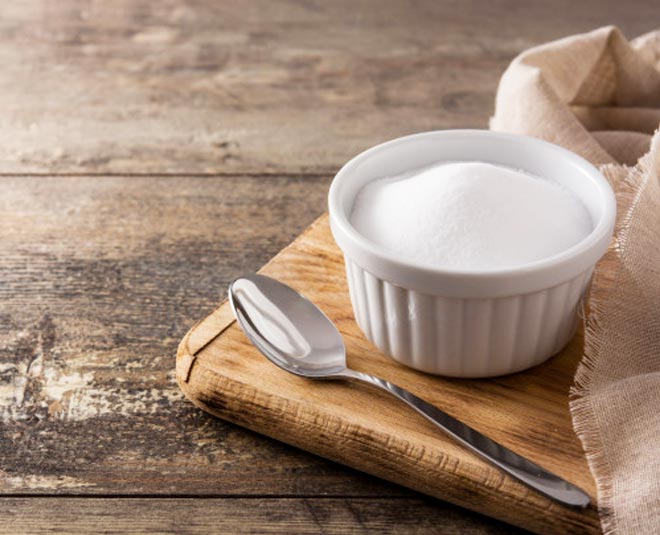 One of the most easily available cleaning ingredients found almost in every household is baking soda. Since it is acidic in nature, it kills and removes insects and bugs effectively.
Steps
In a bowl, mix 1 tablespoon of baking soda and 1 tablespoon of white sugar.
Mix well and dust the mixture in the cockroach-infested areas.
Use this method until all the cockroaches go away from your refrigerator.
Catnip Spray
Catnip, scientifically known as Nepata cataria is simply a herb that contains properties that irritate certain animals and insects. It especially bothers cockroaches as they are highly sensitive to this chemical. If you have a cat at home, make sure to keep her away while trying this home remedy.
Steps
You will find catnip leaves in any nursery. Once you get them, boil around 8-10 leaves in 2 cups of water.
Cover with a lid and let it boil for another 5-7 minutes.
Allow the solution to cool down and then store in a spray bottle.
Once done, spray well in all the cockroach-infested areas.
Bay Leaves
Bay leaves are commonly found in every kitchen of Indian household, as it is a key ingredient in most of the Indian dishes (taco samosa, an Indian appetiser recipe). The strong odour is hard for cockroaches to tolerate, that's why we can use it to get rid of them.
Steps
All you need to do is take 5-7 bay leaves, crush it in your hands and place them at all possible entry points of cockroaches.
Repeat this every time you see them coming and in a couple of weeks cockroaches will leave your refrigerator.
Peppermint Oil Spray
Peppermint oil is one of the most effective repellents (home remedies to treat mosquito bites) for cockroaches out there. They remove them in the best way possible, without actually killing them, which is great since we have to use it in the refrigerator.
Steps
Take a spray bottle, fill it half with water and 20-25 drops of peppermint oil.
Spray the solution in all the corners you suspect cockroaches.
If you liked this article, do comment on our Facebook page. Stay tuned to HerZindagi to read more such stories.
Picture Courtesy: Freepik