Raksha bandhan is just around the corner and so is the season of festivity. The occasion which marks the forever bond of brothers and sisters, Rakhi, would be celebrated on August 22nd this year. While sisters pray for their brother's long life and happiness while tying the auspicious thread, brothers promise to protect their sisters for the rest of their lives.
This year make Rakhi more special by making your own customised rakhi. If you are looking for innovative rakhi designs, then this article is just for you. Read on to know quick and easy ways through which you can prepare your homemade rakhi in less than 10 minutes.
Earbuds Rakhi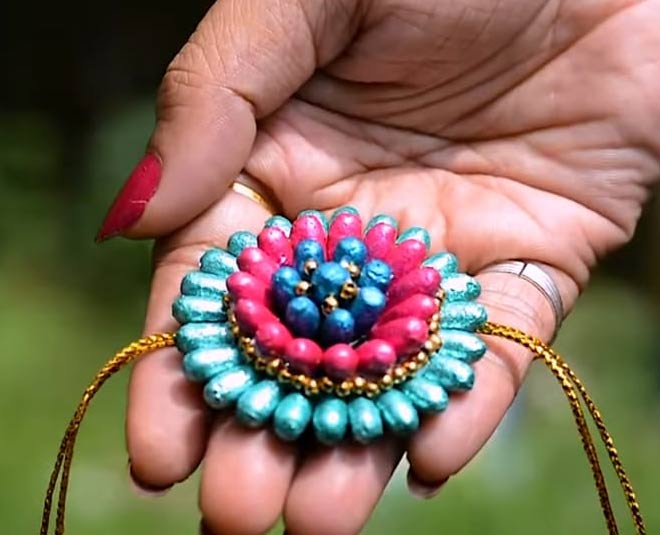 Image Courtesy: Art with Creativity (YouTube Channel)
Materials required: Cotton buds, paint, cardboard piece, glue, scissors and decorative ball chain.
Steps to make rakhi with earbuds-
Step 1- Take a cotton bud and paint both sides with your favourite colour.
Step 2- Repeat the process with 10-12 buds. (The number of buds can increase or decrease, depending on the size of your rakhi)
Step 3- Now cut the middle part of the earbud, such that you are left with both sides of the bud that you painted.
Step 4- Cut a small circle from the cardboard piece and spread glue on it.
Step 5- Start sticking your buds closely and form a shape of a flower.
Step 6- You can repeat the process for inner layers of the flower 2-3 times with different colours of buds.
Step 7- For final touches, you can use golden or silver coloured ball chains to outline your rakhi.
Step 8- Attach a woollen thread or mauli at the bottom and your beautiful rakhi is ready.
Don't Miss: Did You Know These Benefits Of Applying Mehendi On Hands And Feet Before Marriage?
Quilling Paper Rakhi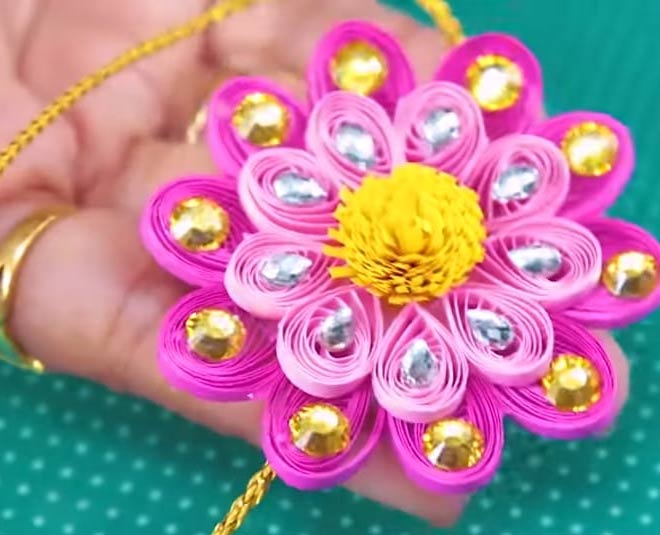 Image Courtesy: Art with Creativity (YouTube Channel)
Material required: Quilling paper, quilling needle, glue, scissor, cardboard and decorative gems or studs.
Steps to make rakhi with quilling paper-
Step 1- Start by taking quilling paper strips (3 mm width) and roll them using a quilling needle.
Step 2- Once rolled till the end, use a drop of glue to secure it in place.
Step 3- Now pinch the circle from the end to give it the form of a flower petal.
Step 4- Repeat the process to make 8-9 petals.
Step 5- Now cut a small cardboard piece and apply glue on it.
Step 6- Start sticking your petals on it in a circular motion.
Step 7- Once done, use your decorative studs to make your rakhi look better.
Step 8- You can also make another set of smaller petals and stick them on the bigger ones to give your rakhi a layered look.
Don't Miss: These Indoor Plants Need The Least Attention
Silk Rakhi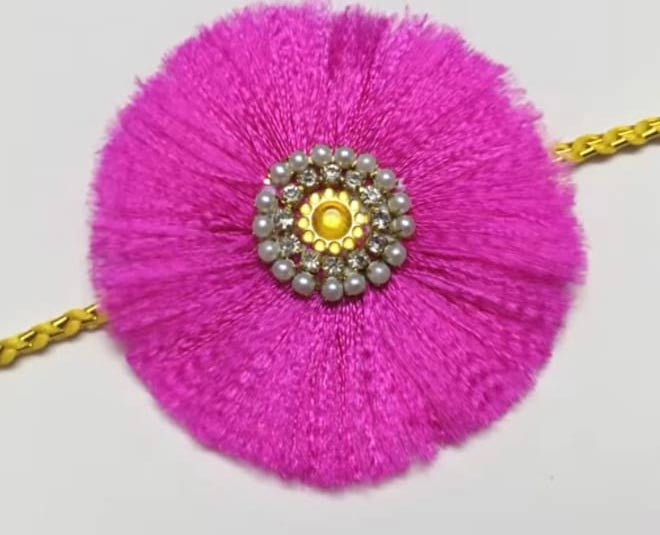 Image Courtesy: Stunnerfrenzy (YouTube Channel)
Materials required: Silk thread, rectangular cardboard piece, scissor, glue, beads and decorative ball chains.
Steps to make silk rakhi-
Step 1- Take a silk thread of your choice along with a small rectangular piece of cardboard.
Step 2- Now start wrapping this silk thread on the piece of cardboard.
Step 3- Make enough rounds around the cardboard. You might need to roll it approximately 150-200 times.
Step 4- Now take the wrapped thread out and use the remaining thread to tie it from the middle.
Step 5- After doing so you'll get a bow like shape.
Step 6- Use a scissor and cut both the ends of the bow from the inside. This will open the edges and the threads will spread in the form of a flower.
Step 7- Now use beads or ball chains to decorate the middle part of your flower.
Step 8- Stick your rakhi to a mauli and your handmade rakhi is ready for use.
So, try these methods and surprise your brother this Rakhi! For more such tips and articles, stay tuned to HerZindagi.com