With October 20 marking 25 years of the much-loved film Dilwale Dulhania Le Jayenge, it brings back memories of the time when we copied everything Raj and Simran did in the film. Shah Rukh Khan and Kajol's characters gave us goals and not just in terms of fashion but also how we expressed love, relationship goals and dialogues. The film Aditya Chopra directorial made Switzerland a hot spot destination, and the list is long. Take a look at everything that we try to copy from the film, even today!
The Name Raj
It's not like the name wasn't known before, but I personally know a few people who named their children at the time - Raj & Simran.
Palat
Famously, SRK said the word "palat" or turn around in Hindi, to determine whether Kajol's character had feelings for him or not. Raj's theory was that the girl will turn around while walking away if he has struck the right chord. Simran indeed turns around. Even today, we use these dialogues playfully and some films and even TV shows that released after DDLJ, used this as a fun sequence, proving how Bollywood influences our lives.
The Bell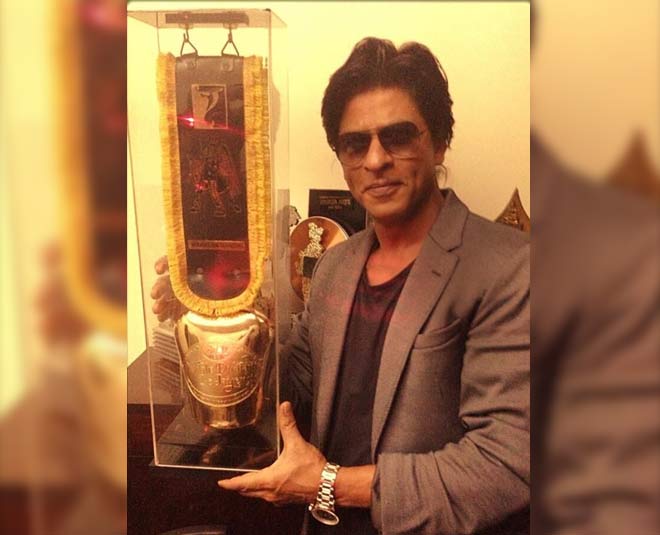 The existence of this bell was unknown until Simran bought it and Raj had it. It became among the hottest selling items in the form of keychains or door hangings.
Train Sequence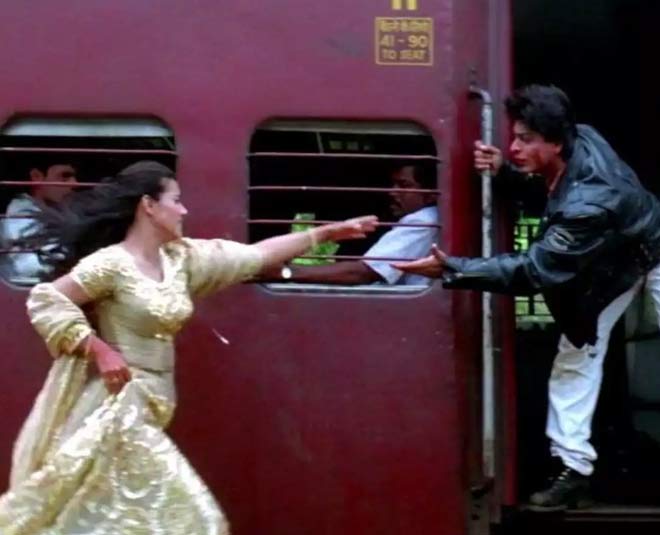 No, I am not even close to the dialogue that became a cult and is still used when we want our friends or anyone to have fun without worrying. Here, let's just talk about trying to catch his hand sequence which Kajol replicated in the film "Hamesha" with Saif Ali Khan. This sequence had our hearts racing because Simran took a while to catch Raj's grasp. I don't know if technically she should have done that at all due to safety issues or he could have managed in another way but I definitely wanted Simran to "jee le apni zindagi".
Switzerland
Not all of us could afford this international destination and many had no clue about it until Simran and Raj goofed around in the film. Post the release of this epic project, the country got a lot of tourists from India or Indians from all over the world flocked here. The country is still a first love for chilling time for many honeymooners and even first time international travellers.
Fashion Statements
Leather Jacket
Jackets were a fashion, sure, but leather jackets flowed into the market left, right and center, post the release of DDLJ in 1995. The black clothing became a favourite of many men and women as well and now it has become a staple in most wardrobes. Come winter, you will see many around you.
The Crop Top & Mini Skirt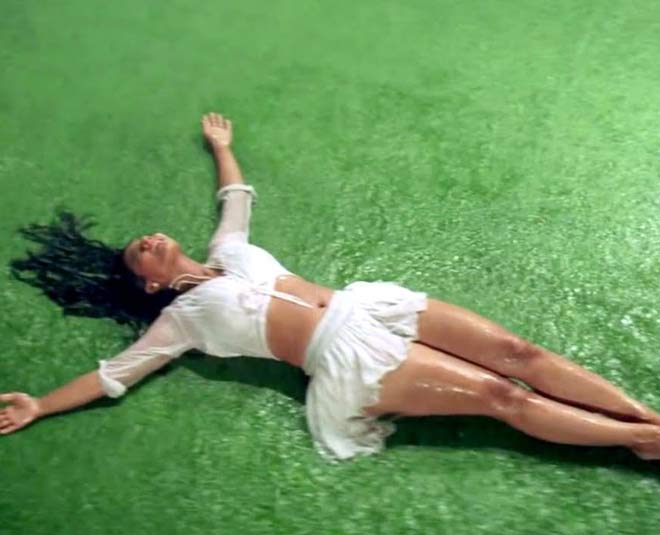 Our country is very much in a taboo state of mind when it comes to what women should wear. The white crop top and the mini skirt were a huge hit but not all could flaunt it, so, many interpretations of the same were made. But now, when we have "progressed" a little, well, at least our celebs have the luxury to do so, we see umpteen hues and designs of this combo. The film was ahead of its time and opened many arenas.
Satin Gowns With Halter Necks
The emerald-hued satin long dress with a halter neck became a rage when Kajol's character flaunted it in the song "Ruk Ja O Dil Deewani". Her blue earrings and her dusky skin combined with the smooth flowing dress looked smoldering hot with the thigh-high slit soaring temperatures around. Simran redefined the definition of sexy!
Don't Miss: Revisit DDJL With Some Of Its Most Iconic Raj - Simran Scenes
Hats & Glasses
I am not a hat person but I definitely know people who went crazy about the hat style SRK flaunted. While Kajol made bold spectacle frames look cool, SRK made aviators look even more stylish. I won't say he brought them back, but it made the frames even more popular.
Karvachauth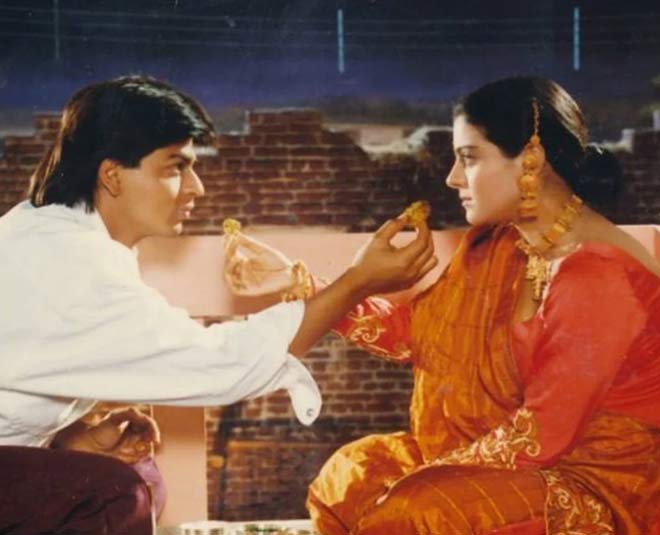 First-time karvachauth for boyfriends before marriage became a rage after DDLJ! The fact that now even some men keep a fast for their wives and girlfriends as a gesture of love, proves that DDLJ brought about some major changes! The whole "gaana bajana", the decked up poojas and song became a cult and even today, most films have this sequence when their storylines are centered around family lives. Many Hindu households now have this tradition and the karvachauth market has become H-U-G-E! From makeup ideas to outfits and gifting, the way the sargi thaalis are decorated is no joke.
Don't Miss: DDLJ To Complete 25 Years, Have A Look At These Behind The Scenes Pictures From The Shoot Sets
The Dialogues
Many dialogues from this film have now become a regular part of our fun banters and conversations with our loved ones. Even the former and current President of the United States Of America, Obama and Donald Trump, used some of the dialogues or mentioned the film in their respective speeches. Here is a list of some of the epic dialogues:
"Pyaar karte ho mujse? Bharosa hai mujh par?"
"Toh kya hua agar maine jhoot sirf tumhe paane ke liye kaha tha? Toh kya hua agar tumhare chehre ke sivah mujhe koi aur chehra dikhai nahi deta? Toh kya hua agar tumhare naam ke sivah mujhe koi aur naam yaad nahi rehta? Toh kya hua agar yeh awara tumhe deewano ki tarah pyar karta hai? Toh kya hua? Pyaar sab kuch toh nahi hota na."
"Jaa Simran, jee le apni zindagi..."
"Agar tum galat raaste par chaloge … toh ho sakta hai shuruvat mein tumhe bahut kamyabi mile, bahut khushiya mile … magar anth mein tumhari haar hogi … aur agar sahi raaste par chaloge … toh bhale hi shuruvat mein tumhe kadam kadam par thokarein mile, musibaton ka samna karna pade, pareshani ho … magar anth mein hamesha jeet hogi."
"Sapne dekho, zaroor dekho. Bas, unke poore hone ki shart mat rakho."
"Raj, agar woh tumse pyaar karti hai to woh ek baar palat ke dekhegi… Palat… Palat…"
"Bade bade deshon mein aisi choti choti baatein hoti rehti hai, Senorita."
"Fail hona aur padai na karna hamaare khandaan ki parampara hai."
What do you love about DDLJ? How many times have you seen the film? Did you follow any of these trends or repeat any of these dialogues?
Stay tuned to HerZindagi for more such fun stories.