Here's What Happened To The Couples Who Got Married On Bigg Boss!
Who are these couples who got married on Bigg Boss? Know all about their present life!
While many contestants fall in love with each other during the show, on the other hand, many contestants have also given a very special name to their relationship. Some couples have ended up getting married on the reality show! With the world being a witness to their wedding, here's all about the couples who took on the decision to get married during the televising of the show.
Sara Khan And Ali Merchant
The Bigg Boss show is indeed the most controversial in the world of television. Many couples are formed relationships in this show and then either after or before the show, they get separated from each other. But no one had even imagined that there would be so much controversy in this show. But Sara Khan and Ali Merchant got married in the Bigg Boss show. Both of them were dating each other before appearing in Bigg Boss Season 4.
But when Ali Merchant proposed to Sara Khan on the show, both of them decided to get married and after that, both got married on the show itself. The two were the first couple of Bigg Boss to get married on National TV. Along with this, his parents were also called in this marriage which took place in the Big Boss show. Along with this, the TRP of Bigg Boss had increased a lot after this marriage in the show.
Read More-Contestants Who Got Huge Projects After Their Famous Bigg Boss Stint
The Couple Separated After 2 Months
After dating each other for a long time and then getting married on national television, the couple parted ways after two months of marriage. Many questions were raised about him and on the show. It was said that all this was done only for TRP and for this both of them were given more money than initially signed. However, it is not yet clear how much truth there is to that. On the other hand, when Sara and Ali separated, neither of them have openly given any comment on this matter.
Monalisa And Vikrant Singh Rajput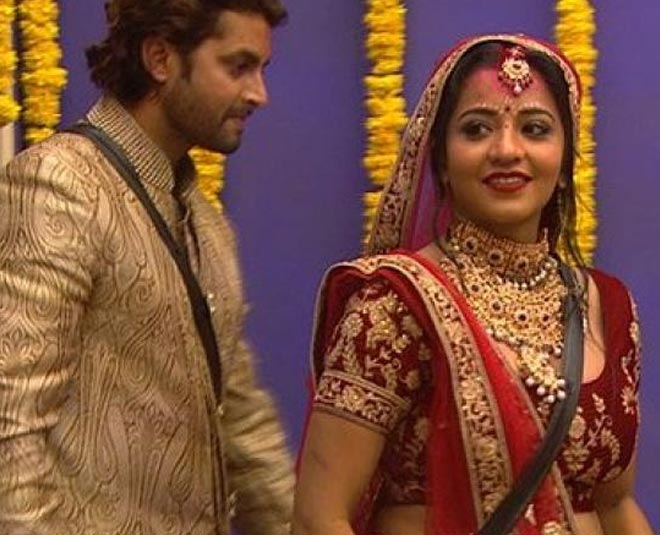 In Bigg Boss season 10, the Bhojpuri film industry's most famous actress Monalisa became a part of the show as a contestant. Monalisa is the second actress after Sara Khan to get married on National TV. She married Bhojpuri famous star Vikrant Singh Rajput from the show Apna Humsafar Chun. However, both were dating each other for a long time. But let us tell you that during the Bigg Boss 10 season, Monalisa's closeness with Mannu Punjabi increased for some time. Seeing this, Vikrant also expressed his displeasure with Monalisa on this matter. Since then, Monalisa had made some distance from Mannu Punjabi.
After some time, the preparations for the wedding in the show started in full swing. All the wedding rituals were performed well and to give it a complete wedding feel, Lopamudra, Rohan, and Mannu made their appearance on the side of the girl, while Bani and Manveer were seen as the boy's side. Monalisa's mother and Vikrant's sister also attended the wedding.
Read More-5 Bigg Boss Couples Who Worked Together Post Their Season!
The Perfect Couple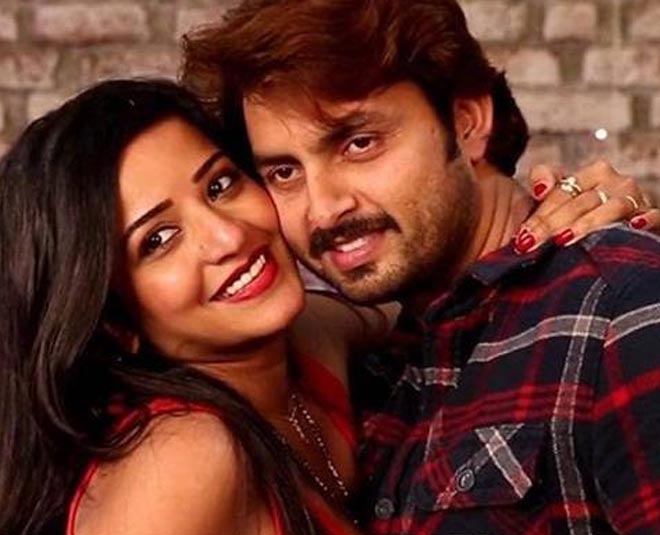 Vikrant Singh Rajput and Monalisa are still are a couple, suggesting a 'perfect marriage'. Monalisa is very active on social media and she keeps posting photos of herself and her husband. The chemistry of the couple is worth seeing in every photo and they both look very good together.
Stay tuned to HerZindagi for more information and updates!