Would you ever give back a or refuse to take Rs 75 lakh? This bride from Rajasthan di exactly that! she ended up refusing a dowry of Rs 75 lakh given to her by her father and instead requested for him to make a girls hostel with all that money. This selfless bride from Barmer city of Rajasthan ended up refusing Rs 75 lakh and instead wanted to spend this money selflessly to make a girls hostel. This selfless act was praised and appreciated by the society and went viral all over social media.
The Story of Anjali Kanwar
Anjali Kanwar now also known as the selfless Rajasthani bride refused a large sum of Rs 75 lakhs to build a girl's hostel. She actually was the one who asked her father to keep the dowry money aside for the construction of a girls' hostel. Anjali's father Kishore Singh Kanod in Barmer wedded his daughter to Praveen Singh on 21st November 2021. Anjali's father actually gave the girl a blank cheque to fill in as much money as she wanted for the dowrey. After the whole wedding ordeal Anjali found the the current head of Taratara math; Mahant Pratap Puri and asked him to read a letter out loud. In the letter she clearly stated that; Her father gave her a blank cheque to fill in any amount she desired and that she wanted her to use her dowry money to construct a girls hostel to support women education. This idea was saluted and applauded by all the guests present in the wedding. They applauded her selflessness, her forward thinking and her will to solve most pressing challenges of our times which is girl child education.
For Anjali she has always kept education in the forefront wanting to help as many girls as she could with her money. Anjali's main goal is to promote girl child education since for her it is an important issue in the country that needs to be solved.
Don't miss: A Pleasing Survey: India Now Has More Women Population Than Men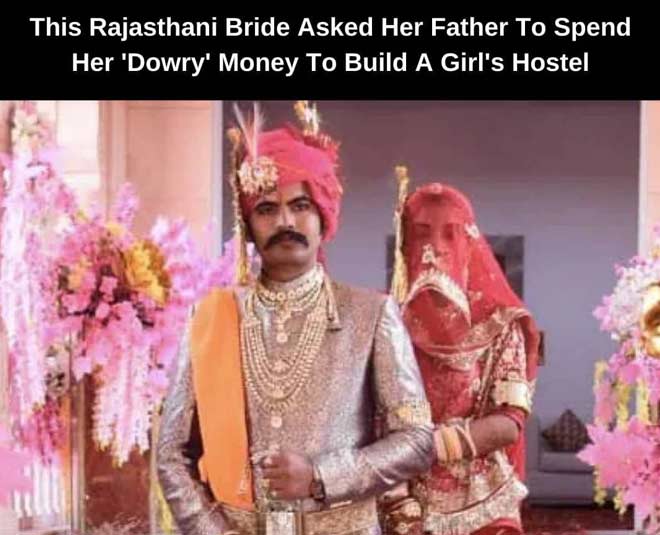 Image courtesy: instagram/scoopwhoop
Why She Wants To Do This
Anjali is from a small district like Barmer where girl child are not usually sent to school. This practice sadly is still prevalent in the country that many of us overlook. In a district like this Anjali's father Kishore Singh Kanod made sure that their daughter gets the education she needs and deserves. In a district village where people told her father that making his daughter study and get education is useless because 'ladkiyan toh paraya dhan hoti hai', in a district like this he made sure Anjali gets the best education she can. Anjali was definitely inspired by her father's selfless act and wanted to help more girls like her whom the society won't let to study.
Don't miss: Bride Writes Exam Before Wedding, Arrives With Husband-To-Be
In a place where girl child is either killed at birth or if she is born she is suppressed and oppressed; this selfless act by the father - daughter duo is like a breeze of freshness. They definitely have won the hearts of people on social media and not only that but this act is surely going to help a lot of girls study and also create awareness about girl child education and how important it is. We might be living in the 21st century yet we still have a long way to go and stories like these motivate and inspire people to help the society in the best way they can.
For more inspiring stories like this stay tuned to HerZindagi.