Veteran actress Rekha, who was once a controversy's favourite child, is one beauty who seems to get younger with age. She may crossed 60 but her skin is as radiant tight as it could get and something we would all want. She is well known for wearing heavy kanjeevarams in gold and white and never shies away from dressing up from head to toe. One of the rituals, when she gets ready, is the step when she applies a bold red big sindoor across the forehead and her middle parting or "maang".
It was at the Neetu Singh and late veteran actor Rishi Kapoor's wedding on January 22, 1980, when she Rekha shocked everyone. The audience that was stunned also included Amitabh Bachchan and Jaya Bachchan. Rekha had waltzed in making a sensational entry with sindoor in her maang and a white saree. Heads were bound to turn, gossip was inevitable.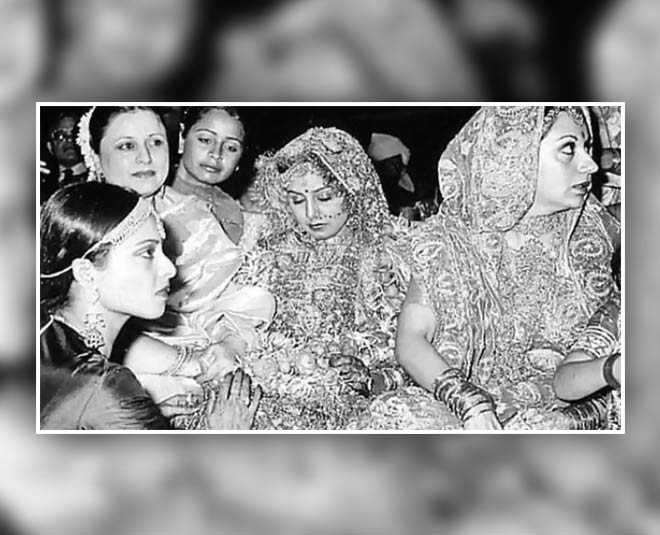 Generally, Hindus wear sindoor when they are married but Rekha was not and the entire wedding haul made different theories.
In 1982, when Rekha won the National Award for her unforgettable performance in Umrao Jaan, she was of course confronted and the risk of asking her the curious question which could have a controversial answer was taken. Her answer surprised everyone and shut many wagging tongues (so to speak).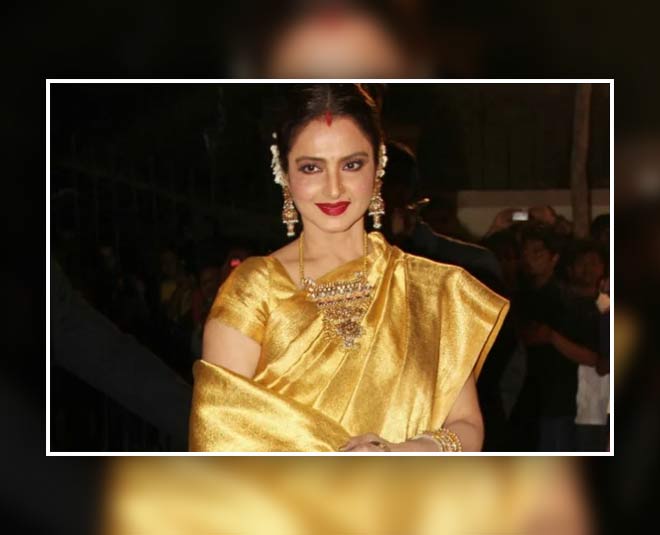 The reason she gave still is puzzling but with a poker face, she answered: "In the city, I come from, it's fashionable to wear sindoor".
She also said in another interview; " I don't worry about people's reactions. By the way, I think it looks rather nice on me... sindoor suits me."
However, there are many theories that brewed with one of them involving Amitabh Bachchan, as some believed that they secretly got married. It was after this rumour that Jaya Bachchan had reportedly asked Big B to quit working with Rekha and maintain a distance.
Even after she became a widow, losing Mukesh to suicide, she didn't stop wearing sindoor. This still is a mystery for many.
Big B's "Coolie" co-star and ex "Bigg Boss 8" contestant Puneet Issar's wife, Deepali, however, said in an interview that "Rekha does that for a person whom she loves and respects a lot and it is for Amitabh Bachchan".
Rekha's love life is in a way jinxed.
First came in the rumours of her and Jeetrndra's affair when the latter was already married to Shobha Kapoor. Rekha was in fact deemed a "home breaker" by many.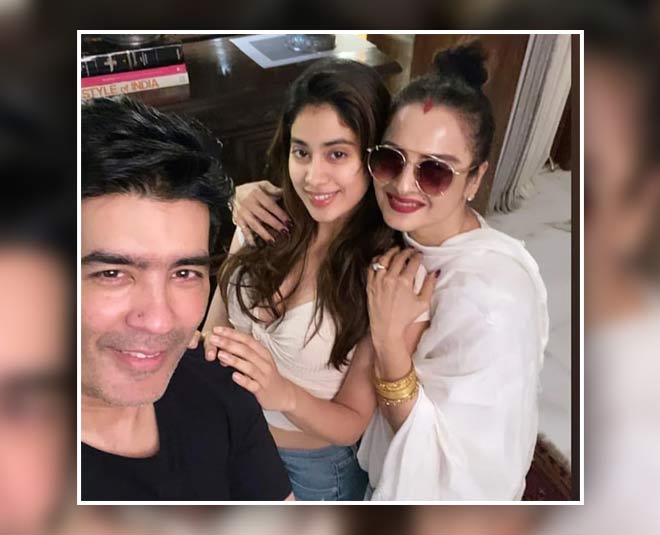 Next was her rumoured link up with Kiran Kumar, the son of the famous villain Jeevan. They called it quits quite soon if we believe the grapevine.
Then came a shocking rumour and a bevvy of reports that she and actor Vinod Mehra had gotten married secretly but her mother-in-law denied even her entrance in the actor's Calcutta home. However, the actress denied the marital relationship with him on Simi Garewal's show in 2004.
Her and Amitabh Bachchan's linking has been a forever "jalti aag" which will never simmer down. When she asked about her interest and their relationship, during an interview, she responded without mincing her words.
Don't Miss: Rekha Performing Rituals At Neetu Kapoor's Chooda Ceremony Is A Pure Bliss
She said: "I was never impressed by the ordinary. And he was like something I had never seen before. I have never seen him, ever, express pain".
"Personally, I think you can say... when you're fascinated by something, subconsciously, even without realising it, you just pick up everything. And when I found this person, and I had never met anyone like him... He is a fellow Libran. How can so many good qualities be bestowed upon one human being? Not fair."
Don't Miss: Know All The Secrets Behind Amitabh & Jaya Bachchan's Hush-Hush Wedding! See Pictures
And then Simi Garewal asked the question if Rekha loved Amitabh? Rekha answered: "Absolutely! Duh, that's a dumb question!" And then went on to generalise that statement, "I'm yet to come across a man, woman, child, who can't help but fall completely, passionately, insanely, desperately and especially, hopelessly, in love with him. So why should I be singled out?"
Speaking on Jaya Bachchan banning the megastar from further sharing the screen space with Rekha, the actress shared: "A week later (after the trial show of Muqaddar Ka Sikandar), everybody in the industry was telling me that he (Amitabh) has made it clear to his producers that he was not going to work with me.
"Everybody else informed me about it but he didn't say a word on the subject. When I tried to question him about it, he said, 'I am not going to say a word. Don't ask me about it'."
Stay tuned to HerZindagi for more on Bollywood.