HZ Exclusive: Atul Kulkarni Discusses About His New Web Series 'Rudra' And New Generation Actors
Atul Kulkarni's web series 'Rudra: The Edge of Darkness' is an Indian adaptation of the British drama series 'Luther'.
Atul Kulkarni is one name who is known for spreading the magic on the screens with his marvellous acting skills in the films and now, in the OTT space as well.
The talented actor, who graduated from the National School of Drama (NSD) in 1995, has impressed the audience with his body of work whether while performing in theatre projects, acting in films, or web series.
It has been over 20 years since Atul Kulkarni has been working in the entertainment industry and not only he has given power-packed performances in the Hindi films like Chandni Bar, Rang De Basanti, Delhi 6, and The Attacks of 26/11, but he has also been associated with many wonderful projects across several languages such as Marathi, Malayalam, Telugu, and Kannada.
And now as the OTT space is expanding with each passing day, Atul feels that he is always at the right place at the right time and considers himself lucky as recently, he is seen in two back-to-back amazing projects - Rudra and A Thursday. He believes that these kinds of projects allow him to explore much more as an actor.
HerZindagi caught up with the Atul Kulkarni for an exclusive interview where he spilled the beans on the 'overwhelming' response he has been getting for his film 'A Thursday', his excitement for the new web series 'Rudra: The Edge of Darkness', talking about the trailer, new generation actors and much more.
Watch this video to know more.
Don't miss:Here's A List Of Upcoming Web Series And Movies In The Month Of March!
Excitement At Its Peak!
Even after acting for more than two decades across several languages, actor Atul Kulkarni always brings some new aspect to the table in the Indian entertainment industry, and his new web series available on Disney Plus Hotstar, 'Rudra' is proof!
The show 'Rudra: The Edge of Darkness' is the Indian adaptation of the British drama series 'Luther' in which Ajay Devgn will be seen in the lead role of DCP Rudraveer Singh aka Rudra, while Atul is portraying the role of his cop friend Gautam. The psychological crime thriller web series also stars Esha Deol and Raashi Khanna in pivotal roles.
Talking about the trailer, Atul revealed that this web series is not something that the audience would expect on the OTT platform, whether we collate it grandeur-wise, story-wise, or actor-wise.
While showing his excitement, he said, "When we all saw the trailer for the first time, we all, Ajay Ji and the whole team, were so excited. Although we all were part of the show and knew about every single shot but somehow, it seemed that we were watching someone else's trailer and thus, were involved."
Atul further added, "It is a very beautiful trailer that is why it is getting so much appreciation. And, I feel, the reason why the trailer is being appreciated is that it is bringing those people towards the show together who hadn't been familiar with the OTT platform till now. This is the power of Rudra, I believe."
'A Thursday' Garnering Praises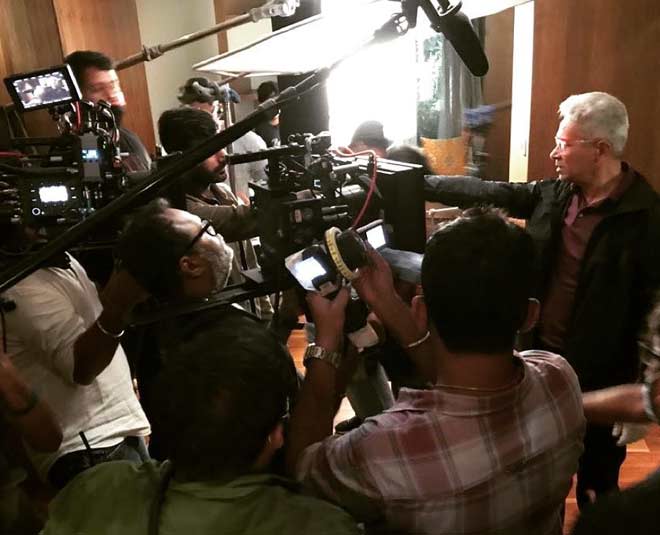 In February, Atul Kulkarni's film 'A Thursday' was also released on the OTT platform Disney Plus Hotstar. Apart from Kulkarni, the film stars Yami Gautam and Neha Dhupia. It is a suspense thriller that revolves around a playschool teacher who takes 16 toddlers as hostages.
Since the film has released, Atul Kulkarni has been garnering a lot of praise from all quarters for his character Javed Khan. Talking about the film, he revealed that it was actually the story that hooked him up to do this film.
When asked about the film's success, the actor added, "Audience is liking our film a lot. So, we all are very happy as the film was very difficult to make. Be it the writing or the subject or the overall making, it was certainly not easy."
He further said, "It is the amount of great response that we are getting and it is unprecedented. From the last 4-5 days, we all are actually overwhelmed."
The Bandish Bandits actor also acknowledged the fact as an actor, he feels great that the audience associates him with his recent projects and appreciates the characters that he has played.
He mentioned, "In the last 2-3 years, a lot of good work came my way and I was able to do it and people liked it too. I only see one reason which is my 'luck', nothing else."
Don't miss:If You're Having A Rough Day, Watching These Things Will Make You Feel Better
Weak Memory Alert!
'A Thursday' has made a place in everyone's hearts, so when asked about a funny sequence where Atul Kulkarni's character saves his Boss' phone number as 'Manhoos', he recalled the scene and said, "I don't do such things in real life as my memory is very weak. It is actually the reverse, I have to write 3-4 lines against the contact number, so that I can remember the reference of whose phone number it is."
Who knew, right?
New Generation Is Inspiring
Atul Kulkarni has received two National Awards and many other accolades in his 22-year long career and has always been praised by the youth.
When questioned about how the new generation has an impact on him, he opined, "I find the entire new generation, whether in the acting profession or not, very inspiring because there is a lot of confidence that they exude."
The actor also talked about how people should not only respect another individual just because they are elder to them. He added, "I think the youth has an equality complex, neither inferiority complex nor superiority complex. And this is actually a very important aspect to learn from them."
Are you going to add Rudra to your watchlist? Do share your thoughts with us on our Facebook page. For more such stories, stay tuned to HerZindagi!