Akash Ambani and Shloka Mehta are part of India's Richie-rich families and their big fat Indian wedding was a special affair. Now that they have completed two years together, let's know their compatibility in marriage. Celebrated astrologer Ridhi Bahl talked to Her Zindagi about the couple's relationship compatibility. Akash Ambani, the son of Nita & Mukesh Ambani and Shloka Mehta, the daughter of Mona and Russell Mehta knew each other since childhood.
Both of them studied in the same school and developed a close friendship over the years. After school got over, the two started dating each other but fate had something else in store for the two got separated as Shloka got admission in Princeton University for higher studies even as Akash left for US to study in the Ivy League Brown University.
After studies were over, both joined their parents' respective businesses but distances had made their hearts grow fonder during this time. In March 2018, Akash finally proposed to Shloka and the two families threw a grand party after she said yes! Sounds like the perfect love story, doesn't it? Let's find out how great their compatibility will be after marriage.
Astro Details Of Akash Ambani And Shloka Mehta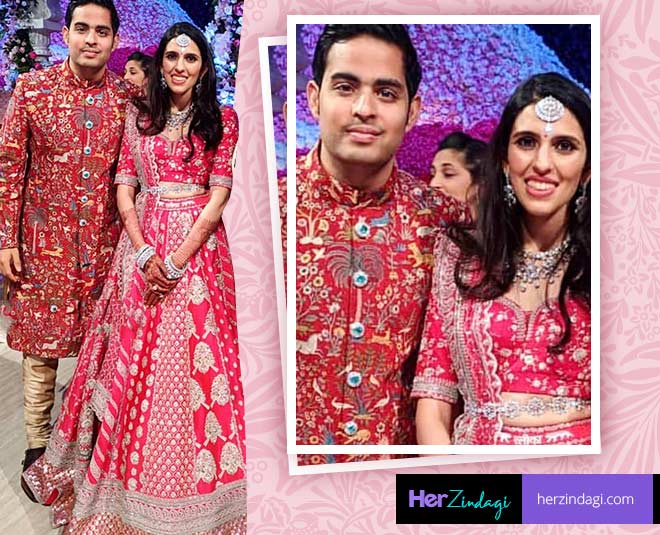 According to astrologer Ridhi Bahl, matching the moon sign of a couple is very important for a marriage to be successful. Whenever horoscopes are matched before marriage, the moon should not be in the 6/8th house as it creates incompatibility. Thoughts do not match, which leads to frequent fights. Akash Ambani was born on 23rd October 1991 in Mumbai while Shloka Mehta was born on 11th July 1990 in the same city.
Will Akash Be A Loyal Partner For Shloka?
The moon is in Capricorn zodiac in Shloka Mehta's horoscope while it is in the Pisces zodiac for Akash Ambani.When Shloka and Akash's horoscopes were matched, it was seen that their moons were found to be in 3/11th house. Such a placement, also called triangle or trikona, it is considered to be very auspicious for a couple as per vedic astrology. Since Akash Ambani's moon is in Pisces zodiac, it makes him a very loyal and patient partner. Such men are very understanding and take decisions after much thought which will be a great plus for Shloka.
View this post on Instagram
Don't Miss This: Akash-Shloka wedding: Here are 12 unseen pictures of the soon-to-be 'Choti-bahu' aka Radhika Merchant
Going from friends to lovers means this couple has a great compatibility which means their sun signs and moon signs are in perfect harmony. Looks like this jodi will have a great marriage. Her Zindagi wishes all the best to this new 'IT' couple and hopes they have a blissful marital life.
Missed the first pictures from Akash and Shloka's reception? Check them out here. Also, here's some unseen footage from the Akash-Shloka wedding.