he ministry of home affairs on Tuesday issued guidelines for essential service providers after PM Modi announced a 21-day lockdown. Here are the guidelines
Offices of the government of India, its autonomous/Subordinate Offices and Public Corporations shall remain closed.
What remains open:
Defence
Central armed forces
Treasury
public utilities \ which include petroleum, CNG, LPG, PNG.
Disaster management,
Power generation,
Transmission units,
Post offices,
National Informatics Centre,
Early warning agencies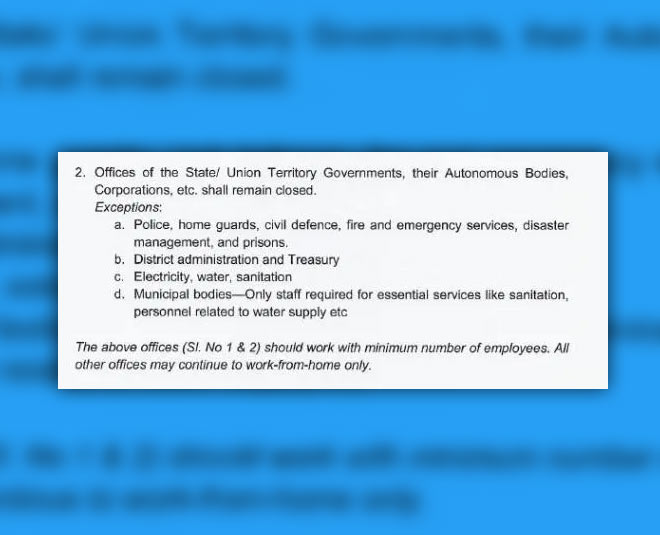 Medical Facilities
Hospitals and all related medical establishments which include their manufacturing and distribution units, both in the public and private sector. All the dispensaries, chemists and medical shops, labs, clinics, nursing homes, and ambulances etc will remain functional.
Also, as per the guidelines, transportation for all medical personnel, nurses, paramedical staff and other hospital support services will be permitted.
Transport & Accommodations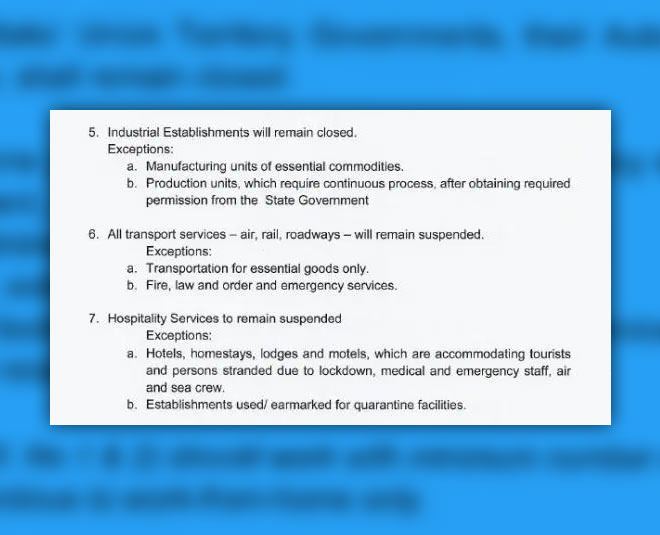 Don't Miss: Celeb Nutritionist Rujuta Diwekar Charts Out "Quarantine Plan' With Meals, Workouts, Day Wise For Healthy You!
Shops, Food & Grocery Availability
All commercial and private establishments shall remain closed but here is what will remain open so don't hoard and run into a panic.
Ration shops that sell food, groceries, dairy booths, fruits and vegetables, meat and fish will remain open but the district authorities recommend a home delivery service so as to minimise people from stepping out of their houses and cross the "laxman rekha".
Banks Will remain open with some fixed timings and so will ATMs and insurance offices.
Media is operating be it print or electronic.
Internet services, telecommunications, cable services, and broadcasting etc are open but work from home for all those who can.
Delivery of all essential goods which includes food, medical equipment, and pharmaceuticals through the means of E-commerce shall be open.
Cold storage and warehousing services are open.
Private security services as well shall be open.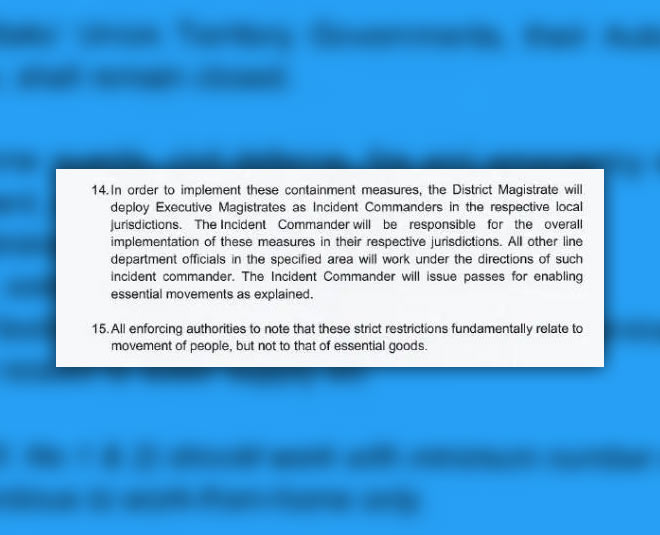 Educational Institutes
All the students and teachers of different institutions are instructed to stay home as their training, coaching centres shall remain closed.
Funerals
In the case of funerals or congregations, more than 20 people are not permitted.
Places Of Worship
All religious places, places of worship shall remain closed for public and no congregations have been allowed and no exceptions
All social, political, sports, academic, cultural and entertainment places and gatherings of any kind have been barred.
PUNISHMENT FOR VIOLATION
Any Person violating these measures will be liable to be proceeded against as per the provisions of section 51 to 60 of the Disaster Management Act, 2005, besides legal action under Sec 188 of the IPC (as per Appendix).
The above measures will remain in force throughout the country for 21 days until 25th March.