Enjoy the India Vs Pakistan Cricket World Cup match with these easy to make snacks recipes. They are crispy, delicious and filling as well. The ingredients are easily available and are fun to binge on with some nice cool summer drinks. What are you waiting for? Quickly scroll down and make your ingredients checklist today!
Chicken Pakora Recipe
Ingredients
For Marination
250 gm boneless chicken cut into cubes
2.5 cm ginger piece
1/4 tsp white pepper powder
1/4 tsp red chilli powder
6-7 garlic pods
1/4 tsp salt
2 tsp lemon juice
1/2 tsp garam masala
1 tsp coriander powder
For Batter
1 egg
2 tbsp gram flour
1/4 tsp salt
1/2 tsp garam masala
2 tbsp refined flour
2 tsp lemon juice
1/2 tsp red chilli powder
Oil to deep fry
Method
Marinate the chicken with ginger-garlic paste.
Add the remaining ingredients and let it marinate for a while.
Mix together all the ingredients for the batter and beat thoroughly.
Heat oil in a heavy bottom pan
Dip a marinated chicken piece in the batter and deep-fry until crisp and golden brown.
Repeat with the remaining chicken pieces, draining excess oil on absorbent kitchen paper.
Serve with mint chutney.
Lays Bhel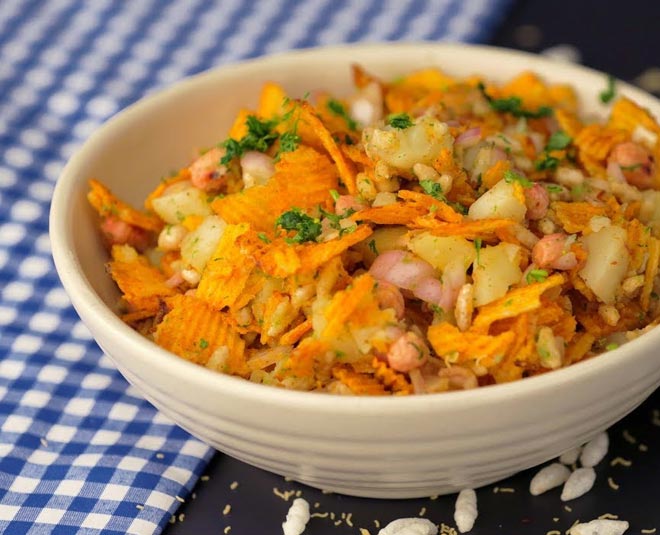 Ingredients
Green chilli 1
Few coriander leaves
Onion 1
Tomato 1
Lemon 1
Lays Potato chips 1 pack
Puffed rice or murmure 1 pack
Namkeen 2 tsp
Red chilli paste 1 tbsp
Tamarind chutney 3 tbsp
Pinch of garam masala
Salt to taste
Roasted jeera powder 1 tsp
Don't Miss: Love Spring Rolls? Make Them At Home Using These Recipes
Method
Chop coriander leaves, green chilli, onion and tomatoes.
Cut the lemon into half and squeeze out the juice.
In a large bowl, crush potato chips and add in the murmure, namkeen, onion, tomato, lemon juice, coriander leaves and green chillies.
Add the red chilli, tamarind chutney, roasted jeera powder, garam masala and salt into the mixture.
Mix them well.
Serve.
Veggie Nacho Salad
(A recipe contributed from the house of Cornitos)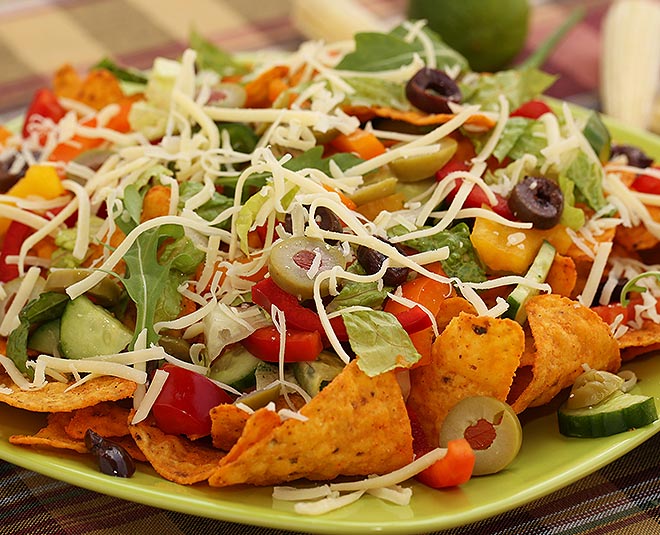 Ingredients
A bag of 150 g nachos crisps
50 g diced cucumber
50 g diced tomatoes
50 g chopped lettuce
50 g green and black sliced olives
50 g shredded cheese
2 tbsp lime juice
Salt to taste
Method
Mix all diced veggies in a bowl, adding lime juice and salt to taste.
Arrange the nachos crisps on a platter
Top nachos with diced veggies.
Garnish with shredded cheese and serve.