Craving momos, banana bread, and pizza but find it too unhealthy due to maida? Don't worry, we got you covered here. You can now treat yourself and loved ones to healthy, low-calorie versions of your favourite dishes with these wheat-based recipes. Atta is any day better than all-purpose flour and will make you feel less guilty as well!
Whole Wheat Momos
Ingredients
Outer cover:
1 cup atta
¼ cup water + 3 tbsp water
Salt as per taste
Stuffing:
⅓ cup grated capsicum
⅓ cup grated carrot
⅓ cup grated cabbage
¼ cup grated onions
1 tsp chopped ginger
⅛ tsp haldi
¼ tsp red chilli powder
½ tsp coriander powder
½ tsp cumin powder
¼ to ½ tsp black pepper powder
Oil to grease the steamer
2 cups water for steaming
Method
First, prepare the cover of the momos by mixing together the atta and salt. Add in the water in parts and keep mixing it to make a soft dough. Cover it for 30 minutes.
Next comes the stuffing for which you have to mix together all the vegetables, ginger, haldi, red chilli powder, coriander powder, cumin powder, salt and black pepper powder. Keep it aside.
Grease the steamer pan with oil and keep aside.
Now, to shape the momos, divide the atta dough into small balls and sprinkle some loose flour on it. Roll each into a thin circle as we do for rotis. They should be atleast 4-5 inches in diameter.
Keep the edges thin and the center a little thicker.
Apply water with your fingertip on the circumference.
Place 2 tbsp of the vegetable stuffing in the center.
Lift one edge and start pleating one by one and then join them together in the center.
Prepare all momos this way and cover with a moist napkin until all done.
Now, boil the water in the steamer and then place the momos in a pan by maintaining some space in between each. Put the pan in the steamer.
Steam them for 10 to 12 minutes.
Check and make sure that you let them cook until the momo dough does not feel sticky to you.
Once done, serve with a spicy sauce.
Don't Miss: Want To Have Afghani Momos? Make It Yourself At Home With This Recipe & Impress All!
Whole Wheat Pizza Dough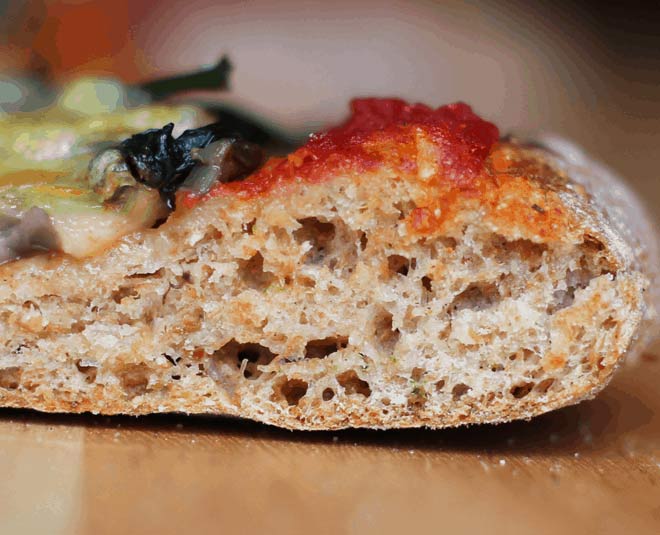 Ingredients
3 cups atta
1 tsp salt
3 tbsp olive oil
1 tsp yeast
½ tsp sugar
1 tbsp lemon juice
1 cup water
Method
In a mixer, add the yeast (or yeast substitutes), sugar, water, salt, atta, olive oil and lemon juice. Combine them properly.
Knead the dough in the mixer or knead it yourself. But make sure it is soft and smooth and not sticky.
Spread some water all over the dough.
Cover it with a kitchen towel and let it leaven for 2 hours till the dough increases in volume.
Knead the dough lightly again and then roll it to make the base for your pizza.
Don't Miss: Enjoy A Farmers Market Deep Dish Pizza Using This Chef Special Recipe
Wheat Banana Bread
Ingredients
4 medium-sized sliced ripe bananas
1.5 cups atta
½ cup coconut oil or sunflower oil
½ cup brown sugar
1 tsp vanilla extract
¼ teaspoon cinnamon powder
2 pinches nutmeg powder
1.5 tsp baking powder
½ tsp baking soda
Method
Preheat the oven to 180 degrees celsius.
Meanwhile, grease a cake pan with some oil.
Mash the bananas and mix the sugar in a bowl, you can use a blender as well for a smooth paste.
Now add the nutmeg and cinnamon powder, oil, vanilla extract to the banana and mix well.
Fold in the baking powder and soda and mix.
Pour the batter into the loaf pan.
Bake at 180 degrees c for 30-40 minutes. But do not open the oven until the bread is ¾th done.
When the bread cools down, remove the banana bread from the pan and serve it warm and fresh.
For more such healthier recipes, stay tuned to HerZindagi and channel your inner chef.