Bitter gourd or karela is not for the faint-hearted foodies. Don't you agree? This vegetable is the last resort for most of us. But what if we tell you interesting ways to eat bitter gourd? We have compiled delicious recipes to prepare out of bitter gourd. Is it always a tough task to convince your family and friends to eat karela? These quick and easy recipes will solve all your queries. Well, just to remind you. From keeping your cholesterol levels low to helping in effective weight loss, karela has many health benefits. This natural wonder is rich in zinc, iron, copper, vitamin A, B1, B2 and C.
Karela Chips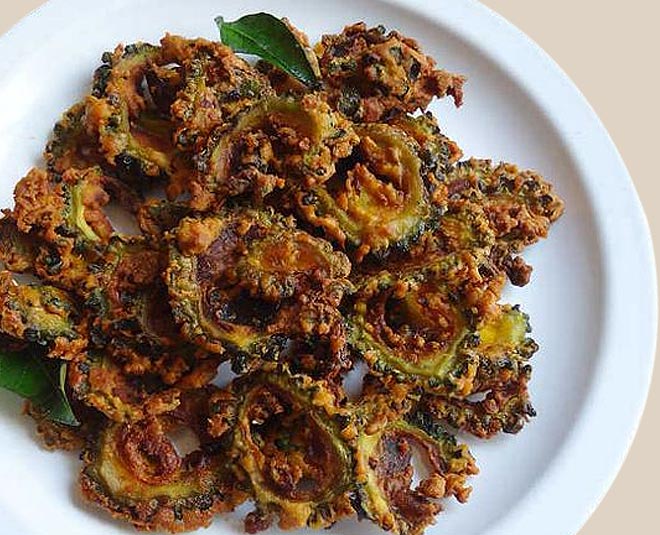 Don't like bitter gourd? Here's your cue. Karela chips are a tasty process and wonderful choice for those who do not like this vegetable. These spicy crispy chips contain very mild bitterness and come as a delight for all the chips lovers. Let's get cracking.
Don't Miss: Delicious And Healthy Amla Pickle Ready In Just 10 Minutes With This Easy Recipe
Ingredients:
2 bitter gourd/karela, sliced
1 tbsp corn flour
1 tbsp gram flour
½ tsp turmeric
1 tbsp rice flour
1 tsp red chilli powder
salt as per taste
1 tsp dry mango powder
oil for deep frying
Method: First, you need to slice karela into slightly thick slices. Now, add 1 tbsp corn flour, 1 tbsp besan, 1 tbsp rice flour, ½ tsp turmeric, 1 tsp chilli powder, 1 tsp dry mango powder and salt (as per taste). After that, combine all the ingredients well. Deep fry in hot oil. Keep stirring on a medium flame. Fry till karela chips turn golden and crisp. Your karela chips are ready to serve with tea or as a side dish with lunch.
Stuffed Cheese Karela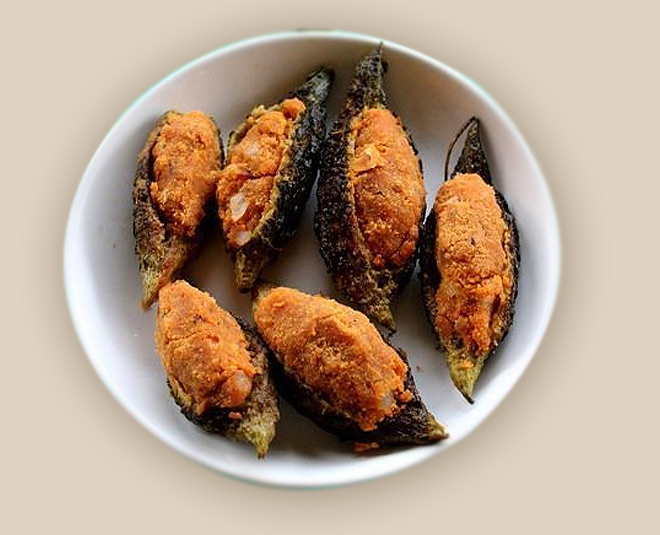 Cheese can be easily clubbed with most dishes. Isn't it? Let's give karela or bitter gourd a cheesy twist. Yes, you read it right. How about a tasty stuffed cheese karela? This dish is going to get you all the attention for sure. Are you trying this weekend?
Don't Miss: These Sweet Potato Recipes Will Make Your Weekend Fabulous
3-4 tbsp olive oil
3 medium karelas
1 medium onion, sliced
½ yellow bell pepper, diced
1 small head of broccoli, chopped
½ tomato, diced
½ tsp brown sugar
4-5 basil leaves
Pinch of cinnamon powder
Pinch of clove powder
Pinch of red chillii flakes
Dash of balsamic vinegar
50-60gm cheese, grated
½ tbsp ram flour
½ tbsp corn flour
1 tsp onion powder
½ tsp garlic powder
1 tsp jeera powder
Method: First, peel and cut the karelas lengthwise in half, scoop out the seeds and inner flesh. You need to sprinkle salt to release the moisture of bitter gourd. Now, heat 2 tablespoons of oil in a pan and saute the onion, bell pepper, broccoli for about 30 seconds. After that, mix tomato, salt, basil leaves, cinnamon powder, clove powder, brown sugar, balsamic vinegar and red chilli flakes. Cook for 40 seconds. Take a big dry plate, mix besan, corn flour, onion powder, garlic powder and jeera powder together. Last but not the least, stuff the karela halves with filling and grated cheese. After getting it right, close both half tightly and roll them in this spice dust. Heat oil and pan fry karelas for 3-4 minutes. Cut into cubes. Your mouth-watering stuffed cheese karela dish is ready to serve.